Most Usable Coding Tools and JavaScript Libraries Which Web Developers Must Know
As we are committed to assist Webgranth readers whether web designers, developers, bloggers or any others, we regularly provide some latest resources, tools and services to boost up their productivity. We understand that productivity is the crucial asset of any professional designers or developers; we continuously used to research some of the innovative things out there on the Web so that web developers or designers can wholly integrate workflow optimization into their working practices.
Today, we are also going to do the same. We are going to dedicate this post to all those web developers who are in search of most usable coding tools and JavaScript libraries in order to enhance their work capabilities.
These days there are so many excellent tools are which need to deserve attention by the community of web developers or designers. We have undergone a deep search and then find out several useful, valuable resources for developer and designers which when used can yield excellent output. We hope you will definitely appreciate this resourceful collection of usable coding tools and JavaScript libraries which has been released recently. We would feel delight if you will share your opinions explaining how exactly you use these tools in your workflow. Feel free to comment to this post.
Useful Coding and Workflow Tools
Stripe: Easy Credit-Card Processing For Online Stores
We all know there are many options available on the web to accept credit card payments, many of which have verification process which is either slow of many of those have more or less robust API's and interfaces in comparison to the others. These often create problems in card payments; Stripe has appeared as one of the alternative of these. It makes you forget all the tedious experience. Stripe is one of the most important tools which make it very easy for web developers to start accepting credit cards on the web without having any need of a merchant account or gateway. Everything is handled by stripes whether storing cards, subscriptions, or direct payouts to the bank account.

Livereload: the Web Developer's Wonderland
Web development is such a challenging task which includes several interesting subtask as well as some boring ones. Among all these, the most boring and frustrating task which seems headache for the web developer is the to reload the browser page during development or debugging every time any changes is made to the page. Liverload has been emerged as one of the solution to these. It is a stupendous desktop application that monitors changes in the file system and as soon as a file is saved, the file is preprocessed as needed, and the browser is refreshed. Not only that, each time any changes are made in a CSS file or image, the browser is updated instantly without having any need to reload the page. The tool is well supported by CoffeeScript, SASS/SCSS, LESS, Stylus, HAML and Jade but its weak point is that it is currently available only for Mac.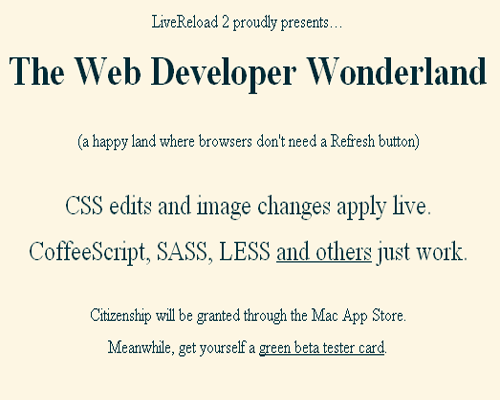 Ender: The End Of Monolithic JavaScript Libraries
Ender is a full featured package manager for browser that allows web developers to search, install, manage and compile front-end JavaScript packages and their dependencies for the web. It is not a JavaScript library or a jQuery replacement but is a command-line tool for making the consumption of front-end JavaScript packages dead simple and incredibly powerful allowing web developers to combine and mix all of the popular and small JavaScript libraries out there to create their own personal development library. One of the most advantageous parts of this tool is that if one library goes bad or is abandoned, it will help developers to quickly replace it with another and if there come need of a particular version of a package, then in that case too, this tool assists the developers to come out from the situation successfully as well.

Money.js: Open-Source Exchange Rates and Currency Conversion
Money.js is a useful JavaScript currency conversion library which is designed to work seamlessly with data from the open source exchange rates API project. Most of the time, it happens that, you wish to offer your customers purchasing any products in various currencies, but the problems occur how to accomplish it. You need not to worry; you can accomplish your dreams with the help of Money.js JavaScript library as it can be easily integrated in any website. It works as a NodeJS/CJS and RequireJS/AMD module and can be set up to use any data source and base currency in just a few lines. It has no access fees, no rate limits, no nasty XML: just free, hourly updated exchange rates in JSON.

accounting.js: Easier Number and Currency Formatting
Accounting.js is a tiny JavaScript library for number, money and currency formatting, with optional excel-style column rendering to line up symbols and decimals, which will solve your currency and numbers-related formatting hassles. It's lightweight, fully localizable and has zero dependencies which will make numbers and currencies look much more uniform and professional than they would if left to many content creators.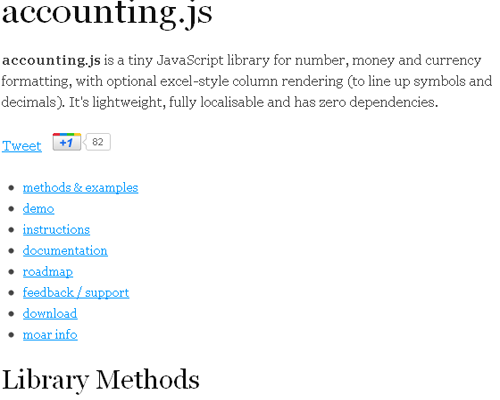 Tilt Firefox Extension: DOM Inspection in 3-D
Mozilla has brought a new tool namely Tilt Firefox Extension which follows a quite different approach to traverse DOM in Firebug, explore the relationships between nodes, analyze the structure of code and so on and so forth. Tilt is a Firefox extension which is being developed by Victor Porof along with Cedric Vivier, and that lets you visualize any web page DOM tree in 3D. Since, DOM is essentially a tree-like representation of a document, it has been developed in such a way that its layer nodes is based on the nesting in a tree, creating stacks of elements, each with a corresponding depth, and textured according to the Web page being rendered.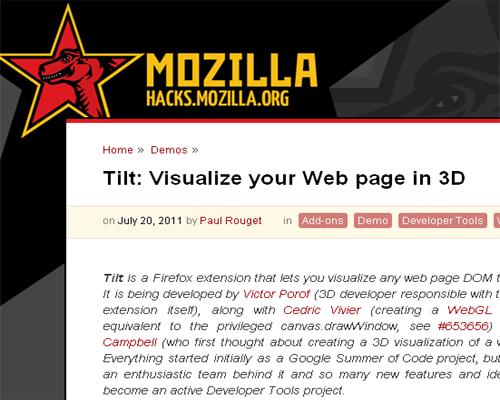 Creating Buzz with Launch Effect
Launch Effect is a free one-page theme that lets web developers to create a viral campaign in minutes. It lets visitors sign up using their email after which the page generates a special URL for them to share with their friends. Then that URL can be used to track your most active promoters and reward them for spreading the word. This is really a nice tool for bookmarking for your next creative breakthrough or start-up idea.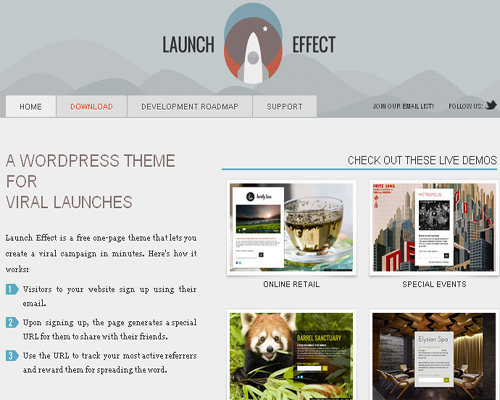 A Better Responsive Grid
The Golden Grid System is based on the concept of "folding" grid columns into one another, depending upon the browser's size. It splits the screen into 18 even columns in which the leftmost and rightmost columns are used as the outer margins of the grid leaving 16 columns for use in design. Now, 16-column grid that works great in desktop browsers would fold down to an 8-column grid for tablets, and a 4-column grid for mobile devices. It comes with several remarkable features that make it perfectly suited to modern responsive Web design.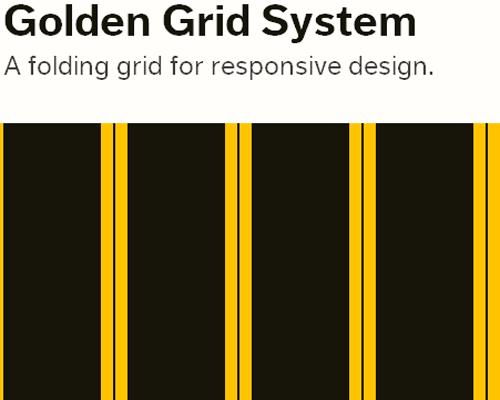 Bootstrap Kick-Start Development Toolkit
Bootstrap is a toolkit which is built with the "LESS" framework that includes the base CSS and HTML for typography, tables, grids, navigation, error messages, modal boxes, buttons and forms. Bootstrap comes with compiled CSS, un-compiled, and example templates and is tested and supported in major modern browsers like Chrome, Safari, Internet Explorer, and Firefox. This toolkit allows you to create fixed or fluid layouts; it is available free of cost for you. It comes with many elements that can be used as is or restyled to fit your website. Of course, the toolkit is free to use.

Color Bookmark
Color Bookmark is another most usable tool for web developers. To use this tool, there is a need to drag the Color Bookmark link to your toolbar to find out the color palette of the website you're currently on and then copy, paste and use the colours you choose.

Leaflet: Open-Source Interactive Maps with JavaScript
Leaflet is a modern, lightweight BSD-licensed JavaScript library offering a variety of map layers, including tiles, markers, pop-ups, image overlays and GeoJSON. It is built from the ground up to work efficiently and smoothly on both platforms, utilizing cutting-edge technologies included in HTML5 and is used for making tile-based interactive maps for both desktop and mobile web browsers. It is based on the OOP's concept and is designed to be modular, extensible and very easy to understand which lets you to reduce the size of the library to make it even faster. Its noticing features which raise its importance are usability, performance, small size, A-grade browser support, flexibility and easy to use API.

Aardwolf: Remote JavaScript Debugger
Since, mobile browsers are becoming more powerful day-by-day; one can do almost everything what is done on the desktop browser. For this, only there is a need reliable developer tools. Aardwolf fills the need of this. It is a remote JavaScript debugger for iPhone / Android / Windows Phone 7 / BlackBerry OS 6+ which is written in JavaScript. It has been successfully tested with a JavaScript project consisting of more than 20.000 lines of code and hence reliable to use.

WhatFont
WhatFont is the easiest way to find out the fonts used in a webpage as it allows you to easily get CSS typography details about the text you are hovering on.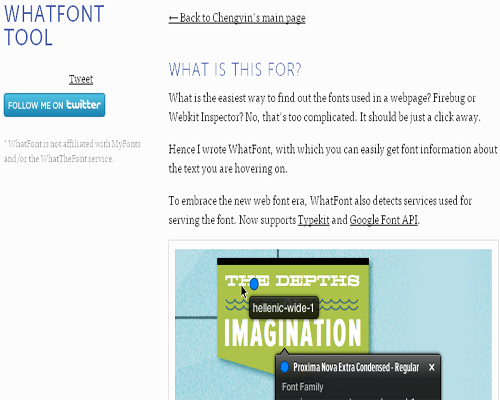 WordPress TextMate Bundle
The WordPress TextMate Bundle is a TextMate bundle featuring auto-completion of WordPress functions, snippets for common sections of code, and templates for WordPress components and is built with the sole purpose of reducing the amount of time spent digging around the WordPress core to look up the little things that we work with every day. It provides snippets of common page and plug-in parts like widget blogs, admin menus, and loops and tmplates for some WordPress components like plug-ins and page templates.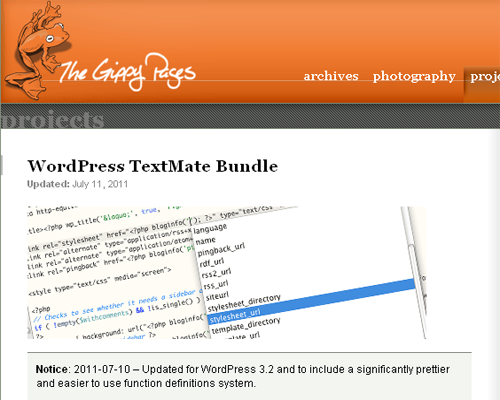 Cubic-Bezier previewer
Cubic-Bezier previewer is a remarkable tool which will show web developers how Bezier curves are formed. It is really a must to be used tool which you should try in your next project.

Patternizer – Stripe Pattern Generator Tool
Patternizer takes all the work out of creating complicated patterns, letting you focus on creativity and play and makes it easy to create something amazing in just a few minutes. The patterns created here can be saved and shared with anyone, allowing for collaboration and remixing so that one can access them from any device worldwide.

Chainvas
Chainvas is a tiny, modular library that goes through all the methods in a prototype and wraps a function around them that returns the returned value or, if that is undefined, the function's context (this). It can add chaining to any API that is not naturally chainable, like the Canvas API, the DOM and more.


Comparison Table Generator
Comparison Table generator is another important tools which greatly enhances the workflow of web developers by allowing them to create beautiful HTML/CSS comparison tables on the fly. It facilitates you with step by step table creation wizard, beautiful and modern table skins, valid html & CSS code, intuitive interface, inline editing, social network sharing etc.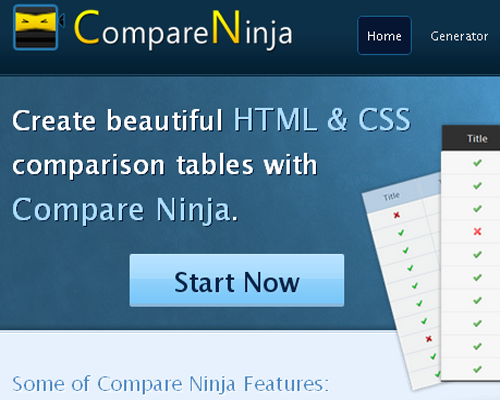 Prefixfree
Prefix-free is really an outstanding must to be used by web developers as it lets them to use only unprefixed CSS properties everywhere. It works behind the scenes, adding the current browser's prefix to any CSS code.

Recurly.js
Recurly.js is a remarkable tool having secure, PCI compliant transaction forms with fully customizable CSS which allows you to easily embed a PCI compliant order form within your website. The library performs in-line validation, real-time total calculations, and gracefully handles errors which let your customer to stay on your website while their billing information is securely sent to Recurly for approval.

Nola J Arney is working as an application and web developer at
HTMLPanda
. Her core technical skill in web designing, Sencha touch, PhoneGap, and other platforms has contributed a lot of benefits to the business. She has an interest in writing and hence, shehas written numerous blogs & articles that specifically shed a light on website the designing & development technology. All her write-ups have earned a gratitude from the specialists worldwide.