Mobile Site Emulator: Online Mobile Emulator to Test Your Website
Online Mobile Emulators are the most useful tool for every web developer and designers. Mobile Emulators provides the ease to the web developers to test the compatibility of web pages on different mobile screens without actually having the device in hand. To help my readers; I am providing the list of best 5 free online mobile emulators. These latest mobile emulators can surely help you to make your mobile development process more simple and easy.
Free Online Mobile Emulators: Make a walk down the street, park or anywhere else and you will not be surprised by looking the fingers running on the mobile devices. With the increasing number of Smartphone users, the digits of mobile internet users are too escalating with surprisingly faster pace. To track the beats of this web trends; web designers and developers are too making their websites mobile compatible.
The main headache while designing the website with mobile compatibility is the fact that different mobile phones have different screen sizes and hence it is really a tough task to test them individually. If a web developer wants to check the website compatibility with different mobile devices, then he must have those mobile devices in hand. But no more! To help the mobile website developers; some smart technical monks came up with an innovative idea of online Mobile Device Emulators.
Mobile Emulators are the online tools that allow you to test the compatibility of a website with different screen sizes and mobile brands. With these free online mobile emulators you will not require any on-hand mobile device to test the web pages. With the aid of the mobile emulators you could easily locate and fix the bugs and errors in your website design.
To help out the readers; today I am providing the list of best 5 latest online mobile emulators. These latest & free online mobile emulators are used by the web developers and designers from all around the globe.
Mobile Phone
Emulator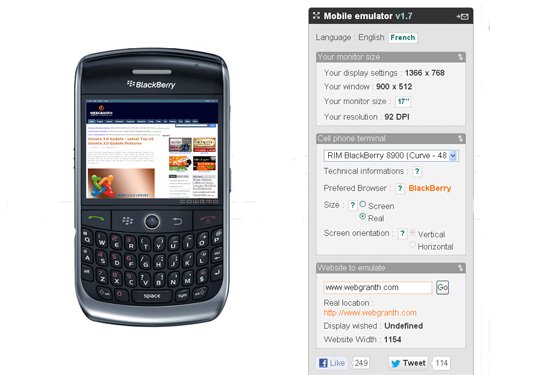 Mobile emulator is one of the most advanced and free mobile browser testing tools. In this tool you will  be required to provide a screen size and your website; this device will automatically provide you the list of mobile devices which comprises of the same screen size. This online emulator would be the best option if you are looking to test your websites compatibility with different mobile brands like Samsung, Nokia, iPhone, HTC, BlackBerry and LG.
iPad

Peek
iPad peek is a free online mobile emulator which allows you to test your website on different Apple products like iPad, iPod and iPhone.
MobiReady
If you are looking to get a detailed report about the website behavior for mobile devices rather than just watching an overview of mobile screen then MobiReady is the name that you must hit upon. These latest tools provide a detail report about different aspect of errors and suggestions for mobile website compatibility.
Responsivepx
Responsivepx is a simple yet impressive free online mobile emulator which provides the easiest to check the website for different screen measurements. You can easily scroll the display width of the test screen to check the responsive behavior of your website.
iPhone

Tester
IPhone tester is a popular name among the category of free online mobile emulators for the iPhone browser. This online mobile browser testing tool is specially designed for testing the website compatibility in iPhone device.
I hope that this list of free online mobile emulators will help you to reach the maximum horizon of the audience with your website. These all mobile emulators are used and recommended by the professional and saves a lot of time. If you too are aware about some other useful mobile device emulators then you are welcome to share it with us. I will like to add that in the above list.
Steven Bowen is an ardent team member of
No-refresh - Web to Print Design Tool Provider Company
bestowed with professionalism in to develop fully-functional solutions. Having adroitness in this arena, he has served an array of blogs that are basically based on the technology advancement & improve the end users' information level.