Mind-Blowing Collection of Facebook Skins and Templates for Facebook Fans
This post will revolve around the varieties of Facebook Skins and Templates which will indulge you in enhancing the look and feel of your Facebook pages. Facebook is a social utility that connects people with friends and others who work, study and live around them and in this way helps them to stay connected and communicate more efficiently.
With the advent of Facebook skins and templates, the needs of various kinds of people whether businessman, student, professionals or any others has been met without any heated discussion. The Facebook skins and templates are fully readymade inbuilt with highly featured premium quality and are very easy to install and use.
Facebook plays a critical role in the promotion of any products or services; it does a lot in effective promotion of products and attracting a lot of new customers towards any concerned business. Since different professionals have different business, and hence there comes need of various Facebook skins and templates for the promotion of their respective business. Creating a Facebook page has become very easy nowadays due to these diverse kinds of Facebook skins and templates available on the web.
If you too are a Facebook fan and are looking to promote your business through the use of Facebook skins and templates, then for your assistance, we are hereby enlisting mind-blowing collection of Facebook skins and templates. So, lets' check out this outstanding collection as presented below and add more beauty to your own user profile and user friendliness and your page:
Facebook skins and templates
PayPal Shop
PayPal Shop is a shop template that is mainly focused for Facebook Skins and Templates has a powerful catalog to display any kind of media content, images, SWF's and videos. Though it can be easily used as a useful module inside any flash template, using external SWF loading, it has a clean and minimal style too which can be easily customized from the xml file.
Translucent
Translucent is a Flash Template which is prepared for Facebook and is editable through single XML file. No Flash skills are needed to customize or update data in this template. It can bring an unexpected feel and uniqueness to the page and supports dimensions up to 520px wide and unlimited height. It is loved to be used by the Facebook fans.
Creative
The "Creative Facebook Fanpage Template" is a fully XML -driven template specifically designed to be used on a Facebook Page where you can find everything from the menu structure, to colors and images in a controlled way. All these are accomplished via a XML file and hence there is no need to ever open the source files in Flash. This amazing template is built in a modular way which allows you to design completely different looking pages. It allows reusing those pages several times as many times you wish.
Main Features:
⇒It is fully XML –driven and each page can be configured independently
⇒ It has single Image/Video/Gallery module and a text area module.
⇒Modules are positionable, resizable, and configurable in color.
⇒ It provides detailed PDF manual included explaining Facebook integration (new system) and customization.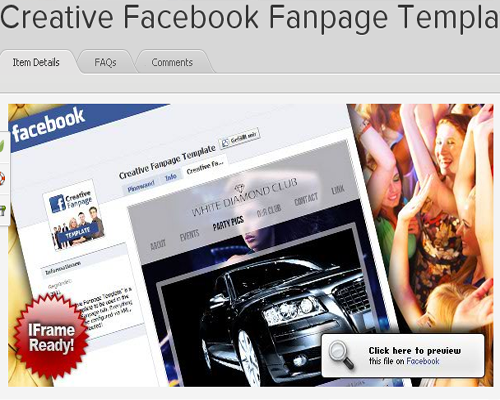 Static FBML App 520px Site Template
The Static FBML template have been created to meet the needs of those people who are seeking to add a flash file to their Facebook FBML application in order to display extra special content without having an in-depth knowledge of Ajax code. It is XML driven; one can easily change all content and colors using one XML file; no flash knowledge is required either to use this template, or to make any kind of editing in this.
Icon Fanpage Template
Icon Fanpage Template is an XML Driven Fanpage Flash Template which is of great use for any business, or creative professional. It is the place where you can update all of your content via xml including, images, text, logo, footer, MP3 tracks, FLV Video, YouTube Video, Gallery and Slideshow images, Navigation menu and much more. It is really very modular Facebook template; you can load any app via xml and set your intro app via xml, also load any of your own SWF's or apps via xml etc.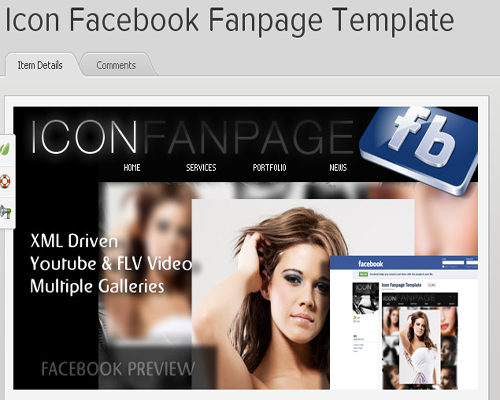 Ambi
Ambi is a nice Facebook Skins and templates which is based on modules with which one can build many things such as add as much buttons or images, or text or etc, and place it anywhere as per requirement on the page. It is really a pleasant, elegant template which Facebook fans must use.
Crystal
Crystal is a XML driven Template for Facebook Fan Page which allows you to add social account, add logo, site information, add menu through XML. It supports background with 15 effects, slides with 13 effects, social button, about, services and PHP contact. Besides all these, one can also set logo/menu layout and site information/social layout. One can add any module into the template just through the xml file. This Facebook Fan template can be used alone with the site's framework.
Main Features:
⇒support 15 kinds website background switch effect
⇒ support 13 kinds slide banner switch effect
⇒One can set switch module effects and add any yourself module or swf or link
⇒ One can change background image when change module
⇒ Support background with (JPG, PNG, GIF, SWF) format.
⇒ One can set top/footer panel height, menu, logo, position and color, alpha and logo /site information/social support 'left', 'center', 'right' layout.
Flash Shop
Flash Shop is a powerful dynamic web solution which includes four different modules on XML product settings that let you sell almost every type of products. It will serve as a platform where you can easily change all shop contents, highlight colors, shop labels and texts via XML file.
Verve
Verve is a XML driven Facebook Template build for Fan Page Tab. It has all the modules that are needed for a premium business solution such as presentation module that contains news and slideshow with text description, text module with or without images, gallery module with Ken Burns's effect and YouTube support, custom SWF module support, external link, contact module etc. This Facebook Fan Page Template is highly reusable and highly customizable.
Main Features:
⇒ It is completely XML driven; no flash knowledge required.
⇒ It has YouTube support and is fully re-sizable; supports any height values and up to 520 width value
⇒ It has HTML /CSS formatted text, custom video player with YouTube and normal video such as MP4 , FLV, F4V , M4V, MOV
⇒ One can create own CSS properties and set individual time for each slide and can easily change the player skin by modifying the library assets
⇒It offers custom slide transitions effects: grid, fade, boxes, close, wave, horizontal Stripes, vertical Stripes, rectangles etc.
⇒ One can load separate background for each module.
Orbit
Orbit Template is a new full minimal template which allows you to showcase your items in a really cool way, a text page, a feed reader and a sweet contact page. This is a premium template where everything is customizable via xml and all modules can be reused and in this way you can have a perfect custom page that will impress all your clients to a wider extent. You can use the modules as many times as you wish.
Main features:
⇒ Facilitated with great homepage, featuring the well known Ken Burns Slideshow
⇒ Constituted with minimal photo/video gallery, html content page, feed reader widget etc.
⇒ Facilitates the users with contact form, option background image, external links etc.
Travel Template
Travel template is one of the most premium Facebook templates which have been developed specially for travel agencies. Its most distinctive feature is its vivid and very eye-catching design. It is provided with necessary functionality facilities for creating a full-blown page for your business. The experts and professional says that there is nothing better than this template for the travel agencies.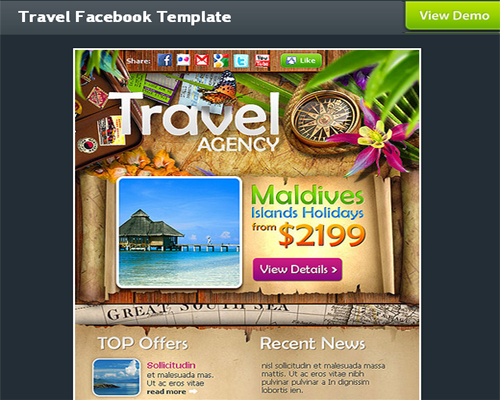 Fan Page YouTube Player AS3 01
Fan Page YouTube Player AS3 01 is a YouTube video player, which is especially created to fit inside any Facebook fan page tab. It is easily customizable through the XML settings and allows the Facebook fans to add unlimited number of videos. This Facebook templates can be used as a stand-alone YouTube player as well.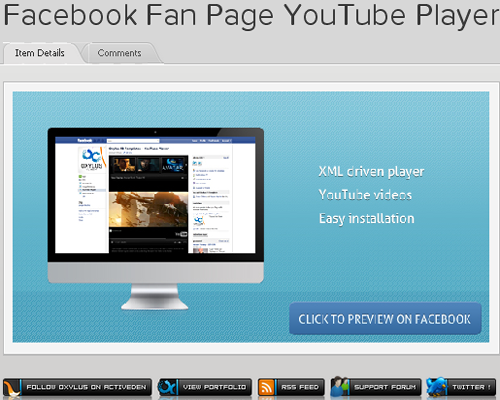 CMS Millennium Template
CMS Millennium Template is an XML powered template with 3 external modules. It is fully optimized for Facebook and is loved to be used by Facebook fans. It is really a must use Facebook fan template by the Facebook users. So, what you are waiting for? Be the next to use this template in order to enhance your pages appearance.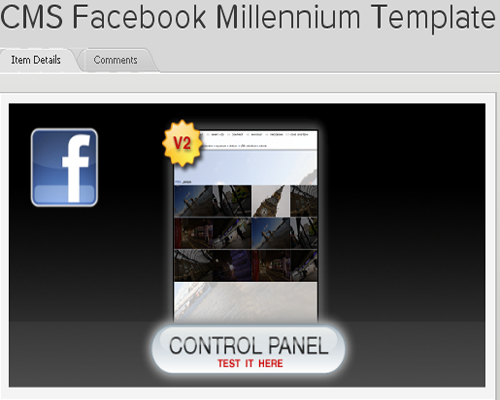 Grid Gallery
Grid Gallery is a fantastic Facebook fan page loved by Facebook lovers. With the help of this powerful and flexible grid gallery, Facebook lovers can enhance their pages appearance or any other flash & non-flash site.
Main Features:
⇒ It is XML Driven with more than 15 configuration parameters and is fully customizable from the xml file.
⇒ One can load images or SWFs.
⇒ One can use SWF and Streaming Video to create a video gallery in their site.
⇒ It has 2 types of grid navigation, 3×2 & 3×3 and 5 pages PDF reference & instruction manual.
⇒ It possesses a clean and well documented AS2 code as well as corporate and minimal layout.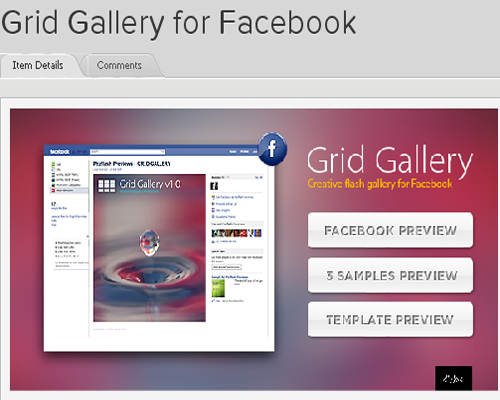 Note Book
This is a wonderful Facebook Fan Page having Note Book style. It supports home slides with 13 effects, background with 15 effect, gallery, social button, about, services and PHP contact. And, not only that, one can also add any module into the template just through the xml file. This Facebook fan page standalone can be used with the site's framework. Some of its main features are mentioned as below:
Main Features:
⇒ It is XML driven.
⇒ support background music and set switch module effects
⇒ Support 15 kinds' website background switch effect and 13 kinds slide banner switch effect.
⇒ Support change background image when module is changed.
⇒Support background in (JPG, PNG, GIF, SWF format).
facebook skins and templates
please come with your valuable Comments and Experience with us.
Williams Heilmann has been associated with
PSDtoWordPressExpert
for many years. He has extensive experience as a web developer and works with this company to offer the best WordPress solutions to suit the specific needs of the clients. Also, he has got a flair for writing which he consumes in writing the informational blogs for submission on different websites.