How to Manage Your Cloud Services to Make Your Life Easier?
Today is information era. Computer is a part of our life. With the development of mobile Internet and mobile device, more and more people started and storing files into cloud. Thus they can access data either on desktop, laptop or even on mobile phone.
Cloud storage are many, almost all companies related to computer, developed their cloud drives. Famous cloud drives in the world are Dropbox, Google Drive, OneDrive, MEGA, Amazon Cloud Drive and so on. Some mobile vendors has their cloud services as well, such as Samsung cloud, HuaWei cloud, etc. These clouds are in the minority. What's more, you are able to create your own private cloud drive through own cloud service.
In a word, cloud drive is not a new thing nowadays. Most people have more than one cloud accounts. They think the more they register, the bigger volume they get. Some people create different accounts to experience the freshness. In work and life, maybe you are using different cloud services. In short, users not only have cloud account, but also have multiple cloud accounts.
Why need MultCloud
To use several cloud drives, one thing that often happens, is exchanging the data. In the past, we could only download and then re-upload, switch accounts, sign in and out time, etc. But now, with the help of MultCloud, things became simpler. We can transfer files across clouds directly and manage all cloud drives with one login.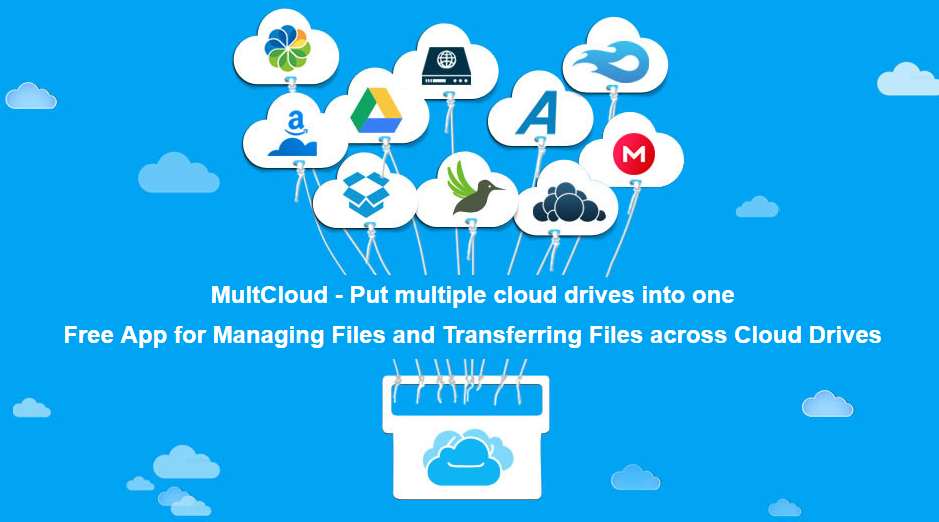 MultCloud is an app based on website. It supports more than twenty clouds. Besides cloud drives, FTP and WebDav are supported too. All services are: Dropbox, Google Drive, Box, Amazon S3, Amazon Cloud Drive, SugarSync, Alfresco, Hubic, Evernote, OneDrive, MEGA, CloudMe, Cubby, MyDrive, WEB.DE, Yandex, HiDrive, MySQL, Flickr, MediaFire, OwnCloud, ADrive, BaiDu, WebDav and FTP/SFTP.
How to use MultCloud
At first, visit MultCloud. Enter MultCloud you need an account, free to register, or choose Experience without signing up. After logging in, it's time to add your cloud drives to MultCloud. MultCloud does not need your username and password if the cloud supports OAuth authorization is the last step in the cloud's official website. MultCloud does not save your data, because it does not provide storage space.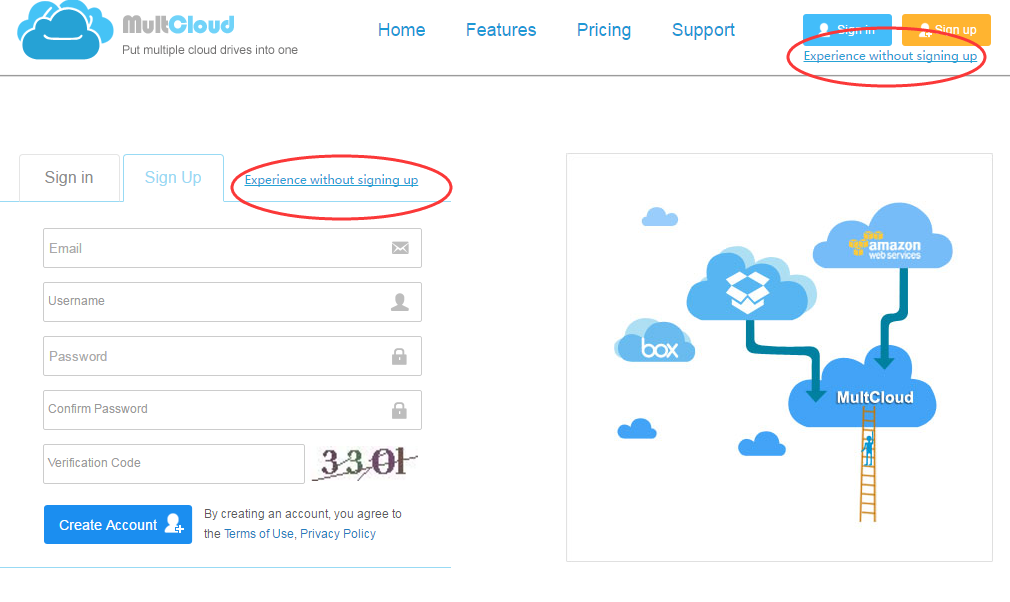 After adding successfully, files in cloud will be displayed in MultCloud's interface. You can have many management options from context menu: new folder, delete, upload, rename, preview, share, cut, copy, copy to, download, go to official site.
New folder: Create a new folder in cloud drive.
Upload: Upload file to cloud drive, uploading URL is also OK. MultCloud will help you download the file.
Preview: Support file types are: jpg, png, gif, pdf, xls, doc, txt, html, js.
Copy to: Similar to Copy but has more choices. You can copy to multiple clouds at the same time and remove original file.
Share: Share files to SNS. Shared by email. Build public/private/source link. You can manage and check the shares in Shares interface.
Transfer via MultCloud
Above is MultCloud's File Manager. You can do simple moving by Copy or Copy to option. Direct drag&drop is OK too. Switch to Transfer interface. Here, you can set more details when transferring: overwritten or filter, scheduled file copy, etc. MultCloud enables to do schedule task even after power off. Moreover, MultCloud allows multi-server parallel transmission. You can check and edit tasks in Task Manager.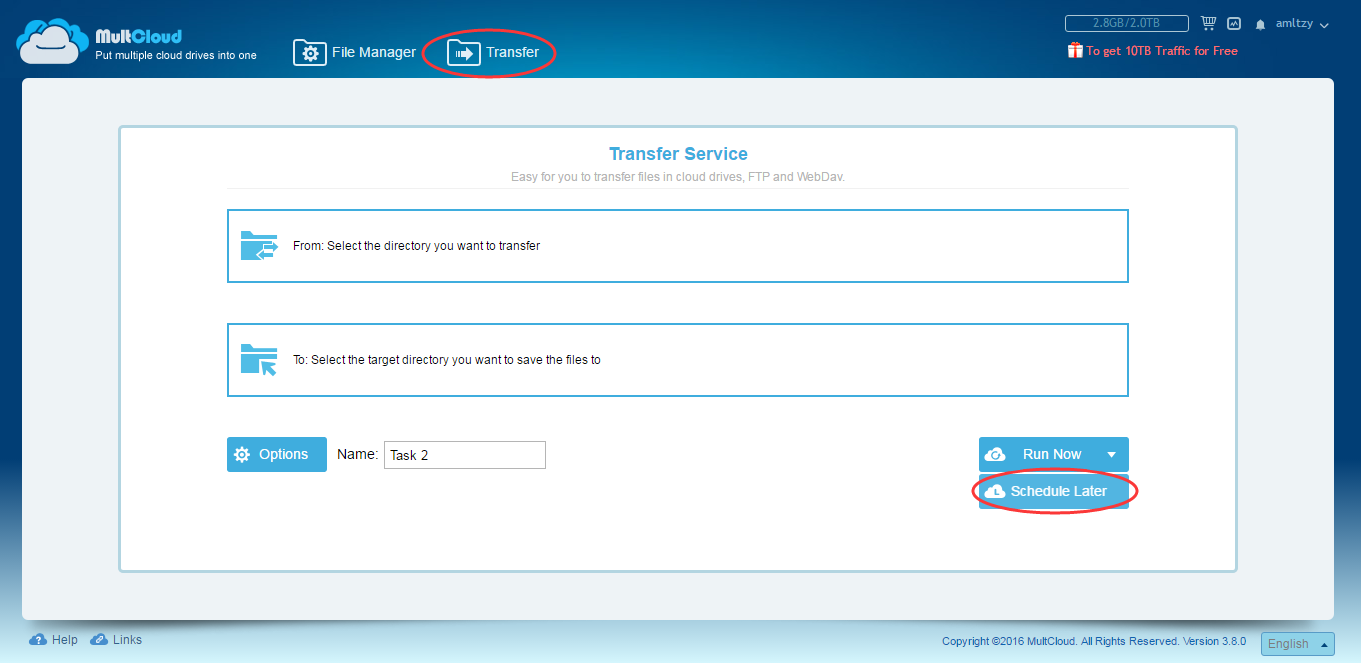 Summary
MultCloud is not a cloud storage. When transferring, it will cost traffic. MultCloud gives you 2TB traffic initially. And you can upgrade to 10TB free. MultCloud is an excellent and safe multiple clouds management tool. A good news is that MultCloud released a Chrome extension, which will help you transfer Google Drive to another account easily.
These posts are a handout from our Guest Author who works with us occasionally and provide their opinions for our regular visitors on Web-Development & Designing, SEO, CSS, Coding etc. As their details can be marked with their concerning post even we would like to add that out Guest Authors are expert and master of their own sector. If you also desire to be our Guest Author Contact Us at
submit@webgranth.com