We all know how important statistics are for websites. They hold the key for understanding your visitors and identifying the strategies to improve your website performance. With valid stats in your hands, you can also improve the relationship with your customers, fine tune your website content, determine where and how to make changes, and ultimately make fact based decisions for any marketing or advertising campaign.
There are various statistical tools out there that can help you to track your website performance, but more often than not, they are to complicated to figure out. If you don't feel like diving deep into your website analytics, there are still some simple, yet proven to work ways you can do that. So, here is a list of the WordPress plugins that can help you obtain valuable data and make stats-driven decisions.
No doubt, one of the most powerful and widely used analytical tool is Google Analytics. As you set and authenticate your account, it collects and reports large amount of data on every aspect of your website. Now, with Google Analytics WD plugin, you can access all of your GA reports right from the dashboard of your website. It comes with an advanced reporting functionality which gives you detailed stats on the overall performance of your website, including real time visitors, audience, technology, browsers, site speed,etc. And if you still don't want to overload your head with tons of numbers and charts, you can set custom reports for any metric and dimension that you're interested in, and access the stats from the plugin's reporting page. You can also enable the tracking of custom dimensions and get reports for logged-in users, authors, post types and categories. It's advanced goal management functionality will help you track targeted activities and get notifications whenever they are accomplished. The plugin comes with data filtering functionality which lets you get valid and useful stats.
You can also obtain valuable data about your visitors and their experience on your website via contact forms. Sometimes, the questions they address you with or requests they make a potential data that can be used for improvements.
With WordPress Form Maker plugin you'll be able to create any form for contacting you, surveys, questionnaires, applications and registrations, and obtain any kind of information from your visitors.It comes with tons of form field options, 41 editable form themes, endless customization options and easy to use submissions section. You can easily create multipart forms with text and number inputs, password, country select and custom select, checkbox fields, etc. The plugin supports data validation for the submitted forms and offers Captcha/ReCaptcha protection as well. The submissions section of the plugin provides simple analytical data about the choice based answers in the forms and is super easy to manage.
Real time chats give lots of information about the hard time your visitors face on your website, and help you instantly address them. With the information you gather from your visitors can help you further make adjustments and significantly improve your website performance and its usability.
Probably the most famous real time chat plugin in the WordPress directory is Zopim Live chat. It adds a responsive widget to your website and enables your visitors to address all their concerns and questions to you. The chat widget is easy to use and customize, and will complement to your website template and your taste. The plugin's analytics dashboard gives you statistical data about the visitor flow and usage patterns, and helps you reach out to any of your visitors whenever they need help. With Zopim Live chat, you can easily handle multiple conversations and give timely support to your visitors.
Quizzes are another great way for collecting data from your website visitors and for keeping them hooked. The best part of quizzes is that you can post any question type and collect valuable answers that will further help you make your website better. With Quiz and Survey Master plugin you'll be able to quickly and easily create unlimited quiz forms that support multiple choice, true and false, open answer question, drop down, multiple response (checkboxes), number, captcha and fill in the blank question types.The survey forms are pretty flexible allowing you to customize your text, set the number of questions per page, decide which of the answers are required, assign categories to questions, set time limit for answers, etc.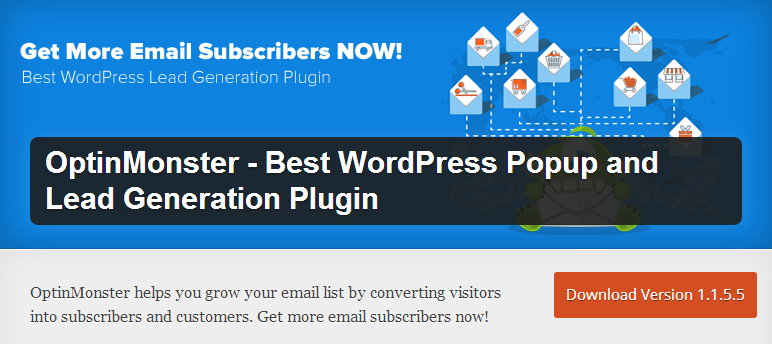 OptinMonster plugin comes with an easy to use form builder that allows you to create various opt-in forms in just minutes. The best part of the forms is that they are equipped with powerful exit-intent technology and A/B split testing feature that allows you to track user's mouse behaviour, eliminate the work of guessing, and present you with the stats of what best works on your website. There are 8 different types of forms and various form templates available, which are responsive, mobile friendly and highly customizable.
As you can see, collecting stats on your website audience and its performance is not always that complex and overwhelming as it might seem. These WordPress plugins are a true example of how simple yet useful data collection process can be. They'll provide you with a wealth of valuable insights and help you make data-driven decisions for the improvement of your website.
Author Bio:
Gayane Mar is the founder of WPCapitan.com, a WordPress enthusiast and blogger. She is a contributing author to a plenty of well-known WordPress related blogs and enjoys sharing her experience to help people with WordPress.
These posts are a handout from our Guest Author who works with us occasionally and provide their opinions for our regular visitors on Web-Development & Designing, SEO, CSS, Coding etc. As their details can be marked with their concerning post even we would like to add that out Guest Authors are expert and master of their own sector. If you also desire to be our Guest Author Contact Us at
submit@webgranth.com