List of Top Quality Forum Add-ons, Extensions and Applications
Discussion Forums have nowadays becomes the great means for ensuring success and heavy visitors' traffic. Forums are the place where visitors actively participate and share their thoughts and issues on any specific topic. These days almost every 8 websites out of ten are running forums wherein their users can interact and discuss matters of relevance resulting to the huge traffic and leading to the popularity of the site.
When matter comes to the running of the forum, requirement of several add-ons, extensions and applications are felt just because these add-ons enriches the functionality of the forum. We understand your requirement and hence we have arrived hereby with a detailed overview of the forum, its structure etc along with a widespread list of top class forum add-ons and extensions. In this post you will find a detailed overview of the forum, its structure etc.
Introduction to Forum
"Internet Forum" which is sometimes also referred to as "Discussion Forum" is the most popular terminology of which all of you must have listened. Actually an Internet forum/Discussion forum is an online discussion site where people can hold conversations in the form of posted messages. Forums generally have a preference to the premise of open and free discussion and often adopt de facto standards. Most common topics which are usually discussed on forums include questions, comparisons, and polls of opinion as well as debates and so on.
A discussion forum has a hierarchical or tree-like in structure, i.e. a forum can contain a number of sub-forums, each of which may have several topics. Within a forum's topic, each new discussion started is referred to as thread, and can be replied to by as many people as wish to. On most of the forums, user needs to register and then subsequently log-in to post any messages or carry on discussions or read existing messages. While on most forums, users do not have to log in to read existing messages.
Forum structure
As mentioned earlier, a forum consists of a tree like directory structure containing at the lowest end topics which are commonly referred to as threads and inside them lay various posts. Logically, one can say that forums are organized into a finite set of generic topics which are driven and updated by a group known as members, and are governed by a group known as moderators.
All discussion boards are displayed in three basic formats
⇒ Non-Threaded
⇒ Semi-Threaded
⇒ Fully Threaded,
Each of these has its own advantages and disadvantages. If messages are not related to one another at all, then in that situation, Non-Threaded format is supposed to be best. If any message has certain topic and there comes multiple replies to that message topic, then in that case a semi-threaded format is assumed to be best. And there is any message topic and multiple replies come to that message topic, each reply again has multiple replies, then a fully threaded format is best.
Top quality standard Forum add-ons, extensions and applications
After going through the basics of the discussion forum, now let us move towards top quality of forum add-ons, extensions and applications which will enrich the functionality of your discussion forums. Check out the widespread list of these forum add-ons as given below:
Advanced Electron Forum
Advanced Electron Forum seems somewhat similar to phpBB but it does have an integrated shout box and news system to its credit. It provides a very simple and easy to use Administration Panel. Its User Control Panel is also simple yet beautiful interface where users can set their preferences for the board.
Features:
⇒ UTF-8 Supported and W3C Validated.
⇒ Provides News System with articles, Search Engine Optimization Tools, ShoutBox, and regular automatic updates etc.
⇒ Include Threaded Mode for topics, JS DOCK for easy navigation, WYSIWYG Editors and Customizable Themes.
⇒ Multiple Languages supported.
⇒ Allows exporting files and database.
⇒ Suggest Framework for usernames while writing PM's.
Pros: Integrated shout box and news system
Cons: limited to small community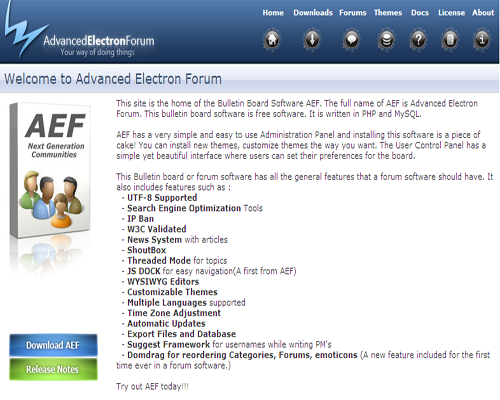 BbPress
BbPress is forum software which is wholly focused on web standards, ease of use, ease of integration, and speed. It offers excellent integration with WordPress and shares the same database as WordPress so that if a user registers on the blog, he or she automatically gets a forum account.
Pros: It is light-weight, and has superb integration with WordPress sites.
Cons: It has only basic and limited features in comparison to the others.
E-Blah
E-Blah is an open source community building forum software built with security, stability, and speed in mind and which has very low system requirements making it a fast and flexible forum system. This forum provides a versatile platform and assists the audiences with its 24*7 technical support team who are always ready to answer any question asked by the people registered on the forum.
Features:
⇒ It has full featured Administration Center and a powerful Private Messaging System.
⇒ Security control over board, moderator, and administrator functions.
⇒ Syndication of boards, categories, and calendar events.
⇒ Detailed logging and statistics, easy to use calendar for personal and public events etc.
⇒ Spam protection through the Akismet spam checker.
Pros: It provides options to create a portal, etc.
Cons: It is not so popular like other forums and hence has small community support.
Flux BB
FluxBB is a fast, light, user-friendly forum application which is somewhat based on based on PunBB for your website. It is free and highly responsive forum software which is easy to use and has a proven track record of stability and security making it an ideal choice of forum for your website. It serves as a lighter, faster alternative to some of the traditional feature heavy forum applications.
The latest release of FluxBB is FluxBB v1.4.7 which has following-:
features:
⇒ Easy installation and setup
⇒ Supports MySQL, PostgreSQL and SQLite
⇒ Supports PHP4 & PHP5
⇒ Produces valid XHTML 1.0 Strict pages
⇒ Easily translated with UTF-8 support
Pros: Light-weight, easily customizable
Cons: Still comparatively new, so there might be apprehensions about the future.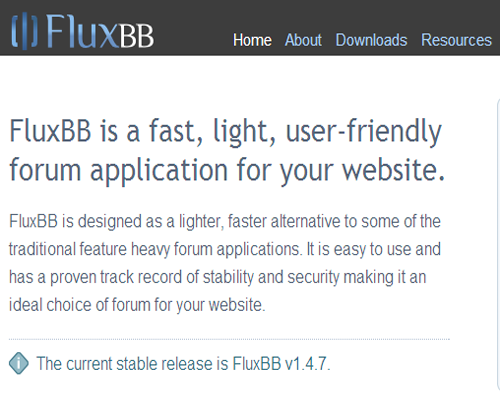 FUD Forum
FUD Forum is another light weight and easy to use forum software which is possessed with great features such as import of XML feeds as well as easy syncing with mailing lists which in turn empowers fast discussions without any compromise.
Pros: It has several terrific features.
Cons: It has outdated and dull interface.
Group Server
GroupServer is excellent forum software which is built by OnlineGroups.Net. It facilitates the user with its several mammoth features such as Email lists, an integrated web interface, and control. GroupServer has an email interface like Mailman, and a web interface like Google Groups, but it is GPL. It's latest release is GroupServer 11.08.
Features:
⇒ Administering large mailing list sites.
⇒ It gives users a web interface.
⇒ It keeps control of your site.
Pros: It is ideal for basic usage.
Cons: It is definitely not recommended for larger forums.
Mini BB
MiniBB is an open source program for building your own Internet forum and is one of the fastest growing forum software both in terms of power and popularity. It is inhabited with several promising features and possesses a bridge or synchronization option with some of the well known CMS's, especially WordPress that lets you integrate your forum software with the rest of the site.
Features:
⇒ It provides a unique forum and satisfies both the graphical and functional needs of everybody because of its very deep integration and customization possibilities.
⇒ Constitute a unique Gallery and Showcase which matches the taste of ⇒ Features an auto-compiling tool with the help of which it is easy to build your own version of the core in seconds.
⇒ Provides easy core upgrades for future.
Pros: Awesome feature set, good support
Cons: Fast enough, yet not the fastest software around
MW Forum
Apparently, MW Forum has nothing extraordinary to offer to its credit. However, most forum scripts are based on PHP. MW Forum, on the other hand, employs Perl.
Pros: Very fast
Cons: Basic set of features
MyBB
MyBB is the free and open source, intuitive, extensible, and incredibly powerful forum software that allows you to have a complete command over your website's forum. It is well suited for all those who are exploring for themes or templates as well as plug-ins or extensions.
Features:
⇒ It offers an administration panel which allows controlling every aspect of your discussion board.
⇒ It also offers user control panel which allows changing the way they view discussions.
⇒ It offers inline editing and moderation features to control discussion and keep the forum tidy.
⇒ It has one of the most advanced plug-in systems that take only minutes to install plug-ins that can easily extend the forum functionality.
Pros: Easily customizable, numerous themes and plug-ins, active community support
Cons: Frequency of updates is unpredictable at times
Nova Board
Nova Board is well known discussion forum software that has a sleek interface and is extremely easy to use. It is best suited for beginners and intermediate users.
Pros: Regular updates, nice design
Cons: Small community
Phorum
Phorum is one of the busiest forums for Star siege & Tribes and enables everybody to make a site design that fits with their needs. It is really unique message board software that is designed to meet different needs of different web sites without compromising the standards of quality performance or features. It offers very flexible hook & module system which allows the webmasters to create modules for using external authentication, altering message data before its stored, adding custom information about users or messages and almost anything they could want.
Features:
⇒ Phorum gives the web designers the power to rearrange the data in any shape, form or fashion they could want.
⇒ It offers very flexible hook & module system which allows the webmasters to make their website unique.
⇒ It can run a single forum with over 2,000 new posts per day.
Pros: It is quite reliable, and easy to install.
Cons: It has feature set which are becoming outdated.
PhpBB
PhpBB is an extremely popular, flat-forum bulletin board software solution which is available free of charge and that can be used to stay in touch with a group of people or can power your entire website. It has been in active development since 2000. With its hundreds of style and image packages, it lets you to create a very unique forum in minutes.
Features:
⇒ It also has bridge and integration options with certain CMS's.
⇒ It has an extensive database containing hundreds of style and image packages to customize the discussion board.
⇒ It offers a greater complement of features, while maintaining efficiency and ease of use.
⇒ It is available free of cost.
Pros: Popular, good community, nicely designed
Cons: May not be suited for very large forums
PunBB
PunBB is one of the extremely popular and light weight discussion forum software which is easily customizable. It is populated with various helpful features which assists the webmasters to a great extent.
Features:
⇒ It offers a lot of fixes for bugs in CSS,
⇒ It allows adding missing language entries on language files.
⇒ It corrects path and alerts on install, and also correct deprecated function calls,
⇒ It assists the webmasters by deleting non-activated users on registering, hiding guest e-mails, increasing visit timeout, and many more.
Pros: It is light weight and is easily customizable.
Cons: It has only basic feature set.
Simple Machines
Simple Machine is a free, professional grade software package having a moderate set of features which allows you to set up your own online community within minutes. Its powerful custom made template engine puts you in full control of the layout of your message board and with its unique SSI (Server Side Includes) function; it lets your forum and your website interact with each other. SMF is written in the popular language PHP and uses a MySQL database. It features a powerful package manager which allows you to quickly apply any of the hundreds of modifications in our database, as well as a variety of custom themes that change the way your site looks.
Features:
⇒ It is simple, elegant, effective, and powerful and free as well- all in just one package.
⇒ It offers several templates and is easily customizable.
⇒ Simple Machine Forum (SMF) is easily customizable.
⇒ Its highly experienced support team provides you high quality support.
Pros: It is fast and has a good set of templates and themes.
Cons: It does not possess so many advanced features.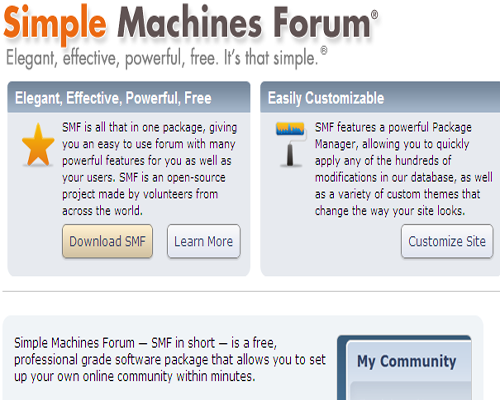 UseBB
UseBB is a light weight and Open Source forum package based on PHP 4 and MySQL. It is distributed freely under the GPL license and seems ideal when you just need to get a forum up and running and require negligible features. UseBB is an ideal solution for small to medium-sized websites which require an easy to use forum package without the bloat, that produces standards compliant output, is secure and easily configurable.
Features:
⇒ It can be obtained completely free without having to pay any fees for support, future or development versions.
⇒ It is developed as Open Source software, and anyone can redevelop it and write their additional features, templates, etc.
⇒ It ensures to be one of the easiest and most usable forum packages, limiting the basic feature set to only the essential.
Pros: It provides frequent updates and is very fast to operate.
Cons: It has only basic features and not any advanced one.
Vanilla
Vanilla forums are open-source, standards-compliant, customizable discussion forums and is the best way to make your community grow. It has a light weight forum script and is well known for its user friendly admin backend. Its interface looks just as the copy of WordPress.
Features:
⇒ No more tedious theme concerns.
⇒ Works on any site, any browser.
⇒ Includes plug-ins for popular platforms.
⇒ Empowered with 500+ Vanilla plug-ins and hence no loss of functionality.
Pros: It is fast and easy to use.
Cons: It does not have any advanced features.
Viscacha
Viscacha is a free bulletin board system that boasts of an integrated Content Management System which is inbuilt with new and user friendly features. The system supports packages (plug-ins and components) for easily extending the core system.
Features:
⇒ Viscacha uses a database abstraction layer to support as many databases as possible.
⇒ It lets you to easily set up a complete (personal) homepage.
⇒ It supports plug-ins and components for easily extending the core system.
Pros: It is light weight and faster to use.
Cons: It has small community support.
Yet another Forum
Yet Another Forum is an open source, freely available stable, fast and mature discussion forum software which is globally supported by people. It is inbuilt with several advanced features which empowers webmasters and their community. It is built using ASP.net and its interface is sleek and quite good looking.
Features:
⇒ 100% C# ASP.NET 3.5 framework SP1 and above.
⇒ Uses AJAX and jQuery for controls and Microsoft SQL Server 2005/2008 for database support.
⇒ 100% XHTML Validated and has an isolated CSS theming system which won't conflict with an existing site.
⇒ True ASP.NET Membership Provider support.
⇒ Runs as a User Control (.ascx) in .NET allowing simpler site and CMS integration.
⇒ Instant Chat System with flyout.
Pros: It is nicely designed and is easy to use.
Cons: Before using it, you need to check whether your webhost support ASP scripts or not.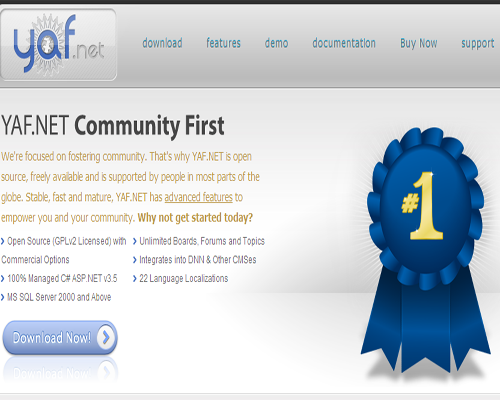 Yet another Bulletin Board
Yet Another Bulletin Board is excellent open source discussion board software which is built using Perl. Its interface looks good; it has been in use for past 10 years. Since, YaBB is open source, so anybody is free to modify the forum to fit its website looks and needs. It may include changing the template, the complete looks, the graphics, and even the functionality.
Features:
⇒ It has MySQL support and possesses the capability to support almost any database or data source.
⇒ It is completely skinnable which allows complete control over how your board looks.
⇒ It has brought new programming techniques to codebase such as objects where they make sense and structures.
⇒ It offers several graphics and templates to change the looks of your forum.
Pros: It is user friendly and is nicely designed.
Cons: It is slightly slower as compared to the others.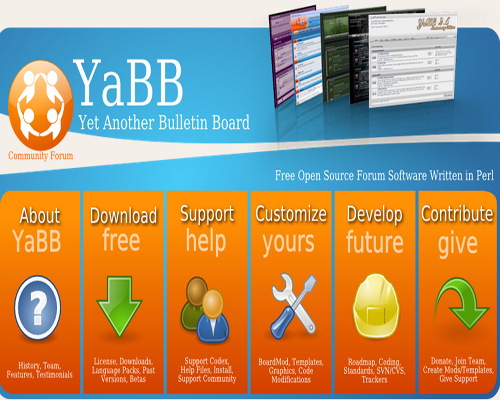 Simple Press
Simple Press is a feature rich, completely integrated and fully scalable forum plug-in for WordPress. It is packed with several features of a forum which will seamlessly turn your WordPress site into a community.
Features:
⇒ It integrates well with WordPress.
⇒ It is highly customizable.
⇒ It simply uses your existing design and hence can save your valuable time as you do not need to customize it.
Pros: Seamless integration with WP
Cons: Just a WordPress plug-in and thus useless if you're using other CMS's.
Conclusion
Taking a glance over the above forum add-ons, extensions and application, we arrived at the conclusion that every forum add-ons has some pros and cons. Each of these scripts has its own strength and weaknesses. Thus choosing which particular add-ons is the best among these is quite decisive and varies from user to user. Thus it is advisable to choose the one which offers at its best and top privileges and must be a commercial forum script.
We hope these forum plug-ins might prove beneficial to the webmasters. Please give your feedback regarding this post, that how do you feel this post. If we are missing something, please let us know, we will include it in the further blogs.
Brayan Lazaris, a web development expert, has been working with
HireWebDeveloper
for many years. Till now, he has written numerous blogs and articles elucidating the best methods and approaches to process web development brilliantly. His keen interest in researching the smart technique for better web solution has opened the gateway for many businesses to establish a strong foothold in the digital space.