Online Shopping Sites List: Top 10 Online Shopping Sites in India
E-commerce has seen a rapid surge in the Indian market over a few years. Many new online shopping portals have come up that sell a range of merchandise. The presence of some platforms have made the creation of these portals quite easy as most of the functionality are built-in and require just a few tweaks and modification to customize. Product management, discount management, check-out page and user dashboards are some features that you need not develop from scratch. A comprehensive list of online shopping websites that have been built using these e-commerce platforms, has been provided here.
Top 10 online shopping sites in India
Although there are hundreds of online shopping websites list that are offering services to the people, few of them have been successful in carving a niche for themselves. Most of these online shopping portals have taken inspiration from the big names of the e-commerce industry in the world and have molded the services to suit the Indian sensibilities.
Also, these top online shopping sites in India (Such as: snapdeal, amazon and flipkart) have simplified the entire process of online shopping and offered excellent logistics and after-sale support. Another reason for them being on the top has been their consistent efforts to offer the best quality products at discounted price. These top ten e-commerce portals have inspired many to jump into the arena of the e-commerce industry.

Flipkart was first opened as an online book selling portal but later began to sell a wide variety of merchandise including electronic appliances, home appliances, beauty products, clothing, sports equipment, baby products and others. It is currently the largest online shopping website in India.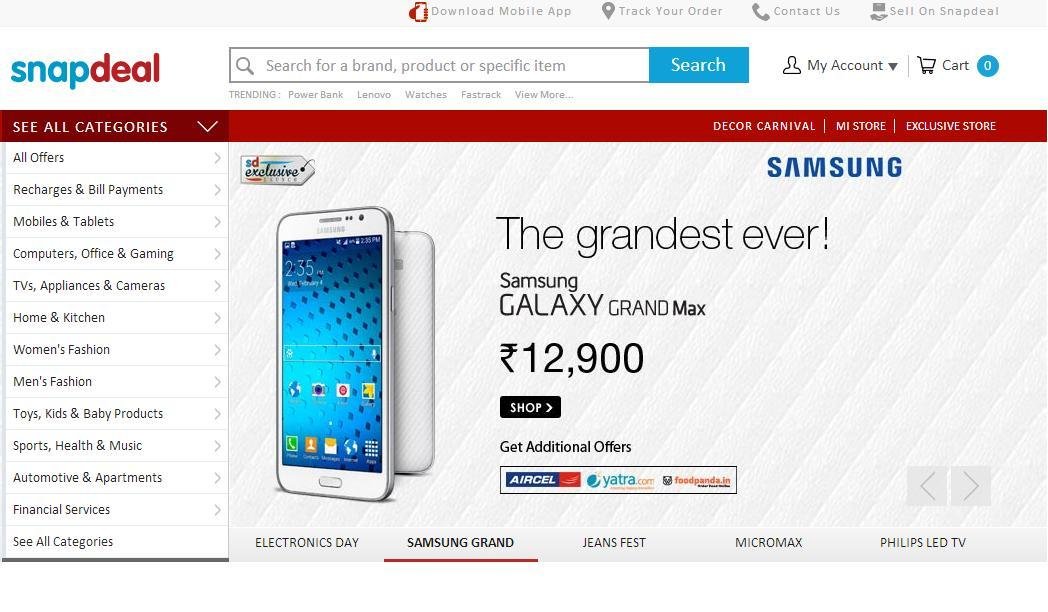 Snapdeal, a popular online shop brings together sellers and buyers at one platform. However, the process of placing and processing the order is done by it. You can find anything for men, women and kids over here.

Amazon is an online shopping store which has proved its worth across the world. Its tried and tested methodology and immense experience in online retailing has made it one of the biggest e-commerce portal in India.

E-bay is an American e-retailer which also operates in India. It is a type of B2C e-commerce as e-bay acts as a marketplace where it moderates sale and purchase between a seller and a buyer.

Shopbychoice is well-known e-commerce portal that sells a wide variety of merchandise including electronics, apparels and other household and lifestyle products at discounted rates.

Shopclues is known for its wide range of products and occasional sales that offer huge discounts for a limited period. Cash back is given to the customers in the form of Shopclues bucks.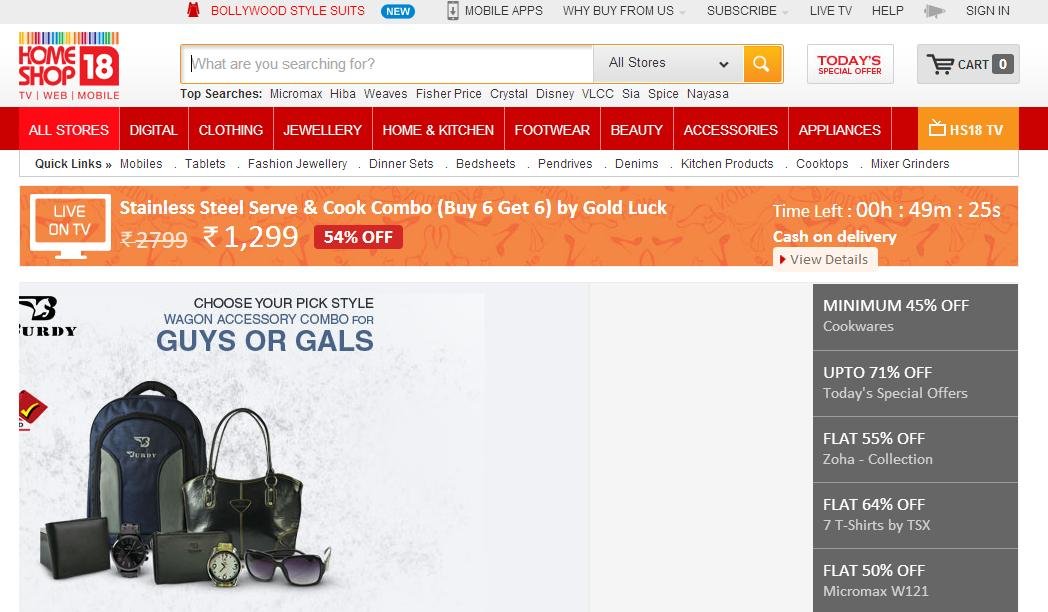 Earlier, homeshop 18 used to take orders through phone, but keeping pace with the ongoing trends, started its e-commerce portals. It specializes in household, kitchen and lifestyle products.

Paytm is relatively new in the arena of online shopping but has fared well because of its wallet features and cash back offers.

Naaptol was started as a product comparison website to allow the buyers to make informed purchases. It now follows a marketplace business model by providing a platform for sellers to sell their product. Customer service is managed by the company.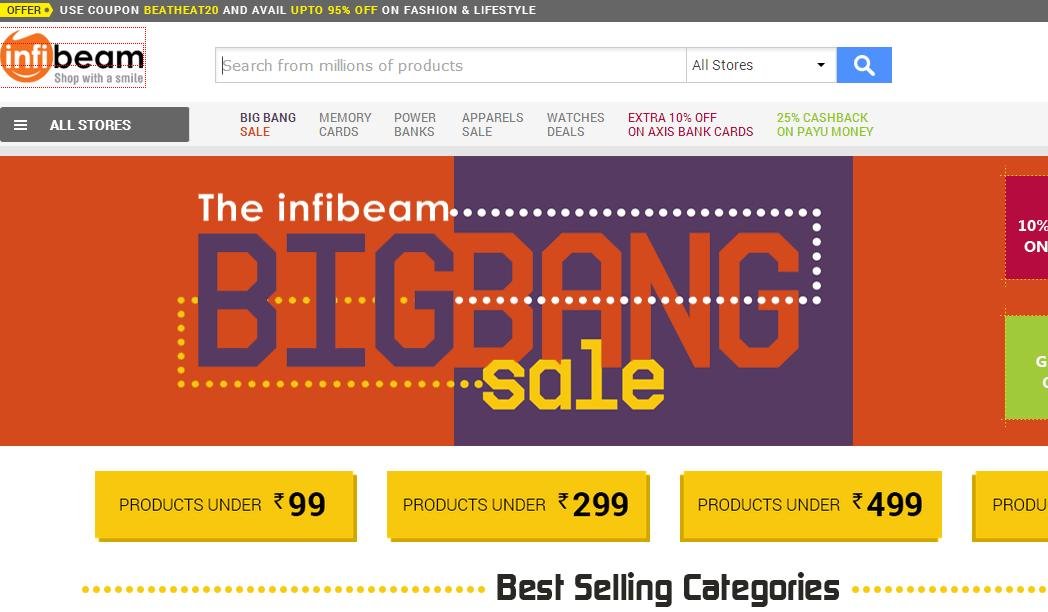 Infibeam is one of the oldest e-commerce portals in India. It sells books, apparels, accessories and lot of other stuff.
Related Video
Fashion & clothing online shopping portals
People love to wear fashionable clothing and what can be better than shopping for the best brands sitting at home. These fashion and clothing online shopping sites have made it possible. Add to it the discounted price and fast delivery and the perfect recipe for fashion shopping is prepared. For any fashion portal to be popular, a lot of factors need to be fine tuned that include product images and description, logistics, easy checkout, payment options, logistics, and others.
Interestingly, these fashion portals have become quite popular in remote places where the people do not have access to branded apparels. By providing logistics support at such locations, these online fashion portals enjoy a large customer base.

Jabong is an online fashion store that sells clothing and accessories from different in-house, national and international brands. Jabong offers a reward point system and frequent sales.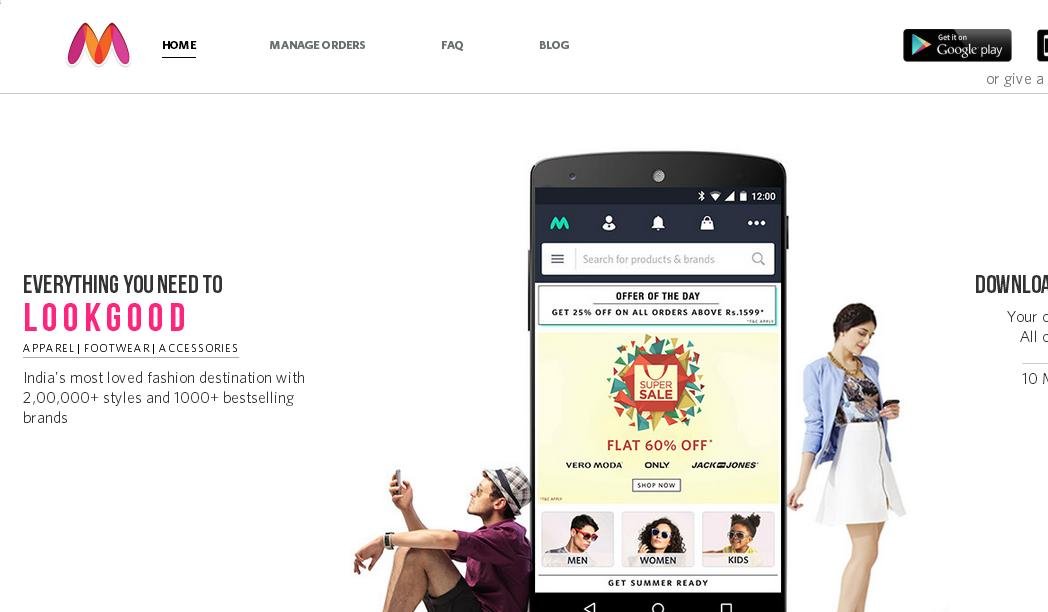 Flipkart has recently acquired Myntra which is an e-commerce portal selling apparels and accessories. Myntra went app-only on May 15th, 2015 and closed down its website.

It is a well-known online fashion store where you can purchase a wide range of clothing and accessories at discounted price.

Zovi was started off as a brand that manufactured apparels on a local level. It is now a fashion portal that sells clothing at reasonable rate.
Yepme is a full-fledged fashion label that sells its products through the online fashion portal named Yepme.
Online shopping sites for buying furniture and home decor items
Decking up the home was never so easy. Several online shopping websites have emerged that specialize in home decor and offer a range of products to help you decorate your house. Most of these portals not only give you access to quality products like Sofa, Beds, wall cabinets and other furniture but also ensure that they are delivered and installed by the experts.
These websites are a boon for those people who do not stay in big cities and do not have access to branded furniture showroom. They can easily order the items of their choice and have their homes decorated in the best possible manner.

Urban Ladder is a curated online furniture shop based in Bangalore. The company offers a wide range of products such as wardrobes, beds, Sofa and dining and other furniture categories. Urban Ladder is currently active in 12 cities across India.

This online furniture portal boasts an extensive collection of furniture and home decor items. They offer more than 600 national and international brands for the customers to choose from. Apart from the online portal, Fab Furnish also has physical stores across the country.

Pepperfry is an e-commerce portal that sells furniture, kitchen items, dining items, and home decor stuff. There are about 75000+ products in a differentiated category. It follows a managed marketplace business model and connects small and medium business to millions of customers.

In Living is a renowned manufacturers and retailers of solid wood furniture. They are very particular about the quality of the wood and so their furniture lasts for generations.

It is one of the most popular furniture shopping websites. You can find simple yet elegant designs and get them at affordable prices. They use the finest materials to craft their furniture. You cam also hire interior designer who will help you decorate your home in the best way.
How Cash on Delivery as a Payment Option Affects the Sales?
In India, COD is a popular form of payment in India. People are still not sure about the security systems that these websites put in place. Availing cash-on-delivery as the payment options also relieves the customers from the stress of worrying about the product, if they are not delivered due to some reason.
Especially, in the remote parts of the country, people are not aware of technicalities and reluctant to share their card details with these sites. There have been occasions when many shopping websites have taken unnecessarily long time to refund the money for a failed order or return. Hence, COD as a payment option is the most widespread in India and those websites that do not offer this facility are often not preferred by some customers.
eCommerce Scenario in India
E-commerce portals are mushrooming in India at a fast pace. Over the period of 5 years, e-commerce industry in India has become worth $16 Bn and is expected to grow at similar pace. There are several reasons that have fueled this unprecedented expansion. First, the users can choose between a wide variety of products sitting at the comfort of the home and second that they get these products at a discounted price.
It all started with few e-commerce startups who realized that e-commerce had tremendous potential in India and began thinking of ways to harness it. There were seasoned players like eBay already in the fray but what India required were e-commerce portals that understood the sensibilities of the people and catered them accordingly. This gave birth to the e-commerce revolution in India which has completely transformed the way, Indians used to shop.
Some Popular Platforms That are Used for Building These eCommerce Portals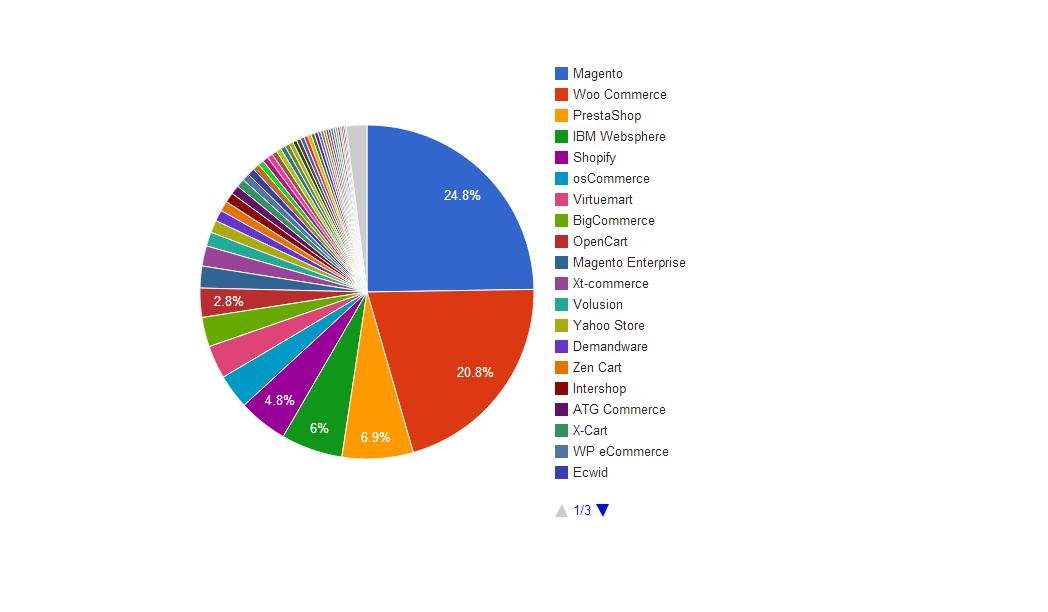 Creation of these e-commerce websites that work like charm are crafted with the use of several programming languages. However, e-commerce development platforms like Magento, Prestashop, Shopify and many more make the development easier for the programmers and the designers. Today, they are hundreds of e-commerce portals dealing in variety of products and merchandise, that have been created using these platforms. The most popular among these platform is Magento which enjoys the largest share, 25.2% among the e-commerce platforms that exist. Woo Commerce comes close second with the share of 20.7%. Trailing behind in decreasing order of share are Prestashop, IBM WebSphere and Shopify and others.
Conclusion
Online shopping portals need to be highly intuitive and full of features. Building such a portal from scratch will consume a lot of time and resources. Hence, to make things easy, platforms like Prestashop, Magento, Shopify etc are used. These platforms have built-in features that just need to be customized. From product display to checkout page, each and every section of the portal can be customized for an enhanced UX. It also becomes quite easy to manage product update, discounts, logistics etc with these platforms.
Being a skilled Magento developer, Paul Schroer has been working for quite a few years with
PSDtoMagentoDeveloper
. He endeavors to leverage the clients with the excellent Magento solutions. He has been providing excellent web solutions to help company get renowned position in the industry. His knowledge in Magento enables him to write and post the blogs encompassing valuable information on Magento and its functionality.