List of Best UX Website Designs Showing Great User Experience (UX)
One of the most important aspects to be considered while designing and developing the web applications is the User Experience (UX). The current era of digital world is very competitive every web site owned organization want to be at the top or have higher visibility which is directly dependent on the traffic, ranking, content type, and functionality. Suppose everything is the best content was meaningful and design is perfect.
Even then web page never gets as much visitors or the good feedbacks, the reason is might be User Experience factors is not considered very good. So here Webgranth present some of the best websites where User Experience (UX) aspect is excellently considered.
User Experience (UX) is the very wide and bright concept, which if implemented effectively would bring the expected traffic flow towards the websites. User Experience can be called as the experience or the emotion of visitors that they have about the web pages. User Experience in term web designing comprises the User interactive design (user interface design) and content flow. The concept will only be possible with the help of following best examples of Website that show the idea of User Experience in an advanced manner. Let's explore these websites
Best Examples of User Experience Website Design
DAVID BASTIAN FERNANDEZ IZARRAULDE is a designer from Santiago, Chile. His great art can be seen through this web site. He gives the simple but powerful design focusing excellent User Experience (UX). User interface design is very live and outstanding. On the home page he clearly depicted his entire app with moving grid. So that users do not confuse and can easily search the type he wants. A navigation technique is so smart that visitor would like to enjoy surfing. On every page master menu button is used which is very helpful in directing to the concerned page.
Eskimo is an award winning visual communication studio having a reputation in creating strategic design, digital, print and experiential. They do an outstanding job in creating interactive design while presenting their work through online. Visitors will never be perturbed and on visiting the site they feel like they know how to explore this website. Here the organization profile is stated very clearly and beautifully. Strategic design adopted on this page is very User Experience (UX) friendly.
Herrlich Media has shown the very live design with futuristic and hilarious concepts. Here every page is very well integrated and instructive. You will definitely enjoy navigating every page of this website as it is full of fun. User Experience (UX) is very interactive and beautiful. Here you will get clear idea about how to explore this site.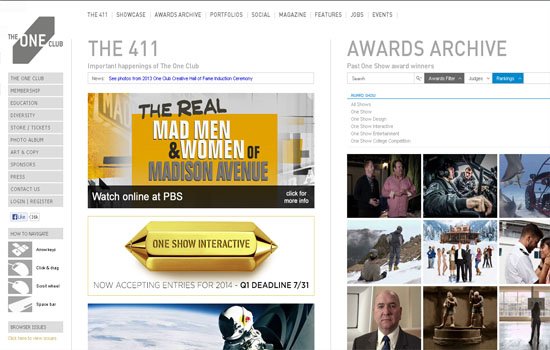 The One Club is the non-profit organization dedicated toward advertising and designing. The web page of this site is very creative and youthful. User Experience (UX) is very friendly and outstanding. The interactive face of the website is catchy and full of energy. Proper guidelines are also mentioned on the left sidebar which tell the visitors that how to use the console (keyboard and mouse) to navigate through pages. Every item is very well categorized and is shown through horizontal and vertical scrolling to make visitors browsing user friendly.
Venables Bell & Partners does not leave any stone un-turn while implementing the web page with outstanding User Experience (UX). Here every aspect of interactive links designing are very well put up such as mouse hovering, vertical scrolling and high styled visual graphics. This site is very eminent that lost visitor in just exploring all the content on this page.
Moorgate Exchange is the real estate advisory investment company in Asia, Pacific and Europe. The website of this company is very simply designed with powerful functionality. User Experience (UX) is very well implemented. The interface of this site is full of excitement and easy to use. The Microcopy of this site very instructive and very helpful so that the visitor will never lost.
Harry present the features website from the front page it shows what the company is all about. Then menu items are very clearly defined that visitors will never be bored. The most beautiful aspects of this website are hovering techniques and storytelling vertical scrolling. An outstandingly focused on User Experience (UX) strategy.
FS Emeric contributed a lot of enormous fonts from Fontsmith. The design of this website is very informative and creative. Vertical scrolling intelligently tells the story, work, and cover various aspects of the organization. A theme change with vertical scrolling is also very outstanding and stunning. User Experience (UX) is focused in every aspect.
Defringe website has put up the entire art/design one page and categorized these designed in a simple manner. Menu at the top of the site works as the navigator for collection of items. Every item can easily be searched. Use of Microcopy is very effective and efficient. The way navigating different page is made simple by just giving next button at the bottom. User Experience (UX) concept is very well utilized.
Grow is a digital agency that provide the outstanding interactive experience and very creative in developing advertisements. Here visitors will feel a joy of interacting with every entity on the site. The model of this website is very clear and user-friendly. The quality of User Experience (UX) features is very interesting and reliable.
Conclusion
In brief User Experience (UX) is the status that tells that how the well the design of the website is implemented which can be known through the very good experience of user interaction toward the website. Here through this post it is believed that you got the knowledgeable idea about User Experience features. The prime focus for improving UX is first to put simple design which covers all the information about the organization and secondly it should be interactive. How is the post? Share your views through the comment section given below. Be connected for next updates
The area of interest of Jennifer Adam is to cater technologically advanced and powerful tool which works remarkably with multiple browsers and devices. Being a talented professional of
inkyROBO
, she is capable of implementing the innovative ideas and also loves to write inspiration blogs.