List of best Galleries to Submit Website Design Work
Great website design comes from great web designers. Oftentimes, creative web designers look for appreciation to their design work. In the web design industry, designers finish their web design project work and want the world to see it. They know it very well that the work done by them is the best but still they are looking for appreciation.
An Appreciation is a wonderful thing which plays major role to boost web designer's confidence. Genuine and sincere words of praise are must in every field. The fact is correction does much but encouragement does much more.
While website designing, web designers are more concerned about creating a stunning design which makes everyone to look at it and share it across the world. But, where to expose the work and how to promote it in best possible manner is one of the major issue of concern. In the modern age, there are dozens of web design galleries available out there over internet through which designers display their work. Those days are gone when you post a Tweet to showcase your website design work. These web design galleries provide all creative people a platform to feature their web design work free-of-cost.
Submitting website design to web galleries is probably one of the easiest and most helpful ways to showcase your creative artwork to the world and share from people around the world. The best part is that web galleries just bring to you a golden opportunity to promote yourself and guarantee a major exposure to your work. By submitting your designs to these websites you can promote yourself and your work among people across the globe.
In this post, we have put together best collection of the web design galleries where you can submit your designs and showcase your work so that people can notice your artwork. These below listed website galleries are regularly visited by hundreds of thousands of web designers and web developers. The best part is that they connect you to a wide community that is out there. We hope you may find this collection of website galleries useful to show-off your website design work to the world.
Collection of Best Website Galleries
HTML5 Gallery
HTML5 gallery is a complete platform where you can showcase websites that use HTML5 for markup. Enjoy browsing the showcase.
CSS Mania
CSS Mania is the most visited CSS gallery worldwide for people who want to showcase their website.
Creattica
Creattica is a gallery where you can submit great design and inspirational imagery work for consideration and voting. Here, the work is accepted and featured in the gallery of Creattica. At this website gallery, you can submit everything like business cards, Flash websites, logos, icon design, brochures etc.
Behance Network
Behance Network is one of the world's leading platform for creative professionals showcase their work to millions of visitors for an instant and efficient promotion of work.
deviantART
deviantART is the largest online social network where you can submit your website design work with great ease.
Best Design Web Gallery
Best Design Web Gallery is a website design gallery where you can submit all type of websites like best blog designs, e-commerce websites, flash based websites and any CMS based websites. At BDWG, you can feature your website design work in the gallery.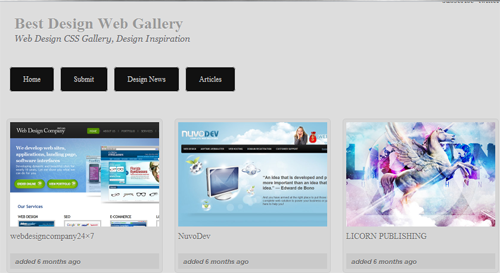 Designaddict
Share your website design artwork with the entire world through Designaddict. It is a wonderful online gallery where you can submit your websites.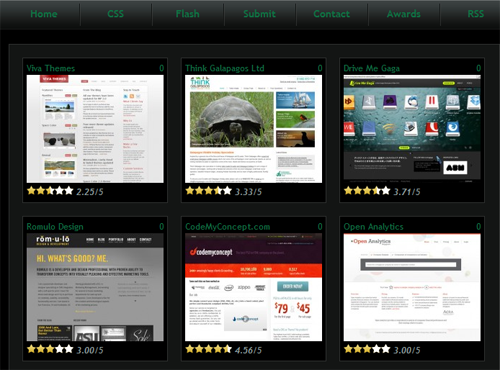 CSS Based
CSS Based is a complete online resource and inspiration guide for everyone (web agencies, designers and developers) where you can see hundreds of thousands of beautiful and functional websites to engage visitors and help them to build better website.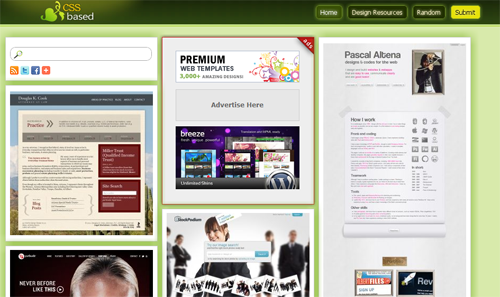 Design Snips
This is another website gallery where web designers from all around the world can submit their all type of website designing work.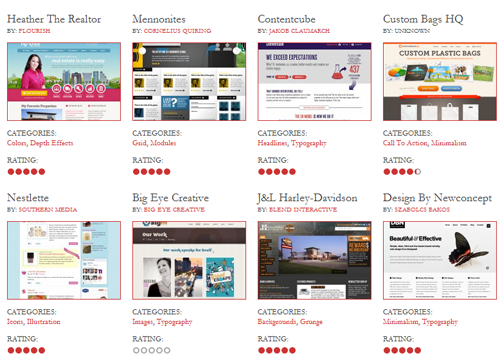 Design Awards Gallery
DesignAwardsGallery is a web gallery which stands out as a CSS Websites Catalog where you can browse through the stunning collection of creative and inspiring CSS web designs. Here, you can also submit your beautiful CSS website or a creative piece of web design just by filling simple submission form.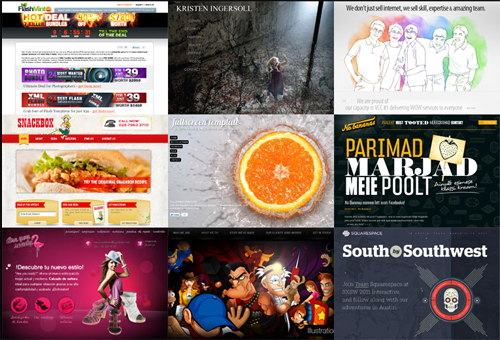 CSS Fights
Submit your website design at CSSFights – a complete online website gallery for everyone especially creative people like web designers.
CSS Fresh Blend
CSS fresh Blend is a perfect platform where designers can submit their website. Most of the web designers refer this online gallery as a fresh dose of creative inspiration.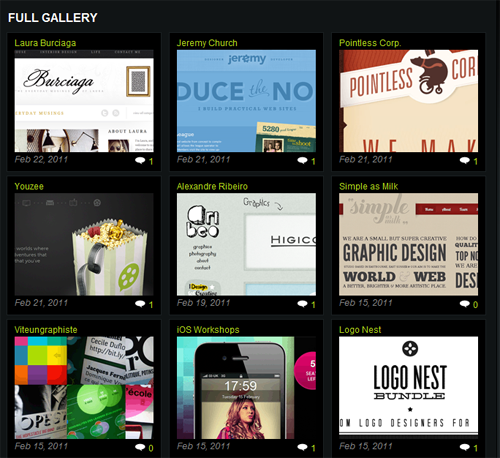 source
Design Idol
Design Idol is a CSS gallery where CSS based web designs can be submitted with great ease. This online gallery provide complete platform to designers to share their work to whole world.
Inspire Mix
InspireMix – a popular web gallery most frequently referred by designers for daily design inspiration, ideas and trends. Here, you can submit everything from web designs to WordPress themes, Flash designs, portfolios, typography and logos.
Design Snack
Share your website design work with the whole world via Design Snack – a social-powered web design gallery to reach millions of visitors directly. This is an interactive platform where designers can showcase their work.
CSS Gallery
CSS Gallery.com is among some of the world's Best CSS Galleries where the largest collection of innovative web designs has been submitted by web designers from around the world.
Divine CSS
Divine CSS showcase gallery is a platform where some of the world's best designed websites (Flash & CSS) has been showcased by creative and talented web designers from around the world.
Gallery Buzz
GalleryBuzz is a web gallery to showcase inspiring CSS, HTML5 and Flash website designs meant for inspiration to propel creative thinking of other designers.
Admin from India is a founder of WebGranth, an entity of
Sparx IT Solutions
with over 8 years of experience on different verticals of web design & development. In his quest to spread the knowledge regarding web development, he has been contributing in WebGranth by submitting his valuable blogs.