List Of Best Facebook Applications Ever
With the growing popularity of the most social networking site, there are lots of attempts coming in the direction of improvising there functionality. Facebook is one of the popular social networking site. There are lots of applications in Facebook which makes it different from other. We can add several applications such as games, horoscopes, etc. on it.
All of these applications make Facebook a wider social platform where the users can play games, enjoy common interests, and share information of other social sites such as twitter, LinkedIn, and Friendfeed with each other on their Facebook profile. These applications are developed according to the Facebook's guidelines for the convenience of users.
Facebook applications can make your page more lively, attractive, entertaining and engaging. Facebook applications can help you in finding more friends and fans. With the help of facebook application, you can keep your friends up to date.
Here we are providing a comprehensive list of most commonly used application in Facebook.
Awesome Facebook Application
Picnik
Picnik is a facebook application which provides you to access online photo-editing directly within Facebook. With the help of this application you can crop, rotate, resize and color-balance your photos. It also enables you to browse and edit any photo you're tagged in.

Static FBML
Static FBML is the pioneer Facebook application that lets you to add static page to your FanPage. FBML stands for Facebook Markup Language. For using this application, there is a need to know some basic HTML code.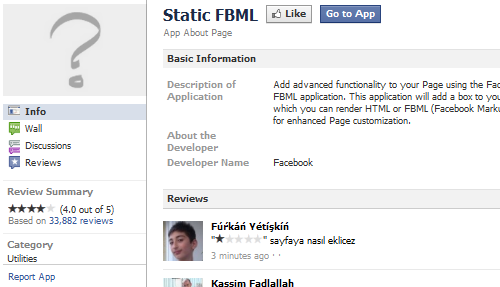 RSS Graffiti
RSS Graffiti is a superb Facebook application which periodically checks the RSS/Atom feeds. If you specify and posts any new entries, this application finds it & post it automatically to your Facebook Walls. It is primarily meant to take the fuss out of keeping your Facebook friends and fans updated with the latest news from your other sites.

Flixster
Flixster is a facebook application which is especially designed for movie-lovers to discuss films they've seen with Facebook friends and fellow cinema-goers. This application will help you to keep up with the latest releases in cinemas and on DVD.

Trip Advisor: Cities I've visited
With this application, you can share your travel experiences with your friends and help them decide where to go and what to do when they venture out in the world with TripAdvisor.

Where I've Been
Similar to Trip Advisor's application, this application will enable you to note down everywhere you've been in the world and will extend beyond the list of your frequently visited cities.

DivShare
The DivShare is an excellent Facebook application which links your Facebook accounts to its online storage service, so that you can use it to share documents, photos, music and videos with your friends.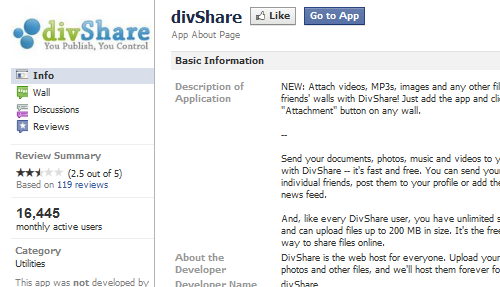 Web Sudoku
Web Sudoku is another Facebook application which provides you a new Sudoku puzzle to play within Facebook every day.

Twitter
With the help of this application you may Link your Twitter account to your Facebook profile and get two social networks for the price of one. Through this application you can post your tweets to your Facebook profile or Facebook page automatically.

LinkedIn
Similar to Twitter application, this application will help you in linking your LinkedIn account to your Facebook profile and automatically post the updates to your Facebook profile or Facebook page.

Picasa
This facebook application will enable you to upload your photos straight to Facebook. You can put photos in an existing album or create a new one.

FriendFeed
It is also a Facebook application which enables you to update your friendfeed updates to your Facebook profile or Facebook Page.

OpenionPolls
It is a premier Facebook application with which you can create polls for your Facebook pages and Profile pages.

Tumblr
This Facebook application is an easiest wayshows your Tumblr posts in your Facebook News Feed.

Meebo
Meebo is an in-browser instant messaging program that supports multiple IM services, including Yahoo Messenger, Windows Live Messenger, Google Talk, AIM, ICQ, and Jabber, etc. This application allows you to instantly chat with your profile visitors while you're logged into your Meebo account, and leave messages for you when you're offiline.

FarmVille
Farmville is one of the most popular game applications on Facebook which can be played by different Facebook users with their friends, acquire farm land, do farming, own a ranch and so on.

iLike
With the help of this application you can add music to your profile. You can get personalized concert alerts, create and share playlists, discover and share new music and free MP3s and much more.

Birthday Calendar
This Facebook application will enable you to remember birthdays, holidays and special events. With this you can receive email alerts as birthday reminders of your friends.

Causes
Causes are an amazing Facebook application which empowers anyone with a good idea or passion for change to impact the world. With the help of this, you can mobilize your network of friends to grow lasting social and political movements.

Horoscope
This application will add horoscope to your page and you will receive updates every-other-day covering all zodiac signs.

Skype Me
Skype is the coolest way to communicate on Facebook. With this you can call your friends for free (Skype to Skype), and even start group chats on your network.

MIXPIXX Stained Glass
Mixpixx is a fabulous Facebook application with which you can create visually pleasing collages from photo regions of your Facebook friends.

FlipFrames
This Facebook application will let you to create hot stylish frames, caption bubbles, and labels for your Facebook photos. You may invite your friends to leave comments and props with mini sticky notes.

Williams Heilmann has been associated with
PSDtoWordPressExpert
for many years. He has extensive experience as a web developer and works with this company to offer the best WordPress solutions to suit the specific needs of the clients. Also, he has got a flair for writing which he consumes in writing the informational blogs for submission on different websites.