LinkedIn Icons Set: Download Free Latest LinkedIn Icons
As per our commitment, likewise every month we are going to present impressive LinkedIn icon sets that is designed by our expert and designers just for you and our regular visitors. Perhaps, you might be bored by regularly accessing those old icons for distinct utilities and shortcuts on your computer system.
Now, just give up that worst feeling and get together with our new Icon Set February 2012 which will definitely embellish your various shortcuts, utilities and thus your system. Thanks to our highly skilled designer's team who strives hard and put their all efforts towards bestowing an alluring and stunning LinkedIn icon sets which is the effective consequences of our designer's creativity as well as their unique art and design work.
However, in this LinkedIn Icons Set: Download Free Latest LinkedIn Icons,  our designers has designed distinct innovative LinkedIn icons. As, of course LinkedIn has been concord as most renowned professional social networking site, where users used to like and share their professional profile over thousands of connections world wide.
So, go ahead and be the first to download these alluring Free LinkedIn icon set. Moreover, it will definitely make you allured as well as make amused to your LinkedIn connections. In account of this Icons Sets you can enrich your distinct files, folders, applications, images, tools and other concerning shortcut and utilities.
LinkedIn Icon Set 1
The above showcasing of LinkedIn Icon Set is bestowing very attractive look and potential to arrest visitor's attention. These Icon Set are created on distinct wooden colors and texture. As it showcasing above four LinkedIn Icon Set are present in cubic shape, snail shape, truck shape and folder shape. Implementing these icons to your shortcuts, utilities and documents will be literally a perfect choice.

LinkedIn Icon Set 2
In this LinkedIn icon set designers has attempt to reach your office desk and however offering LinkedIn icon in form of table desk items like, paper weight, winning cup, card or pen stand incorporated with LinkedIn logo. These all icons are conveying a wooden texture and color look.

LinkedIn Icon Set 3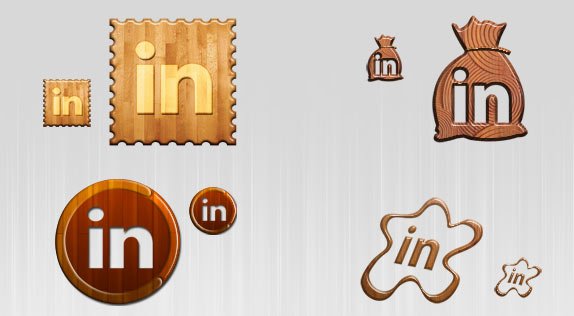 In this set LinkedIn icons are designed on same wooden texture and patterns with little marked distinction of shape. These icons has stamp, bag of currency etc.like shape. Implementing these icons sets to your utilities will definitely spice your utilities look and thus your system.

LinkedIn Icon Set 4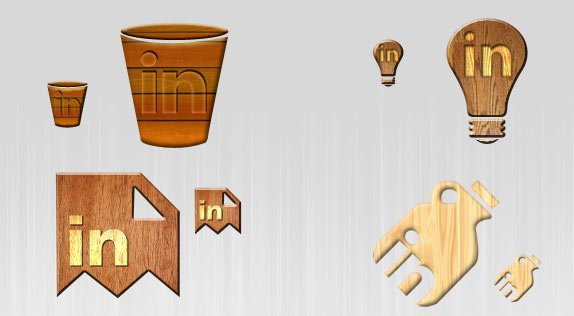 Nothing will make you more delighted rather than of embellishing these LinkedIn icon sets to your shortcuts, utilities, documents, file, folder and etc. These icons' shape are very stunning and attractive, however employing them in your LinkedIn profile will be compelling element to attract other individual to connect with. These Icon sets are too based on wooden texture and patter with marked contrast.

LinkedIn Icons Set: Download Free Latest LinkedIn Icons
Admin from India is a founder of WebGranth, an entity of
Sparx IT Solutions
with over 8 years of experience on different verticals of web design & development. In his quest to spread the knowledge regarding web development, he has been contributing in WebGranth by submitting his valuable blogs.