Although, Facebook is raising popularity as the worlds top most Social Networking Website these days, even then one cannot ignore the importance of Yahoo Mail in the arena of web mail services. We know well 2 different accounts are needed on 2 different portals i.e. Yahoo and Facebook to perform any kind of activity. While you remain log-in to your Yahoo account, and wishes to access your Facebook profile, a thought must have appeared in your mind that how well it could be if you can access your Facebook directly through your Yahoo account without getting login to your Facebook. No worry, we have appeared here with a thought provoking solution for this.
In this blog post, we are going to share how to integrate both these two services, i.e. Yahoo and Facebook and can access Facebook profile from within Yahoo Mail account. Here, you will learn the entire steps of accessing your Facebook profile inside My Yahoo. Lets us see it step by step:
Step-1 First of all it is required to log in to your Yahoo Mail account. For this just click the link "My Yahoo!" present at the right-top corner. Then click "Add Content" present at the at the left-top side My Yahoo! Page.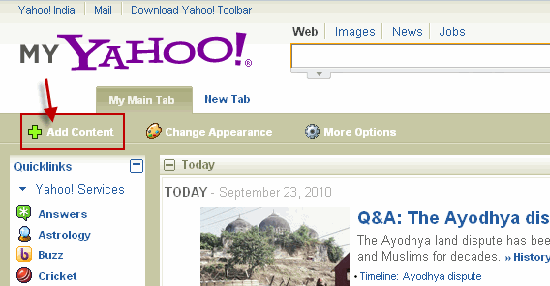 Step-2 After clicking on that, you will see several options such as Bollywood, cricket, games etc under "Browse Content" section. Click "My Yahoo! Essentials" button.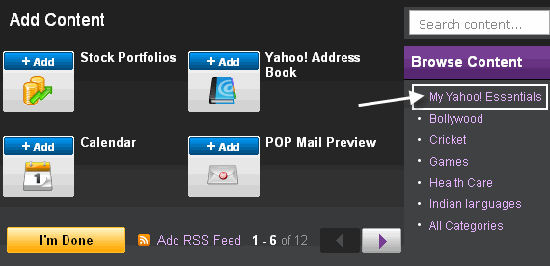 Step-3 Clicking on "My Yahoo! Essentials" will bring you to the few essential contents as shown below. Click the "Add" button or icon on the "Facebook" content.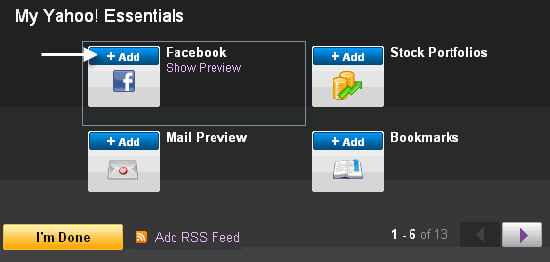 Step-4 It will take a few seconds in adding contents to the page. Once the contents are added to your Page, click on "I'm Done" button as below marked by the arrow button.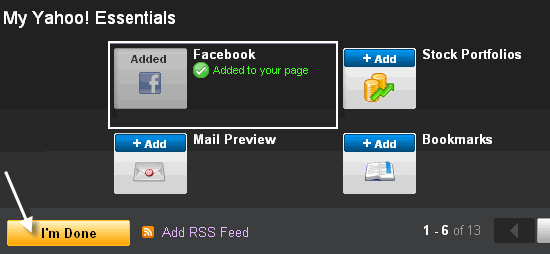 Step-5 After then, a Facebook log in button appears shortly on your screen. Click to the "Continue" button or "Facebook" icon.

Step-6 The existing user need to log in to their Facebook profile with the existing username and password combination, and the new user need to click "Sign up" button to create their profile there.
Step-7 Now, at this stage, if you are accessing Facebook profile first time, you have to grant permission and allow Yahoo to access your Facebook profile. For this click on "Allow" button.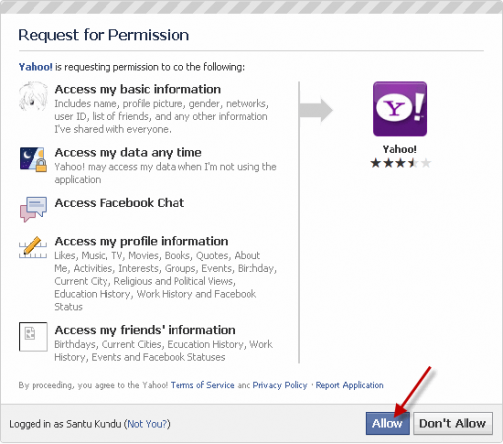 Step-8 After successful linking, success screen appears which allow you to customize the sharing option as per your desire. Once done, click on "Continue" button.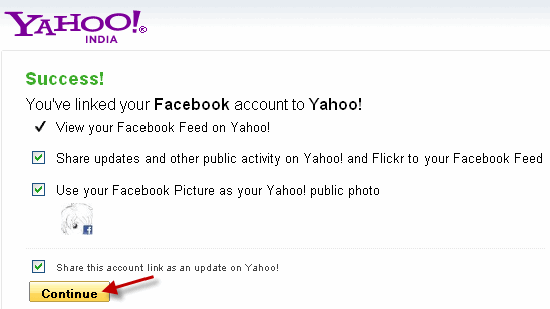 Step-9 Now, all the settings are done. Now, the home page of your Facebook profile appears on the screen of your My Yahoo! Page.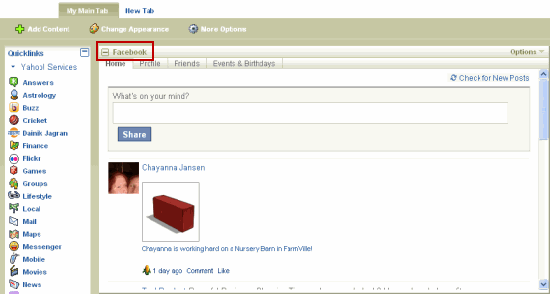 Step-10 Hence, now you can access Home, Profile, Friends, and Events & Birthdays of your Facebook profile right from My Yahoo! Page, share or like any comments etc. In simple words, now, here you will have complete access on your Facebook profile.

Step-11 If you want to discontinue this facility from Yahoo, then go to Options -> Settings as shown under.

Step-12 Click on "Disconnect from Facebook" option and then click "Close" button. You will be discontinued.

Conclusion
From the above contents, now it is clear that it is not difficult to access Facebook profile from the Yahoo Mail Account. We hope you must have enjoyed the post. So, follow those steps and stay connected always with your Facebook profile from Yahoo. Also do not forget to leave your comments expressing your thoughts what you feel about this post. Have a fun!!!
Steven Bowen is an ardent team member of
No-refresh - Web to Print Design Tool Provider Company
bestowed with professionalism in to develop fully-functional solutions. Having adroitness in this arena, he has served an array of blogs that are basically based on the technology advancement & improve the end users' information level.