Latest Web Resources of Color Schemes for Web Designers
When we talk about designing especially for website designing, it is quite impassable to avoid the significance of color. It has been proved as a most critical element to bring an elegant, captivating and alluring website in existence. As, website designing is something rock like and full of challenges in the mean time choosing the right color is also resembles like piercing the fish eye.
Even most of the experts and web-designers never hold back to concord colors among basic primary component of website designing as well as delivering an effective, engaging and eye-catchy website. Therefore, designers are required to memorize number of things while going to opt colors. The color must be eye-candy which make visitors' eye cool and relax. The improper selection of colors with irregular contrast and brightness may irritate your visitors and result in elevating your website bounce rate. Hence, you are supposed to take care of color selection properly.
However, web-designers wanders for stunning elements and put a lot of efforts to embellish their website as well as picking up right colors for each and every element. Therefore, in order to help you and make ease, coming section of this post Latest Web Resources of Color Schemes for Web Designers comprises some useful website resources which will let you to generate and save your own color as well create an effective color scheme exponentially in very affable manner like never before.
So, now go ahead and knock them out from the list of Latest Web Resources of Color Schemes for Web Designers and used to employ in your next coming project which perfectly suits your projects' attribute.
Color Explorer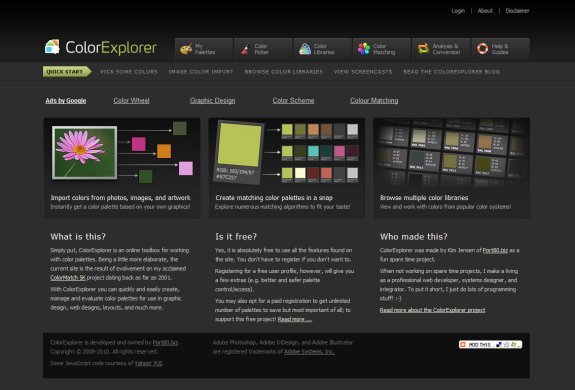 This Color Explorer is very useful and comprehensive tool which flaunts on diversified categories of color tools as well as offer to designate a specific color by means of color picker and used to show variations of designated color. Moreover, it incorporates a color library which lets you to create a color palette in account of color matching tool.

Color Scheme Designer

This Color Scheme Designer lets you to create your own color scheme based on a specific color in very handy manner. Just you are supposed to pick a color from the color wheel and opt to implement the scheme categories such as complement, mono, tetrad, accented etc. Now, you have done it. Your fresh color scheme is now ready to use.

ColorSchemer Gallery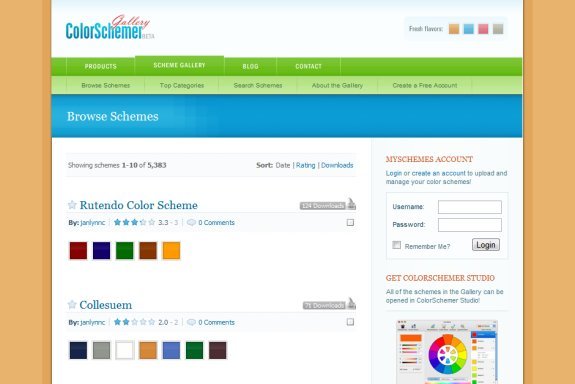 This ColorSchemer Gallery is literally very awesome and useful resource of of Color Schemes. It sports a great color schemes library built by several other users. Also, you can browse for color schemes with reference of its date of submission, no. of downloads, rating as well as option to search by a keyword is also available.

Color Spire

Color Spire is a very user friendly color scheme resource which used to recommend a relevant colors palette of the color you select. Apart of this it shows a preview layout of a website stating how the website will resembles in context of implementing a color scheme.

ColorGrab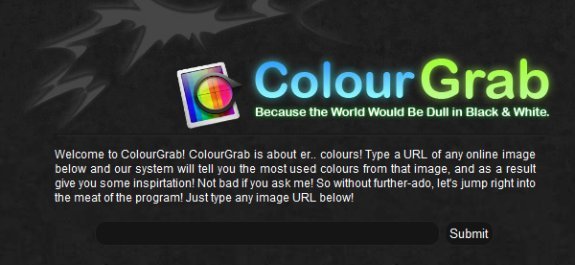 It is a very impressive color scheme web-based resource which is very useful to analyze for a color being used in an image. It is very simple and convenient to achieve, simply input the image URL in the specified box, rest leave upon this ColorGrab. It will grab the color from image and provide a result stating the color intensity.

Color Lovers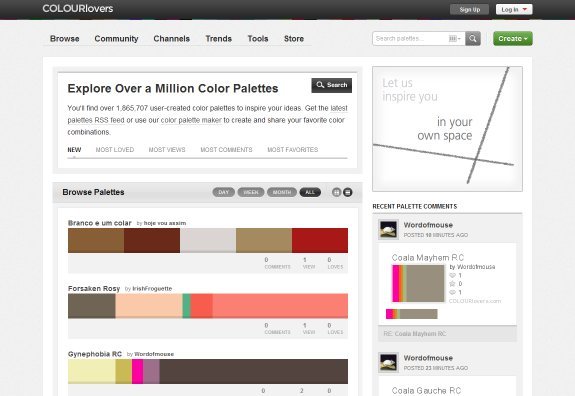 Undoubtedly, this Color Lovers incorporates a huge collection of diversified categories of around 2 million color palettes which turns it in a captivating tool. All these color palettes are created by its users and allows you to browse these with reference of rating, date of submission, view, comments etc. as well as lets you to search a specific color palette with keyword.

Kuler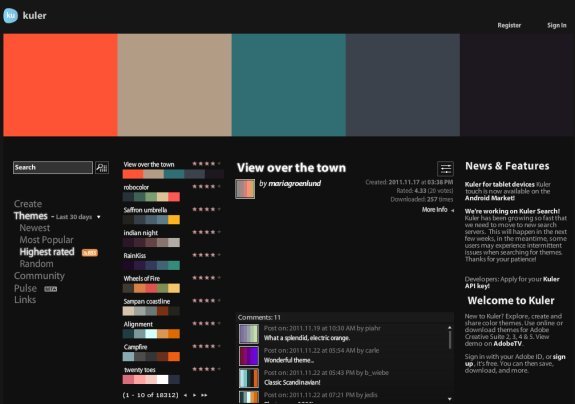 Kuler is one amongst significant color scheme resource fall under Adobe. It comprises an elegant library enriched with user-submitted schemes of color. Also, you can view them online or download if you desire and do implement in product of Adobe Creative Suite.

Pictaculous

Pictaculous is very interesting and alluring color scheme resource which enables you to generate your own color scheme that would suits your photo perfectly. Just put a little effort to upload a image and observe the result. It will provide a list of suggested colors that can be employ with the pictures.

Sphere: Color Theory Visualizer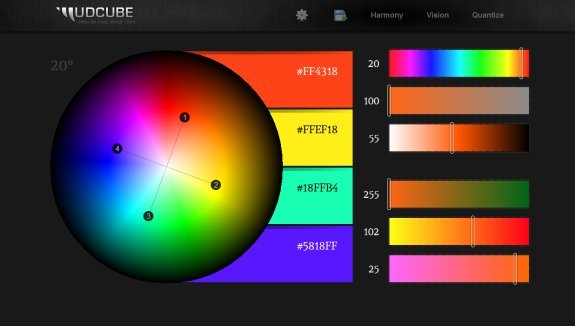 This awesome tool works very dynamically. Once you specify a particular color, this tool automatically used to generate a set of other matching colors. Above all, you can opt to implement various categories of color schemes including complementary, tetradic, triadic and etc.

However, hopefully, this post Latest Web Resources of Color Schemes for Web Designers might be proved as very useful and worthy for you. It is very responsive resource which literally minimize the burden from your shoulder and help a lot to enrich your web component with appropriate color and thus deliver an attracting, engaging and captivating website to make you allured as well as also to your client and visitors.
Latest Web Resources of Color Schemes for Web Designers
Leander Crow works at
Webby Central
as a veteran web developer. He has a passion for technology, coding and design and has coded for award-winning names in the industry. He is also a freelance writer who has helped many web development firms build an audience by sharing informative write-ups.