Latest 2012 Joomla Template for Web Designers
The significance of web development is proliferating at great pace in order to stand ahead among your competitors which too are playing in the same race. However, it become very crucial to bestow an unique and captivating look, which might be an essential and compelling tool to retain the users as well visitors with your website.
Therefore, towards the same endeavor many web designers as well as web developers wanders to implement stunning tools and techniques; one amongst them is templates where web designers never hold back to take them in hand as such types of templates are ready-made and easily available over web as well as very convenient to utilize. Moreover, they also concord as both time and cost effective. Hence, these templates are very eye-catchy and arrest the attention of web designers as well as users.
When the matter of designing the website comes, it make you worst and compel to wander here and there. Now no need to worry. Let me introduce you with Joomla. It is most renowned open source Content Management System (CMS) with great achievements which enables you to create diversely designed websites accompanied with rich content within minutes and most important no need of any programming skills or education of web design. Joomla allows you to develop all kinds of websites in a secure and advanced environment and integrate a Forum, Blog, shopping cart or gallery in your website as well as develop a big, robust and uniquely designed business or corporate website and business portal.
However, to make you more ease I have designated Latest 2012 Joomla template for Web Designers in coming next section of this post. These templates are very convenient and affable to implement. So, go through these one by one opt to go with which suits your need and requirement perfectly.
Jamba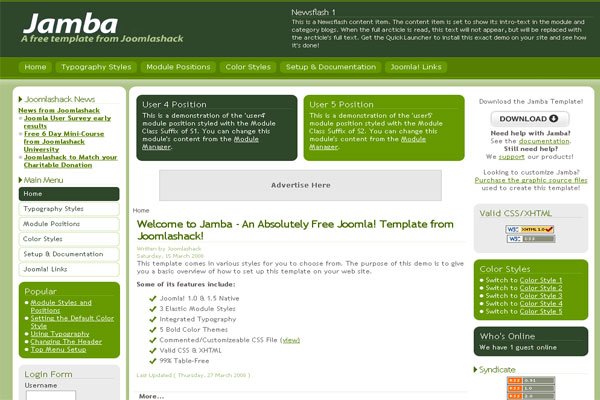 This Jamba is a free Joomla template which covers several distinct styles facilitate you to choose among. It has several features like 3 Elastic Module Styles, 5 bold color themes, integrated typography and many more.

Black Bear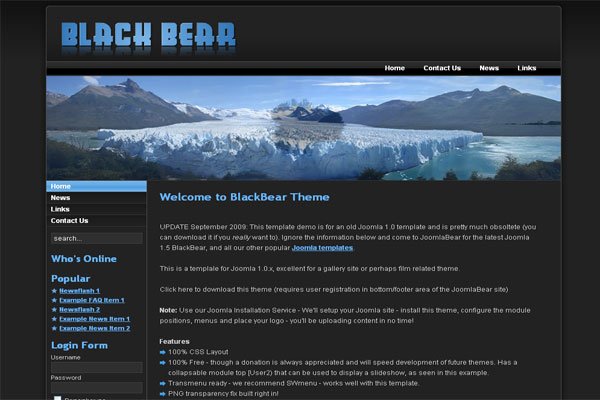 This Black Bear Joomla template is excellent for film related theme or a gallery site. It has several distinct features including 100% CSS Layout, Transmenu equipped, PNG transparency fix built right in and many more.

BJ.Venus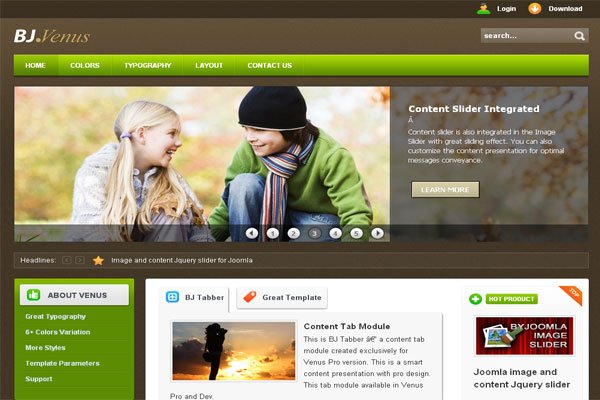 Venus is a captivating template designed for Joomla 1.5 along with several impressive features like Pro Joomla Image Slider, many module styles and available in six colors. It is customizable and affable for several distinct purposes.

Themza

Themza is literally nice and cool hub of Joomla templates of all versions. It offers to download your desired Joomla versions theme absolutely free. This site is designed in a very handy and captivating manner where distinct varieties of templates are classified under distinct categories facilitating you to choose among them according to your need and suite.

EstimeTemplates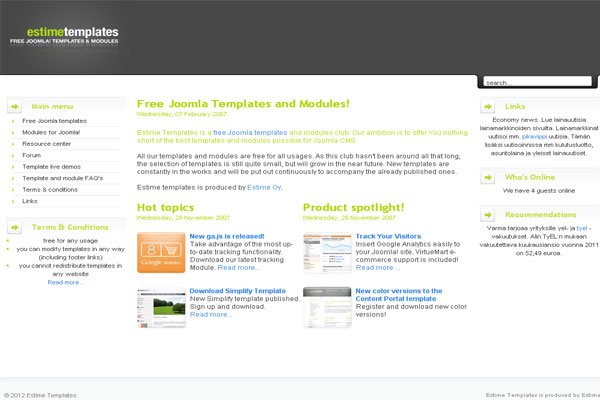 This classy Estime Templates is a free Joomla templates and modules club. It will be literally liked by you as it seeks to offer you various elegant Joomla templates and modules completely free for all usages.

myBusiness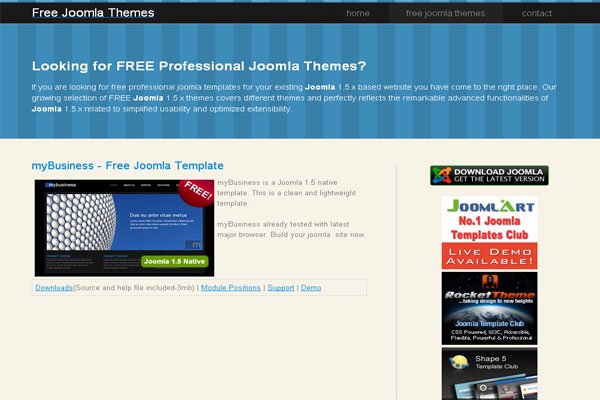 This myBusiness is a wonderful Joomla 1.5 light weight and clean template. Moreover, it is tested and supported by several latest browser. It has optimized extensibility as well as simplified usability.

shape5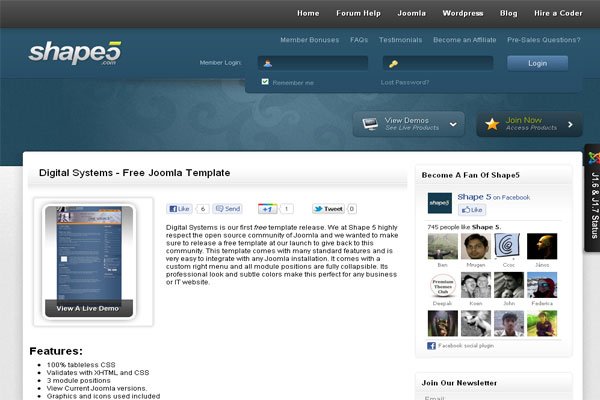 This is an elegant free template for Joomla accompanied with several features such as 100% tableless CSS, validates with XHTML and CSS, 3 module positions, graphics and icons used included and many more as well as convenient to implement.

Emagazine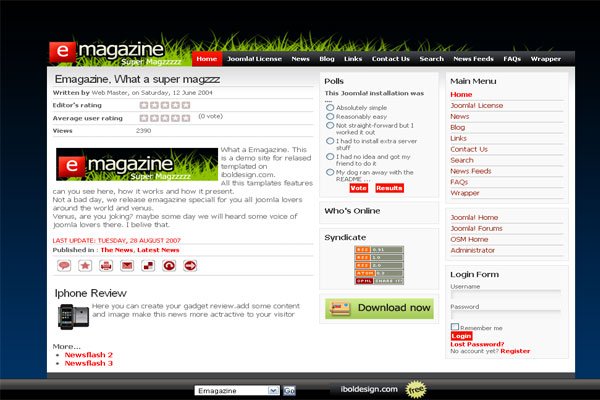 This eMagazine is literally a nice Joomla template from iboldesign.com and is free downloadable. Undoubtedly, it will be loved by all Joomla lovers.

Optimus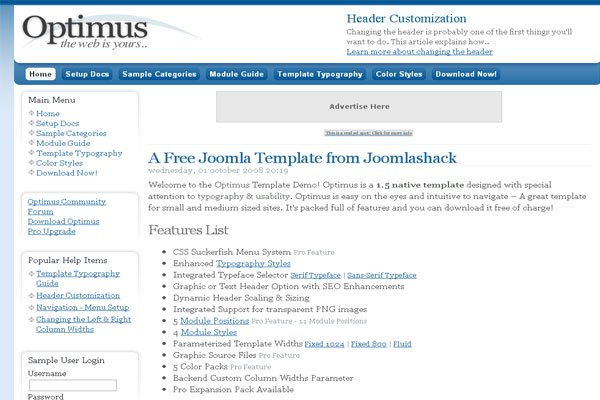 Optimus is a great Joomla template from joomlashack.com offering free of cost to users. It features include integrated typefaces selector, graphic or text header option with SEO enhancements, header scaling and sizing, graphic source files and many more.

themebase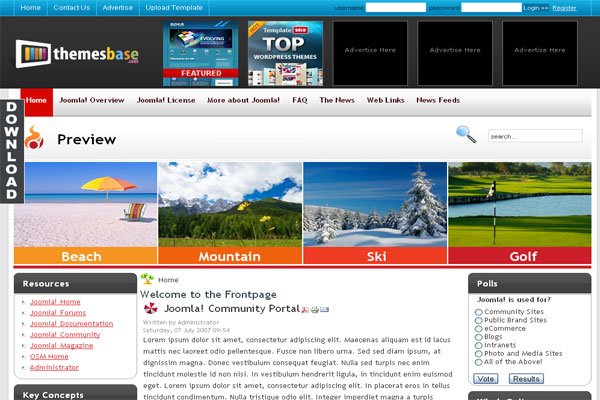 themebase is an elegant free Joomla template which offer users to download and create a captivating website. It showcases the preview of template as well these over the main screen in thumbnail view. Definitely it will be loved by Joomla Lovers.

However, after going through this Latest 2012 Joomla Template for Web Designers, I hope it give up your worry and bestow a cheerful experience through making you educate about creating robust and captivating websites integrated with Blog, Forum and miscellaneous. So, implement these templates and enjoy the real experience like never before.
Rinniee Ginsburg is a email template developer and writer at
EmailChopper
. Her technical competency has helped the professionals explore the new techniques in practicing the innovative email development. She has written various articles that accentuate the importance of PSD to Email conversion, smart procedure for responsive email template development & many more. All her writeups have become a source for many professionals and business players to grab the valuable information.