Keywords Searching Tools- A Compendious Overview
If you are looking upon keywords searching tools to generate most searched keywords for relative subjects then you have landed to the right place. Here we are going to tell you about few of the amazing tools used for searching keywords that actually helps in exploring all possible keywords searched on a particular subject. With the help of a keyword searching tool one can easily determines that which keyword is very popular and displays the primary targets for the search engine optimizer (SEO).
With this process we can find out the various terminologies searched by the users that ultimately help us to know about the most searched topics and to develop the content on the basis of the search. These online tools help in speeding up the process by permitting marketers to explore for related keywords; this is the reason due to which keyword searching tools facilitate for cost effective advertisement as well. Not only this, these searching tools provide aid to product branding and conveying the product commercial messages too by identifying the influence on customer language. As a result it becomes necessary to consider keyword suggestion tool as the crucial first step to stand out in the booming market of search engine campaigns.
In this post we are making an effort to refine some of the fascinating keyword searching tools that can aid you in identifying your search. You can hunt for keywords may be related to your website or for search engine optimizations as the keyword searching tools are also helpful in analyzing the return on investments. Not only this, they also complemented for competitive analysis too. Now we can easily examine the intensity of competitors for captivating a feasible search for various subjects.
Here we are presenting the 15+ mostly used keyword searching tools through which you can enhance your searching capabilities. So, let's have a profound look on these dynamic keyword searching tools.
PRESENTING GOOGLE'S  KEYWORDS SUGGESTION TOOL:
If you are exploring keywords and phrases then Google has provided this exiting tool, which is very much beneficial for your keyword searching. It can assist you for your advance search in matching keywords and phrases of your need. This tool generates ample of ideas and hence very much helpful for searching keywords and phrases and this even shows searching done per month for each term. The best feature of this tool is that this provides you feedback that what google think on your search for keywords and phrases entered by you.

USING GOOGLE TRENDS:
Google has provided another tool for day to day searching for your keywords. The outcome is basically shown in the form of graph, a search volume graph that is shown on a linear scale.
The results are shown on the basis that how many searches have been done for your entered keyword on the google web. The interesting feature of this tool is that, it shows the top region, cities and language in which users have searched for the keyword for what you have entered.
Even this tool informs that what people are hunting on google today. You can see the past statistics for a particular day that what the top hot trends were on that date. As shown in the figure below you can see the picture of the google trends, you can search can type your keyword in the box provided on the page and click on the search trends. Google trends provide absolute free keyword and phrase searching.

GOOGLE-INSIGHT KEYWORD FOR SEARCH:
Another dynamic tool offered by google is google Insight; here you can find the search with advance features like by 'compare by', 'search terms' and with 'filter' option for any keyword. You can view the search on the basis of 'comparing by' option provided on the google insight that includes search items, locations and time ranges. That is a radio button option on which you can click and improve your search by item, location or range option. Further a 'search terms' option has been provided where you can type your related search and retrieve results. Another option has been added here is filter option, by which you can filter your search as you can see in the below figure. The filter features include web searches, worldwide searches or by year searches.

GOOGLE ADWORD- KEYWORD SEARCHING TOOL:
Another searching tool that is AdWords keyword tool, this is also provided google. It is very reliable as the data which you search is tied from google. The truly superb tool here, in our opinion. Here you can take the aid of keyword tools to retrieve new keyword notions. It will not only display you the keywords but also the best suggested alternatives. It will also show you number of clicks per month for your entered keywords.

GOOGLE KEYWORD SUGGESTIONS:
As you will enter your search, the Google's technology will provide an alternation solution to your query in real time. This is a very powerful tool as you can search anything here. Everyone using internet might have use this keyword suggestion tool. Here google has provided extra features like web, images, news, and even new feature google translator. Here you can see if we type a keyword it automatically show the predictions. As given in the figure you can see keyword research has been typed and further it is showing expected keyword.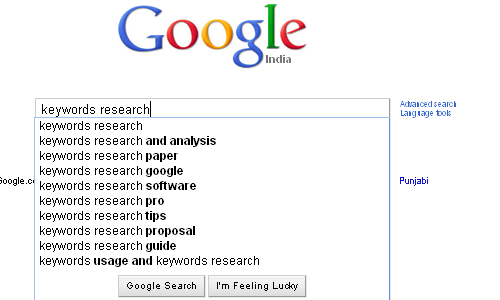 WORDTRACKER- KEYWORD SUGGESTION TOOL:
This tool is quite simple as it searches a keyword on the basis of their user's requirement and makes the search easy to the website owners and search engine marketers to indentify the keywords and phrases. Basically, wordtracker is mostly used by search engine optimizers. The very likely quality of this tool is that it can generate maximum to 100 related keyword and phrases and show the searches daily. Users with Firefox 2 or 3 Internet Explorer 7 can connect with wordtracker keywords and enhance their search.
You can type the keyword and phrase in the box for search like given below in the figure.

SEOBOOK- KEYWORD SEARCHING TOOL:
This searching tools has also been sponsored by wordtracker, you can have a wide view of this tool by working on it. It is very easy and simple to work on. As you can see from the figure it is showing results for searching tools. 1-10 results has been shown in this figure for this keywords.

FREE KEYWORD SEARCHING TOOL- SEMRUSH TOOL:
This tool provides you to keep records for your competitor's website with the keywords that are used commonly. With the help of this tool you can also get huge number of keywords for any website. You can view the landing pages for search Engine and AdWards traffic of your competitors and along with that you can search potential advertisements and traffic sellers for your site or any other site. This tool is helpful in searching domains for lengthy keywords and absolute utilization for hidden keywords.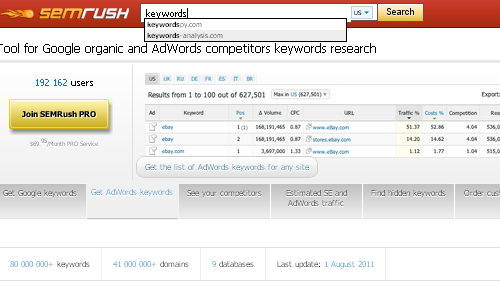 TRELLIAN SEARCH KEYWORD TOOL:
This suggestion search tool basically works for absolute accuracy keywords search. The information or the data is gathered and compiled from different search engines to give exact expected results. One of the best feature for this tool is that it gathers data from more than 200 search engines globally and can generate up to 100 keywords.

ADD-ONS KEYWORD SEARCH TOOL:
This keyword generator (KGen) permits users to see that which keywords are adamant on mostly visited websites. This keyword is an extension of Firefox which is a web browser. Each keyword of a web page is fetched from this plug-in and allow you to make the difference, if the same keyword is used in the caption as well as in the paragraph; it gives higher preference to the keyword which is used in the caption.

METAGLOSSARY KEYWORD SEARCHING TOOL:
MetaGlossary is a very powerful keyword search tool; it can retrieve the exact meaning of the keywords and phrases from the bulk of clumsy or disorderly information provided by you. Metaglossary also support you with compact and immediate clarification of the data entered by you and along with that you can also search for expansive definitions.

THESAURUS- KEYWORD SEARCHING TOOL:
You all must have used Thesaurus for searching results; this is a very popular tool for searching keywords on synonyms and antonyms, you can even call this as a leading service provider on the internet for of service and products on any search. Using thesaurus is really simple you just need to type a keyword in the search box which is of golden color and after that simply click the search button and you have a list of results for your entered keyword. Here you can also search for dictionary, flashoards, quotes, encyclopedia and translation also.

WORDPOT-SEARCHING TOOL:
Wordpot is a free web build keyword generator for searching niche keywords. You can also use its free keywords searching tool to have a higher ranking in the search engines.

DELECIOUS- FREE KEYWORD SEARCHING TOOL:
Delicious provide bookmarking services and even very helpful for keyword searching. It is intensely useful for website or article search and you can even mark a bookmark there.

WIKIPEDIA- FREE SEARCH KEYWORD TOOL:
You must all have tried this search service at least once; Wikipedia is a very popular free Encyclopedia; where you can search for keywords. You can do searches for contents, random articles, current events and lots more. Here as you can see in this figure, it is showing results for key words searching tools.

BING- FREE KEYWORD SEARCHING TOOLS:
Bing has by launched by Microsoft in 2009, a popular keyword search engine service. You can even search for web, images and videos and more. An eye-catching feature of this search service is that its background image can be changed according to your choice provided in the option.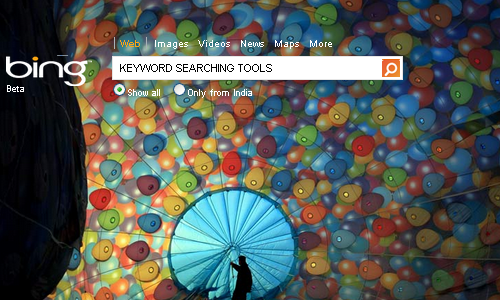 Rinniee Ginsburg is a email template developer and writer at
EmailChopper
. Her technical competency has helped the professionals explore the new techniques in practicing the innovative email development. She has written various articles that accentuate the importance of PSD to Email conversion, smart procedure for responsive email template development & many more. All her writeups have become a source for many professionals and business players to grab the valuable information.