The Google Keyword and standout meta tags for news content are in existence for quite a few years. But many of the publishers are unaware of these tags. For millions of people, Internet has become the primary source of news and this is growing at a rapid pace. The publishers started relying more on the Internet to get their news stories and press releases but unfortunately failed to get their news in front of an audience without stuffing the keywords in the Title and Sub Headings of News Article.This really hampered the creativity of news Article and was against the Google Panda guidelines.
Similarly, journalist around the world dedicates a lot of time and resources for creating exceptional original news that requires standout approach. In order to overcome such problems, Google introduced Keyword and Standout News Met tag.The purpose of both the meta tags is to get better visibility of news content in Google news.
Let's talk about Keyword news meta tag. The Keyword news meta tag is not the same as the old Keywords meta tag which was being misused by the spammers. Google also started giving less importance to keyword meta tag as a ranking factor. On the other hand, the news keyword meta tag functions in the same way as the plain keyword meta tag. The only difference is that it has a different name and is highly recognized by Google news. The use of news keyword meta tag helps Google bots to understand your content and rank them well even without stuffing keywords in Title tag or body text.
There is a limit of 10 keywords and every keyword should be separated by a comma. Though the news keyword meta tag is just one of the factors to rank well in Google news. It is important, one should keep in mind following factors as well to rank well
Freshness
Diversity
Right Textual
Original Content
Now the question arises how much keyword repetition is allowed in news meta tag. It should not be repeated at all or one can use the keyword variations. For Example, if you are looking to get ranked higher for keywords "world cup" "cricket 2014 world cup" and used following variation.
<

meta

name

=

"news_keywords"

content

=

"world cup,cricket 2014"

"cricket 2014 world cup, india vs pakistan, cricket"

>
The Google didn't disclose how we can use the keywords. But, it is always good to use keywords/key phrases which are generally used by the users to search their queries.
Also, there is no need to panic if you use more than 10 tags.
News Standout Tag
The standout tag is generally used when a news organization or publisher breaks a big news, publishes extraordinary work of journalism, exceptional, original reporting etc, then that news is indicated as standout through the standout tag. This standout news tag is put into the header section in the source code.
The basic syntax is:
<

link

rel

=

"standout"

href

=

"LINK TO STORY"

/

>
By using the code above the Article appears with the featured label in the news search results.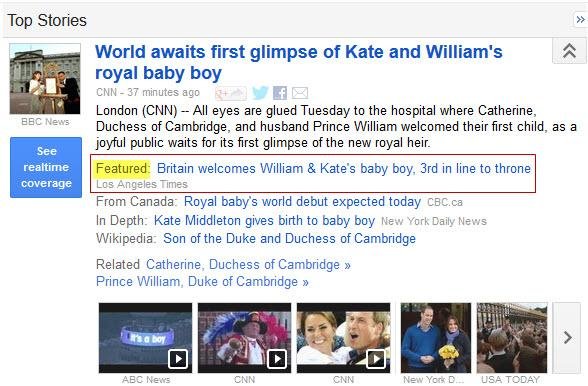 Before using the standout news tag one must consider Whether the Article meets the following criteria
The Article story should be 100% original
An organization or publisher should have invested significant resources in producing the Article
The standout tag should not have been used more than seven times in the past calendar week.
According to Google the aim of the standout tag is to build trust and credibility for a news organization and to reward the best, most original journalism on the Web.
Google news being competitive space it is good to take every opportunity for increasing the visibility. The publishers should experiment and try to analyze the outcome. The use of standout Article once in a while for exceptional Articles is always a good approach. But using quite frequently will not going to work. If you have multiple Articles which you think fit with the Google news guideline try to use standout tag but don't overuse the tag. The Google gives you authority to use the tag seven times a week but more than that will be ignored altogether.
How Long it will stay?
Another concern raised by publishers is how long does a particular standout tag stay on Google news. The fact is that there is no way to know about the time limit. But it is surely known that it works for a limited time period. This has led to fear in minds of publishers and news organization that all their resources and efforts will go in vain due to limited time scope.
But overall it is always good to make use of both news meta tags on weekly basis for getting better visibility and traffic. It also helps in building trust and credibility of the website.
Author
I'm Simran an SEO consultant and marketing manager for SEO Professionals India. I've more than 5 years of experience as an SEO expert and have worked for many big brands.
These posts are a handout from our Guest Author who works with us occasionally and provide their opinions for our regular visitors on Web-Development & Designing, SEO, CSS, Coding etc. As their details can be marked with their concerning post even we would like to add that out Guest Authors are expert and master of their own sector. If you also desire to be our Guest Author Contact Us at
submit@webgranth.com