Jobs Board | Top 15 Free Job Search Engines for Job Seekers & Job client
Are you too one of them who is tweeting 'help me find a job OR help me find the perfect candidate' ? If yes then this post can really put you out from the hassle. In this post I am providing the list of top 15 online job search engines and job board for both job seekers and job client. These job websites and career sites can let you to easily find the best job opportunities or the best candidate among almost all kinds of job sectors.
Best Job Search Engines : Very hard to believe but it's true that this century of technology is jammed with both unlimited no. of the job seekers as well as job providers. But the lack of connection between both has created a hole in the process of development. Queues of applicants can be easily seen at the front of enterprises for the jobs.
Google is overflowing with millions of career website results when we search about the online job portals and job search engines. Many of these job portals are just a fraud so its really hard to distinguish between the diamond and glass. Along with the job seekers; job providers and project HR are too searching hard for the right candidates. This  breach between job seekers and job providers results in poor results for job opportunities.
But not more! To help you out; below I am providing the list of top 15 job search engine and online job board. This list will definitely help you to find the best job or best candidates for you whether it is a freelancing, full time or contract based job. These top job websites are trusted by thousand of job seekers and job providers from all across the globe
Monster
.

Com

Monster.Com is one the most popular Job Search engine. It is a perfect online job board for everyone who is looking for a job. Whether you belong to a Commerce qualification background or the Science; whether you want a Freelancing job or Full time; this job posting website provide an easy connection of the employer and job seekers. Icing the cake; monster.com also presents the facilities like Career advice, Resume designing, Scholarships, Contests and lots more.
Elance
With daily updates from thousand of recruiters and job seekers; Elance is tagged as one of the best names in IT job boards. This website provides different kind of projects and freelancers in various genres including programming, design, writing, marketing, consulting, finance and mobile development. The daily updates and the mega job client like Microsoft, Facebook, Google and many more makes it the favorite choice for the newbie as well as experienced professionals.
Design Crowd
Are you a Web Designer and looking for a job? If yes then Design Crowd could be the End for your search. This IT Job Board is specially designed for the web designers. It offers a lot of job opportunities as well as online talents to choose from the different designing jobs.
WP Hired

WP Hired is one of the rarest and popular names among the online job Search engines which provide the job opportunity especially for the Word Press developers. If you too are looking for a Word Press job then I will undoubtedly suggest you to check out this job offering website.
Simply Hired
Just provide the job keyword & location and Zap! You will be served with hundreds of latest job opportunities. Simply Hired is an amazing job search engine which offers bundles of opportunities in different sectors including writing, teaching, IT sector, engineering, research, marketing, health care, call center, law, HR and many more. For premium services you have to register to this website and guess what! This registration is absolutely free of cost.
Writing Career
Writing is one of the most popular and growing field of career at the present time. Beside with doing full time writing job; you can even test your skills in freelancing jobs. Writing Career is the online job search website for writers; a lot of recruiters post the writing assignments daily at this job hub. Just put your bid and select the best assignment for you.
V Worker

V Worker is one of the most preferable and trusted name by the job client. It gives you the facility to hire dedicated professionals from different fields. This impressive Career website offers a lot of additional traits like money back guarantee, cheaper hiring rates and an array of hiring options.
ODesk
Connecting the world at the common platform; ODesk is one of the best job search engine. You can choose the jobs here without paying even a single buck. But if you are looking for employes then you have to pay some amount of fee to the job portal. This job portal is recommended by the mega names like HP, CNBC, AOL and many more.
Programmer Meet Designer
As clear by the name; Programmer Meet Designer is basically a job search website for programmers and designers. Here programmers and designers post their job to hire the professionals according to their skills and requirements. If you too are seeking for a Programming or Designing job then you will be served with menu of hundreds of subcategories to choose from.
37 Signals Job Board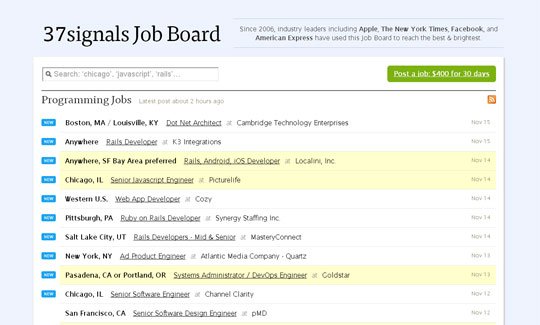 37 Signals job board is another impressive job search engine where you can find the jobs all over the glob. These jobs are based on different categories including programming, customer service, designer, business administration and many more. if you are looking to post a job then you will have to pay a fee of $400 for 30 days.
Indeed
Indeed is one of the most popular name among the best job search engines. Just provide the job title and the preferable location to get access to hundreds of job offers. This job portal is absolutely free; you can register here at absolutely free of cost.
Writerlance
Searching for a job? Writerlance is yet another popular job board for the writers and related professional. You can find a lot freelance writing projects here; you have to sign up (free) to get access to the pack of impressive features. You can even hire the writers from here as per their profile and bids on the project.
iFreelance
Ifreelance is another Freelance Job search engine where you can post or find projects on any category. On this job portal; you can post your projects absolutely free of cost whereas you will have to pay a subscription fee if you are seeking for job. This job searching website allows the freelancers and the job client to communicate online or offline.
Freelancer
Freelancer is undoubtedly the name known by every freelancer. It is simple, free and trusted way to hire the professionals or to get the projects. This freelance job search engine too works on the same principle of bid and  choose. So if you want to get a job urgently; just check out this job portal.
99 Designs
99 Design is another open job portal for designing related tasks. You can post your projects for different genres of designing tasks including logo design, Business card design, web page design, t-shirt design, postcard or flyer design, icon design, brochure design, book cover design, product packaging design and many more. The posted projects are opened as a contest for the freelancers and from there you can buy the results.
At the end I will like to conclude that
"Getting a PERFECT job for you is much more important than getting a JOB for you"
I hope that my this post on 'Jobs Board | Top 15 Free Job Search Engines for Job Seekers & Job client' will help everyone to find a job or a project to work for. Find anything missing? You are welcome to suggest some more useful names which are skipped in the above list. I would also love to hear the reviews and comments about my work.
Brayan Lazaris, a web development expert, has been working with
HireWebDeveloper
for many years. Till now, he has written numerous blogs and articles elucidating the best methods and approaches to process web development brilliantly. His keen interest in researching the smart technique for better web solution has opened the gateway for many businesses to establish a strong foothold in the digital space.