Innovative Ideas Which You Should Follow Before Setting Your First Online Shop
With the rising trend of Online shopping, there has been found sudden increase in conquest to set up own online shop among youngsters. Nowadays, E-commerce has become the most accepted business propensity in our ultramodern society and this is quite obvious and appropriate too. Since, most of the modern cities are well equipped with Internet facilities and technology too has advanced hundred thousand times more than the earlier days, it has made the whole cycle online shopping quite convenient for the customers as well as the sellers.
Compared to the past time, when people used to do payment manually through cash by visiting to the shop, now it is very simple to send payments anywhere in the world via Internet connection. With the development of all these, millions of digital web stores has come on the ground and started selling both physical and digital products to one global marketplace through web via Internet.
Literally, Online Shop means a digital web-store where purchase and transactions are made electronically over Internet. Since, many fraud cases are happening all around the world nowadays in this regard, hence buyers remain too much cautious before they make any purchase through the online store. They don't keep their eye on every online shop and trust only those which have high market value and brand reputation. Also, today you can see that every one out of ten owns his online shop keeping a tough completion in front of you. Thus it is compulsory to set your online shop in such a manner that it seems something unique and can earn high reputation and brand value in the market. Setting online shop is not as simple as taking the sip of tea; it requires careful planning and guided installation keeping hardened security in mind.
We are dedicating this post to all those webmasters who aspires to enter into the game of e-commerce and planning to set their own online shop. In this post we are providing every detail which is necessary to know before setting online store. This post will serve as a guide for you as it is full of helpful tips and ideas as well as recommended service which are needed to set up online shop. So, why to wonder here and there; let's check out this post and set a milestone in your online business.
The Process of Building
Before launching your website or setting up your online business, it is quite essential to spend some time on proper planning or the process of building the online business. The planning should include which kind of products you want to sell, what is the competition rate in that niche, how should your website's user interface look, and many more important points concerned to your online business. These are some of the basic points which should not be taken lightly; these should be considered deeply because these are the facts which assist you in making your brand name in the beginning phase of development. The process of building or setting up of your online shop undergoes through different stages as described below:
Registering a Domain
Once the rough sketch of the entire business process gets ready, registering a domain name and finding a web host comes as the first need. In other words we can say that, once you have planned properly how to set your online shop, what products you have to sell, how to beat your competitors and so on. The next step which comes in the process while setting your own online shop is the registering of a domain name. It is advisable that before making purchase of any domain name, you should think over it again and again, which one will suit your need best. It is very critical stage, so you should be very decisive and cautious.
Choosing the Web Hosting Service
Once the domain name is chosen, the things become little bit harder as after this your responsibility starts. Now, you need to think about the front end and backend language on which your online shop will run, and to choose the proper server settings. If you don't have any proper idea, we suggest you to get started with PHP, as it is an open source language and is supported in mostly 99% of server environments.
Also you need to ensure that the web hosting service you are choosing will support PHP and MySQL databases or not. There are also some other factors such as storage limit and bandwidth limit of the web hosting service, which should be taken into consideration while moving in forward direction.
Choosing Your E-Commerce Package
Now, next and the most crucial step in the process of setting online shop is choosing your e-commerce package. Basically there are two criteria; it depends upon you, which one you choose based on your needs and business type. One is choosing hosted solutions offered by the companies which provide you with everything you need on the backend and host the e-commerce script on their servers. In this case, you won't need to perform any programming or file uploads of any kind at your end, however you will need a domain name to redirect and give your shop a distinct URL.
The other one is to choose working with licensed scripts, both paid and open source. Majority of online web stores chose this kind of e-commerce system as these can be easily customized. It allows everyone, without bothering that anyone is programmer or not, to download and re-upload script files onto their hosting server following some installation instructions.
Although both are effective criteria, but it is advisable that a web master should choose a hosted solution in comparison to other, as it provides more security avoiding lots of jeopardy. Since most of the online shops deal with online payments, in such a situation there are many security risks to consider. Thus it will be wise to choose a hosted solution in order to provide pleasant purchase experience to the customers.
Whatever, here, we would like to discuss about some of the e-commerce solutions from both categories one by one.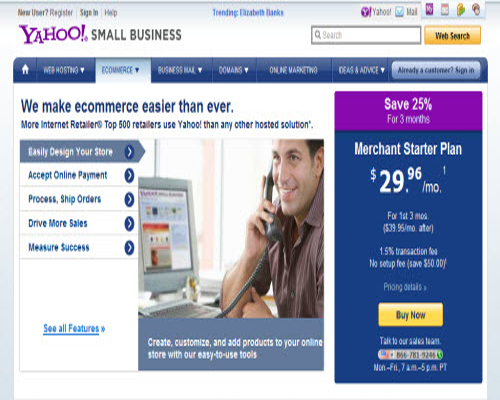 Hosted E-Commerce Solutions
As we have just discussed above about e-commerce hosted solutions. Let's see some of the hosted solutions which can provide an amazing experience to your visitors with very little work at your end. In these kinds of solutions, the administration panel is also uniform to all other scripts, which provides you an easy to use interface to upload photos and add catalogue entries. Since, there are number of choices in this kind leaving you confused which one to choose and which one to reject, we are presenting here the best three which you can choose frequently without even thinking for a moment. These are the feasible solution for all those webmasters who don't wishes to jumble around with FTP and programming IDE's. So let's have a look:
Shopify
Shopify is a complete ecommerce solution that allows you to set up an online store and easily sell your goods. You can to see this amazing service in action and can gain a fastidious experience of organizing your products, customizing your storefront, accepting credit card payments through payment gateways, tracking and responding to orders and all in a single click of your mouse. Their website is beautifully designed and contains some wonderful demos where you can view a personal application store, SSL security, unlimited server bandwidth, a custom mobile template and a lot more.
Shopify can be a best option for you offering a lot more user customizations than others. It offers dozens of themes, in its back-end panel, to be implemented on your e-commerce website. Besides these, its service also includes live chat and contacts 24/7 for any support. When we talk to pricing range, it offers five pricing plans varying from very cheap to very expensive. Some of its features are detailed below:
Features:
⇒ Easy to use online store builder
⇒ Fully customizable store design
⇒ Ecommerce hosting included
⇒ More than 15,000+ followers running their stores on Shopify
Yahoo! Merchant Solution
Yahoo Merchant Solution is another effective hosted e-commerce solution which may catch your attention. It has very standard and fairly straightforward as well easy to customize. It endows you with well known payment gateways such as PayPal, money orders, checks, and credit cards, custom traffic analytics and split testing right from your admin panel and a lot more. If one is choosing to go the hosted route, then it is a great company for them as it can practically manage your entire store deployment and launch. It should be noted that it is effective solution for small business and assists any one in setting up a small marketing account and spreading the word of their new store.
Big Commerce
The BigCommerce is another great e-commerce solution which offers clean user interface and serves as a breeze to add in new features, products, users, and take payments online within a few minutes. It offers plenty of template customizations to choose from and lot of features to go through. It also lets you to sell on Facebook and eBay using renowned payment gateways such as MasterCard and PayPal and get found on Google.
Custom-Owned Scripts
Unlike pre-hosted solutions, custom owned scripts enable developers and web masters to work within their own boundaries. Although there are many scripts available online, but it is tough to pick from them. As we know that each website launch is unique and requires unique conditions which another e-commerce solution may or may not provide. We are providing here the top three scripts which ranks very high in terms of popularity and is handful worthy for implementing in your inline shops project. In addition to these we are also providing full featured open source e-commerce shopping carts which you can also check out.
Zen Cart
Zen Cart is possibly one of the best known brands for e-commerce scripts on the web and is free to download and install on as many websites as one likes. It is written in PHP and supports mostly all hosting environments. One of the interesting facts about that, working with it provides connections into other services too. It is truly the art of e-commerce as it is free, user-friendly, and open source shopping cart software. Its website design is remarkably excellent and is developed by a group of like-minded shop owners, programmers, designers, and consultants that think ecommerce web design could be and should be done differently.
Magento
There is a fine script for e-commerce websites developed by Magento, which is written on PHP and includes plenty of details for getting started. It is perfectly suited for those who are looking to customize an amazing store with brilliant functionality and wishes to check out their product features and weigh the options.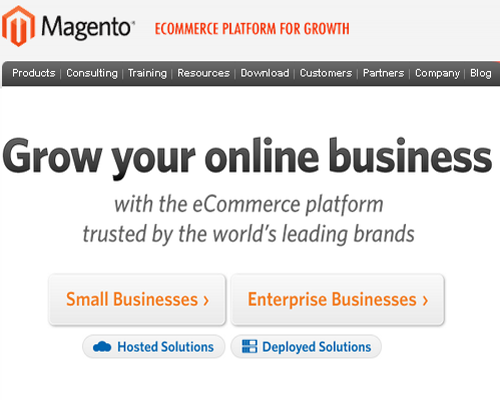 Interspire Shopping Cart
Interspire is an Australia-based web development company.
Interspire Shopping Cart is somewhat similar to BigCommerce which has been discussed right now. The only difference between these two is that BigCommerce is an e-commerce hosted solution and requires a paid hosting account. But Interspire is a custom owned script which serves as a goldmine of creativity for developers. Interspire Shopping Cart offers hundreds of modules and templates to choose from along with enormous list of most accepted payment gateways in comparison to many other scripts.
Taking Merchant Payments Online
These days, credit card payments are most widely accepted payment accepted than any other just because it provides a simple solution for your customers and you to pay online. It can be seen from the practical example that the digital sources like Google and PayPal have set back into the market, but credit card companies are still raking in the profits. Merchant account has appeared as one of the most important solution for making online payments. An Internet merchant account is used to receive funds over the web for goods or services through payment gateway. Actually a payment gateway or payment provider is a service which connects your store with your merchant account. Nowadays, most of the banks offer a signup process to credit your website and create an Internet-based merchant account. In case merchant accounts do not work, taking the service of merchant account provider becomes handy. In this one, 3rd parties work as the middle man transferring payments from your site to the bank of your choice. There are very few merchant account providers, some of which are listed below:
Network Solutions
Network Solutions is one of the foremost Merchant Account Credit Card Processing Service providers which makes it easy for customers to buy from you as it enables them to continue their transaction through credit card.
North American Bancard
North American Bancard is the Industry leading credit card processing service provider which lets you to prosper your business at fast pace.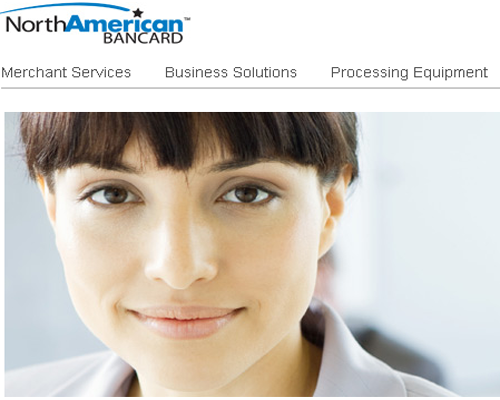 Merchant Plus
Merchant Plus is one of the Internet's leading Merchant Account Service Provider of Internet, Retail and Wireless merchant services and credit card processing.
The above mentioned companies securely transfer the data your customers input into your merchant account, once you successfully completed the creation of a merchant account.
Add Content and Products
Once you have registered a domain, chosen a web hosting service, selected your e-commerce package and you can view your script live online then really you have gone so far. Now you need to perform some maintenance and building of website structures. Now it is quite important for you, how to work with product pages because it is important for your spectators to collect the finest user experience on your website and optimistically land the sale. For this, you need to add some content and products to your pages.
Content is vitally important to draw the attention of user because it is the content which tells the user about your company and products and make them to contact you further. There are few pages on your website which needs to remain extra cautious while building them. For example, a privacy policy page is very important concerning how you'll handle user information and how you will display your terms and conditions.
Marketing And Beyond
After adding product list and relevant content to your e-commerce site, you website launching completes successfully. Since there are much more things beyond this, and hence it comes into handy that how to take pick up and start taking orders and marketing. This is really a crucial point which needs extra care to be handled.
Before you start any form of marketing, nobody will concern about your website; nobody even can find your website. Marketing is done for earning publicity which in turn requires several recommended software such as Google Analytics. It is advisable for you that in order to make your e-commerce website famous, use Google Analytics. Google Analytics provide completely free tracking software which boasts some incredible features. With the help of this tool, you can find your most trafficked pages and biggest referring websites.
You may also take the service of various publishing agencies such as Google, Microsoft, and Yahoo in order to advertise about your site. These three are the top contextual ad publishers in the whole Internet and hence can bring huge visitors traffic to your site. You might have seen the performance of Google AdWords which is very well known and trusted amongst hundreds of marketers. It will certainly bring large traffic numbers and laser-targeted click results for whatever products you're selling.
Once you have run a few successful marketing campaigns your traffic numbers will slowly raise and surely, you will grow success in your online e-commerce shop.
Conclusion
You might have got proper idea of setting up your own online shop as we have presented here a convincing walkthrough of the major steps to creating your first e-commerce store. Although, the entire process is not so easy to accomplish and since professional web designers even struggle a lot when they sit down to create new e-commerce stores, it will be little bit harder for you. But when you will follow the steps as discussed in this post, you will certainly find things a lot more efficient and flowing easier.
We would like to know your concern about this post, so please let us know this through your encouraging comments. We will appreciate your efforts.
Brayan Lazaris, a web development expert, has been working with
HireWebDeveloper
for many years. Till now, he has written numerous blogs and articles elucidating the best methods and approaches to process web development brilliantly. His keen interest in researching the smart technique for better web solution has opened the gateway for many businesses to establish a strong foothold in the digital space.