Web designing is a very creative field and it demands a lot of efforts, thinking skills and eye for detail in order to master it. A web design represents the identity of a site and plays a pivotal role in establishing a site's brand values as well as in drawing visitors. Web designers have to keep in mind several factors to come up with a perfect design that meets client's requirement completely.
When it comes to designing a creative and visually appealing website design, illustrations prove to be a very versatile tool and can be used in a number of ways in a design. In fact, illustrations can be implemented in a wide variety in web designs.
One of the best things about using illustrations in a web design is that it serves a dual purpose. First, it beautifies. And second, it clarifies. Illustrations provide visual features that not only 'explain' but also 'decorate'. Discussed in this post is the importance of illustrations in website design.
Thematic Illustration
Let us first talk about thematic illustration. One of the approaches to illustration is the thematic approach. This type of illustration is used to establish an overall theme. This type of approach helps in giving a feel like it is taking us to a location. It is unlike other approaches in which the style only establishes an overall motif which is followed by the website. This type of approach can help in driving the entire design in a radical manner. What is to be noted is that illustration is not any other insignificant element, but it is the most important design element and helps to control the entire layout of the site.
A thematic approach to illustration can help you accomplish many tasks. For instance, with the help of it,you can make your site convey its most basic purpose. It gives a visual reference to what the individual will do. And b doing this, it also beautifies the page. With the help of an effective thematic illustration, you can create a good design that not only serves the purpose but also helps visitors to understand it easily.
One thing that should be remembered is that while working on thematic illustration, you should not go overboard and make it blunt. It can very well be a natural part of a structured website. The theme should be incorporated in the design in manner that it helps to convey the decorative aspect without affecting the content.
Thematic illustration can also be used in a way that it makes the illustration itself the site. In this case, it is not the supporting element, but is the design itself. Here, the most important role is to serve the purpose of decoration. However, it also provides a great level of clarity to the visitor. The design helps in communicating a lot of information to the visitors. It is a very creative approach.
You can also use this type of illustration to wrap the design in a thematic layout. However, the site follows standard layout formulas. This helps in driving the design and it also merges the main logo and copy used on the site. Here, the theme is immersive.
If you are looking for some good examples on thematic illustration,t hen you can check out some of the sites like Mascots, InkFinder etc. When it comes to Mascots, not only the site, but also its products and its purpose are personified as well. In this case, not only the implementation, but also the power of the element varies. In InkFinder, the illustrated mascot has a clear role to play, that is, it highlights the product name. It puts in some liveliness in the design and also gives it some identity. Thus it provides something different to the user. It helps in enhancing the user experience. In fact, this is the most powerful purpose a mascot serves. An illustrated mascot is not only unique but is also quite product specific.


You can also try some illustrated decoration. Here, illustration is decorated in aw ay that it does not really gives a specific physical reference. This is to say that here most of the illustration may include pictures of objects, people, animals and places. However, this type of illustration does not reflect something real but only decorates in order to enhance the design. To understand this type of illustration better, you can check out sits like Metaphiziks and 1000 WP Themes.

You can also make use of illustrated text. A hand rendered text is another variation of illustrated text and is also a good solution for many creatives. First, it gives you an opportunity to put in all your skills that you have learned in making a good illustrated text. Secondly, and importantly, it helps you in creating something very unique. And why not? Any hand rendered text is going to be completely unique.
Informative illustration
Let us now talk about informative illustration. The purpose of this type of illustration is to clarify and explain. Read further to find out about some examples where this illustration is used.
First type is bookish. In such type of layout, illustrations are used to symbolize the various points of the home page layout. All the blocks have a visual element that beautifies as well as explain. Next type is the Activate. In this type of design, information about an event is conveyed and it also represents the purpose of the event. It is very informative and illustration seem to break away from technology and roots itself in a purely organic feel. This type of design is best when it comes to communicating the purpose of the site to users effectively. Another type of informative illustration is confersize. Here also the illustration is equally informative. It helps in demonstrating the topic of the website.

Check out Muziekpark and you will realize that it has large and prominent illustration in the layout. What works best here is the animated imagery that very effectively breathes life into the page. Now if you combine it with a creative and unique layout, you will find out that it will appear fully detached from the technology that drives it. What really plays an important and favorable role in this site is the fact that it does not look like a normal site. One of the best things is that here illustration helps in conveying the theme of the site to the users.
Next example is Zaarly. Here the design is dominated by a large illustration and the illustration sets the tone for the site. But in this, the underlying function is much more complex compared to others. It provides a humanistic feel and is quite unlike semi-minimalistic apps which have no personality at all. The best thing is that the design is such that it lends a sense of approachability to the site.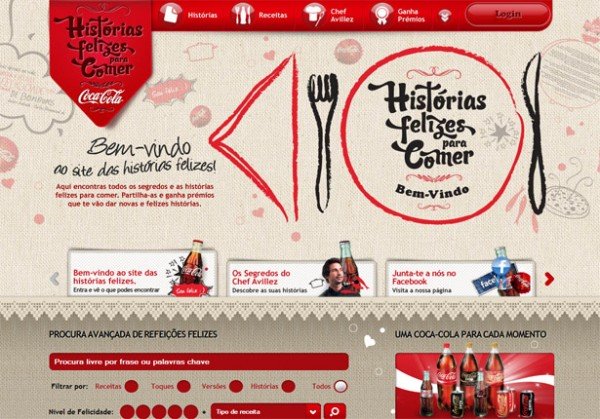 From the above discussion it is quite evident that the use of illustration in a deign is very helpful and helps in enhancing the clarity. Therefore, it goes without saying that illustrations play a very important role in a website design. By working with illustrations, designers can make the most out of the design and come up with a creative and a unique design.
Author Bio
Adam Parker is an E-Marketing specialist at HTMLfirm, which is a specialized PSD to HTML Conversion Company. HTMLFirm offers PSD to CSS and software implementation services like PSD to Drupal, PSD to Magento ,PSD to Joomla,PSD to WordPress , PSD to Email and much more.
These posts are a handout from our Guest Author who works with us occasionally and provide their opinions for our regular visitors on Web-Development & Designing, SEO, CSS, Coding etc. As their details can be marked with their concerning post even we would like to add that out Guest Authors are expert and master of their own sector. If you also desire to be our Guest Author Contact Us at
submit@webgranth.com