How to Create a Facebook Fan Page: Tools and Tips
I hope either there would be any single fellow who will not acquainted of facebook and its features. In recent time it is not limited to the individual only but has been concord as a very earnest and effective tool of marketing, advertising, promoting products and services and many more by various corporate organizations, entrepreneurs, small businesses, professionals, freelancers and etc. Moreover, here I would include that people still confuse between a Facebook profile page and Facebook fan page.
However, A Facebook fan page is contrasting from your personal profile and is a public profile which allows you to share your products, services and other relevant information with other Facebook users. That's the reason behind to create a Facebook fan page. Thus, a Facebook fan page has proved to be an earnest, essential and worthy component to show online presence and visibility regarding business on the world wide web. So, even large corporations are showing their eagerness to involve in social media.
Therefore, in business sectors Facebook is now being utilized as a perfect platform to communicate with their consumers or/and customers, promoting and advertising their products and services as well as congregating valuable feedback from their customers.
As Facebook fan page sometime might be very hassle, stressful and time taking. Even, Do you literally keen to bring your Facebook fan page in existence easily and exponentially? If answer is Yes, now no need to worry about it anymore. In order to make you ease and help towards this direction, I am presenting this post How to Create a Facebook Fan Page: Tools and Tips with some useful and handy resources.
So, go ahead. Check out this How to Create a Facebook Fan Page: Tools and Tips one by one and opt to utilize according to your need, requirement, and suitability.
How to Create a Facebook Fan Page
Facebook Templates 2U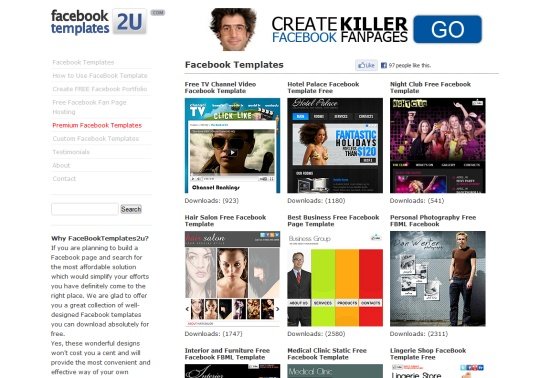 This is one amongst the best resource to establish your Facebook fan page in very simple and almost effortless way. It offers a lot of facebook templates with wonderful designs to download absolutely free.
Fan Page Engine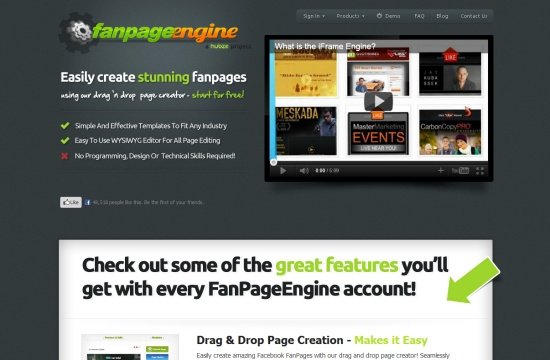 Going with Fan Page Engine is the most easiest way to build a desired Facebook fan page. As, there is no need of designing or coding required. Here, this task is as easy as drag n' drop. Moreover, this Facebook Fan Page Engine allows to publish the page instantly to Facebook.
Fan Page in a Box
This is quiet very useful and significant towards creating a Facebook fan page especially for those who have very little or almost no knowledge about this. As it not only guide you but also provide scripts and materials to accomplish. Apart of this it has easy iFrame templates, beautiful customizable graphics, Fan building scripts, simple video instructions and etc.
Fan Page Themes
This Fan Page Themes is literally very worthy tool as it is incorporated with diversified categories of captivating and alluring themes for your Facebook fan page and undoubtedly you might be an owner of eye-catchy and impressive Facebook fan page.
Free Fan Page Templates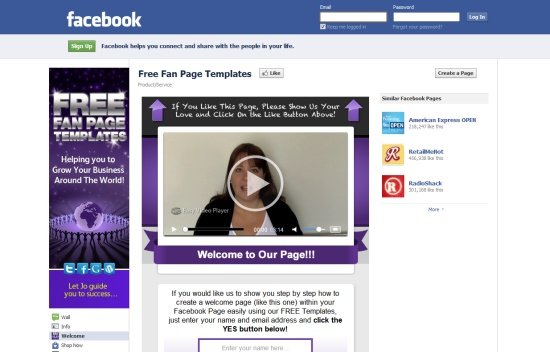 This Free Fan Page Templates is absolutely free to congregate alluring templates in context to bestow a attractive and alluring look of your Facebook fan page. Also, it guide you through step by step instruction towards creating fan page. Hence, useful especially for those who have just landed there foot here.
PageModo
This is the perfect website for easiest way to design as well as customize your Facebook fan page. This enables you to create a custom business Facebook page for absolutely free. It is quite simple and easy as no need of graphic, design or coding skills is required. Also, capable to publish instantly.
PageRage
The PageRage offers a perfect platform to personalize as well as embellish your Facebook fan page in account of several diversified categories of page layouts. Undoubtedly, it will convey a very alluring and pleasant look to your fan page.
ShortStack
ShortStack is absolutely free for Business pages upto 2,000 fans or "Likes". Also, it allows it users to customize their Facebook fan page in respect of sweepstakes, videos, contests, custom forms and many more.
Tab Site
Tab Site made more easy for customization of your Facebook fan page in account of easy to use drag n build platform. It is integrated with powerful easy to use widgets and features which turn your page alive.
Wix
Wix is a great free web-based tool which allows you to create a custom Facebook fan page in just three easy steps. What you have to do just choose your desire Facebook template, customize with affable drag & drop tools and publish instantly. Moreover, it is incorporated with cool effects and galleries and huge bunch of beautiful graphics and designs.
WP4FB
This WP4FB is most useful, worthy and affable to use WordPress plugin in context of building your own Facebook fan page. It is available for free and doesn't require any coding, designing or graphic skills. Also, it is very simple to manage and setup your pages as well as customize the layout of your page according to your desired needs.
However, I hope this post How to Create a Facebook Fan Page: Tools and Tips will be definitely appreciated by you as well as useful to achieve your Facebook fan page. It is very simple and convenient with just following some easy step-by-step method and finally you will achieve your Facebook Fan page.
How to Create a Facebook Fan Page: Tools and Tips
Christiana McGee loves development and possesses specialization in converting Sketch to HTML. Associated with
CSSChopper - Sketch to HTML Company
, she constantly strives to serve the best, fastest and innovative solutions in a stre