How to Boost Website's Conversion Rate
Fight for clicks on website is quite obvious in the fiercely competitive online market world where each website owner is fundamentally focused on generating high rate of traffic on their website. In fact, people are spending hundreds of thousands of hours to make their websites be searched in the top most ranks on major search engines like Google, Yahoo etc. The reason is simple – top ranking websites generate thousands of dollars a day.
At the end, what counts most is the website's conversion rate produced from its traffic. You can say more conversion rate of website means a quantifiable increase in sales. Let's face the fact of other side of the coin. Sometimes, an amount of traffic running through a web portal isn't balanced by income generated by website. How to push website conversion rate by exponentially increasing clicks to your website so that most of traffic comes your way.
In this post of Web Granth, we will be discussing most useful power tricks, tactics and tips which definitely help you to turn website visitors into valuable customers. Apart from that, these vital tricks drastically help you in increasing conversion rate of your web portal. Have a look:
Tip # 1 : Take an advantage of Google Website Optimizer
You cannot tie long term incomes to the search results. But, by putting Google Website Optimizer (screenshot below) into use to split – test web pages, you can easily keep the track of your sales and see how targeted set of visitors are interacting with your website. This wonderful online tool allows you to find out what are those variations of your web pages which are most effective. Google Website Optimizer is a whole new level which helps you to understand the causes you might be unaware related to website success in terms of income generated by advertising.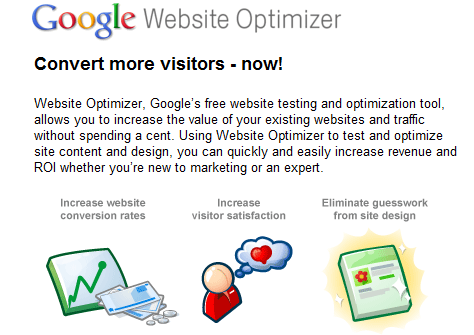 Tip # 2 : Offer Direct Line of Contact in Website Header
You can significantly increase website sales by simply adding valid phone number directly to the website header. There are many web designers, developers and consultants who are benefit from just by offering their website visitors a direct line of contact. This practice is really very effective in increasing phone-driven sales from prospective clients and bring to you hundreds of thousands of dollars per month. It sounds bit funny that a valid phone number can increase website's conversion rate.
May be. But, website header with direct phone number makes your website stand-out from the cluster and distinguish your business from your competitors. Add an accessible phone number to the header of your website to generate phone-driven sales especially if you in service-based business.
Tip # 3 : Image-Based Testimonials
Testimonials given by potential clients hold significant importance in a website. Your site visitors take testimonials posted by other customers in favor of your site as a reference. It's a good idea to decorate web portal with an attractive image-based testimonials instead of an ineffective text-based testimonial to add more personalized touch to your web pages. Have a look to some examples of image-based testimonials:
SOURCE: http://system.goodbarry.com/testimonials
SOURCE: http://www.cutelittlefactory.com/testimonials/
SOURCE: http://www.freshbooks.com/index.php
Tip # 4 : Strengthen Contact Page for Trust Factor
Trust factor is an essential aspect in every field. Till date, many companies are benefit from their reliability and accountability to potential customers. But how.. You can add trust factor to your contact page by putting an address, a phone number to order forms. Apart from that, you can even add valid links to LinkedIn profile and other social networking profiles like Facebook, Twitter etc. Increase trust factor of customers by presenting them your previous work samples through Portfolio.
Here is the best example of contact section where you can see entire necessary contact details given in a simple but effective manner. Check out below displayed screenshot.

SOURCE:  http://www.sparxitsolutions.com/
Tip # 5 : Simple Ordering System
An order system of a website significantly plays a major role in a website and you cannot be even afford to ignore it any case. Many of your potential customers come to website Order page to place order for their project and so, try to have a simple Order page rather than confusing multi-field forms. Make sure your website "Order Now" page is simple and relevant enough so that your customers can easily understand it.
A poor ordering system of a website can become major reason of your customers turn back because the page failed to help users in completing order process efficiently. Remember one thing, a poor ordering system can adversely affect an alarming number of emails, inquiries and sales of your website. It is important to make your sales web page or Order page meaningful but as simple as possible.
Tip # 6 : Predict Your Clients Search
To increase website conversion rate, you need to predict your valuable client search and mind as well. Learn those important decisive factors considered by a client while making a decision. Try to apply some of the basic productization and marketing principles to increase sales of your web portal. Be clear with what are you offering to your clients and most importantly, don't forget why you are hired. This can really help you in expanding client base much faster.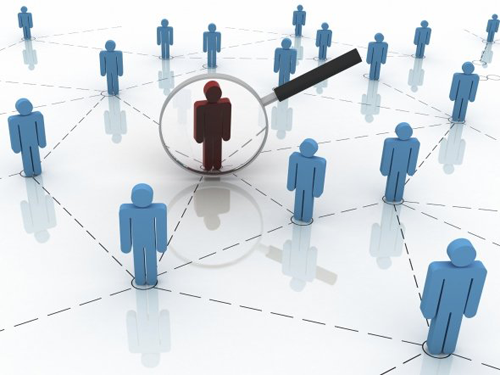 SOURCE:
Steven Bowen is an ardent team member of
No-refresh - Web to Print Design Tool Provider Company
bestowed with professionalism in to develop fully-functional solutions. Having adroitness in this arena, he has served an array of blogs that are basically based on the technology advancement & improve the end users' information level.