Gorgeous Examples of Minimalism in Web Design Inspiring You to Take a New Start Up
If you are a web designer or web developer, then you must come across the term "Minimalism" in web design. Do you know what the term "minimalism" signifies in web design? Actually Minimalism in web design is a style that emphasizes simplicity and the removal of superfluous elements in one's own work. It has remained the most popular style of web design from the past many years and is expected to be the same in the coming future.
The key to design a good-looking minimalist website is a solid and structured layout along with stylish and well designed typography. Most of the time, you must have seen various websites which are designed implicating Minimalism in web design theories. Although these websites seems to be simple by in actual they possesses a clean and crisp interface that gives the end users all the required facts they are seeking for, without the frills.
Minimalism in web design  is the art of making the website extraordinary and something magnificent with the use of limited resources. Actually, so many details and attributes when put together in a website make the site heavy and messy as well for the users; this in turn takes more time to load the website as well as difficult for the end user to understand. Thus, most of the web designers and developers prefer to adopt the style of "Minimalism" for designing a simple and comprehensive website. There are a large number of websites available these days which have been designed on the basis of minimalism in web design  theory. We have gathered the best of 15+ of those websites which will inspire you to take a new start up in the web designing industry.
The below showcased websites are the excellent examples of minimalist design which will demonstrate you that webmaster can still present all of the required information across the website and make it more powerful, even within the simplest and most streamlined of looks just by implementing the "Minimalism in web design theory" on his website. So, get ready to check out these websites. We hope, you will like these and feel yourself inspired from all these.
Feel free to share your opinion on this post, what do you feel about this post. Also mention, which one among the mentioned
Minimalism In Web Design
you have liked the most.
Astheria
Astheria is really a stunning website which curates items for the modern creative lifestyle. It is excellently designed based on the concept of Minimalism in web design. On this site, a left hand column for articles and right hand column for posts works well in keeping the content organized and up-to-date. In this site you will see the most recent selections appearing first.

A Working Library
A working Library is really an exploration of the reading experience which is like a blog and styled in a minimal book-like way. The simple lines separating various items are the most appealing design elements within the page with the help of minimalism in web design.

Because Studio
"Because Studio" is an independent design studio which can be counted as the excellent example of Minimalism in web design. One can view the large typography and a splash of accent color on this website. This website offers a varied range of integrated services including branding, art direction, print and website design, etc.

Black Estate
Black Estate possesses a superb typography along with excellent layout features. The entire background of this website which is in black color along with several menu options on the left side is really noticing. All the elements are cleverly designed which seems appealing to the visitors of this Minimalism in web design site.

Benny Roth
The bold background of this website is one of the most striking elements that can grab the attention of the visitors towards it. Minimalism in web design website is brilliantly designed covering simple graphics and tasteful writing in both balanced order.

Typography
The typography of this website is really remarkable which can make anyone fan of this website. Based on the minimalism in web design concept, everything, i.e. every element is placed in a superb manner which makes it comprehensive for the visitors of this site.

SquareSpace
SquareSpace is an outstanding example of the minimalism in web design which features a transparent overlaid graphic, deliberately set off-center and lined by ruler markings. All of the minimal design elements which are placed on this site seems cleverly pointing the visitors towards the content of the site.

Berit Somme
Berit Somme is blog website which is wholly based on minimalism in web design and which keeps to its guiding aesthetic with a two-columned web page template. On this website you can view the images on the left, text on the right. You cannot see any other distracting element on this site which can be confusing to the visitors.

JeffCroft
JeffCroft is really an outstanding site which seems to be simple but it is appealing to the visitors. minimalism in web design covers a large quantity of information all compressed and streamlined in a minimal style.

Fell Swoop
Fell Swoop is a graceful website whose clarity and graphic designs really heightens the quality of the website. The circled word theme which is applied on this site continues throughout other sections of the site bringing uniformity to its minimalism in web design.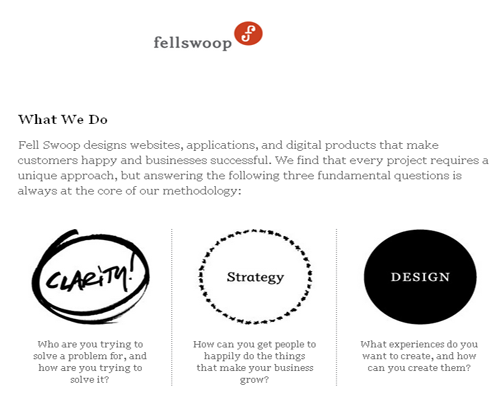 Network Osaka
Ione cannot deny the stunning look and feel of this website. On this website everything is compressed and streamlined in a minimal manner and covers a large quantity of information. The extremeness of minimalism in web design can be felt on this website.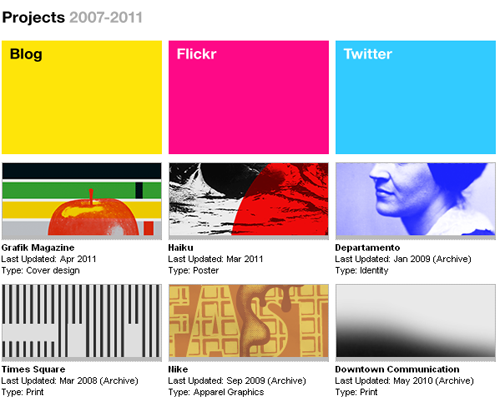 Post Machina
This is really a great example of minimalism in web design whose background is in black and which highlights their name and motto in white. All the other things even including a logo is bathed in a medium shade of grey that fades into the darker grey of the web page background color.The minimalism in web  design of this website serves well to highlight the innovating and intriguing idea in itself.

Strange Beautiful
The Strange Beautiful website is a great instance for web designing in context of minimalism in web design . This beautifully designed webpage is gripping the susceptibility and ease together by subtracting too many things at a time. Its homepage images are displayed in a grid format, with transparent grey overlays creating a sense of depth and layering which in turn is beholding the sensibility and simplicity together.

Toko
Toko is another important website which has implemented  concept of minimal in  web design. It possesses a simple and perfectly ordered grid which has made it more interesting through its off-set lines and shapes. The minimalism in web design of this website grabs your attention to the content.

Visualbox
The stunning look of the Visualbox site which you view is the result of the concept minimalism in web design . This website has opted minimal in web design concept that echoes both in its name and philosophy. The main concern of this website is to draw your attention focusing on its work and projects.

I hope you find the great examples of
Minimalism In Web Design
please share your Experience & Comments with us.
Rinniee Ginsburg is a email template developer and writer at
EmailChopper
. Her technical competency has helped the professionals explore the new techniques in practicing the innovative email development. She has written various articles that accentuate the importance of PSD to Email conversion, smart procedure for responsive email template development & many more. All her writeups have become a source for many professionals and business players to grab the valuable information.