Google Welcomes the Brand New ANDROID 8.0 OREO Version
Google announced the next version of the Android OS, Oreo, on 21st August at an event in New York. As a pilot project, Android 8.0 Oreo will start rolling out to Google Pixel, Pixel XL, Nexus 5X, and Nexus 6P users first. Android 8.0 Oreo will come up with a set of new features including Picture-in-Picture mode, better battery optimization and more in addition to a host of improvements. So, there is a big buzz among mobile app development companies, Android lovers and other tech enthusiasts about Oreo.
When will Oreo be available?
As Google says they have been working on Android 8.0 Oreo for more than a year and the beta version has already been made available for developers. At its blog post, Google said "we're pushing the sources to Android Open Source Project (AOSP) for everyone to access today." As Google says, Pixel, Nexus 5X and Nexus 6P builds have come into carrier testing and they will start to be available in phases over the next few weeks. Pixel C and Nexus Player will also get the build soon.
I don't have a Pixel or Nexus. When will I get Android O?
A majority of Android users have this question. Google doesn't want to disappoint its billion lovers. Yes, Google is working with Motorola, Essential, Huawei, HTC, Kyocera, HMD Global (aka the Nokia phones) Samsung, Sharp and Sony to upgrade their devices to Android 8.0 Oreo soon. On the other hand, HMD Global has revealed that they will be one of the first players to come up with Android O. For most other smartphone users, the waiting may go a bit long.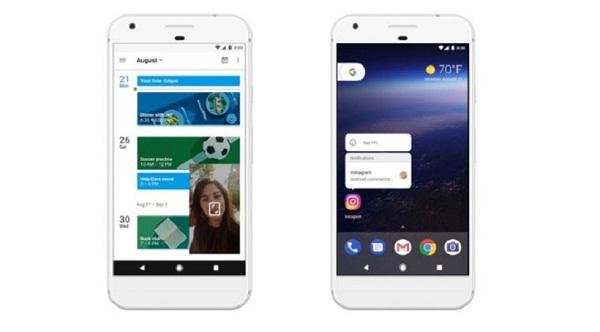 What are the new features Android O will bring?
Picture-in-picture
Picture-in-picture allows users to do two tasks simultaneously on any size screen. Apps like YouTube, and Google Duo are already compatible to this. You can enjoy chatting on WhatsApp while watching a serial or cricket match on Live TV app. It sounds great right? Even I feel the same.
New notification dots
New notification dots allows users to see what is new in the app. So, you need not go through all the notifications to check what interests you.
Autofill framework
Autofill framework enables auto-fill log-in for apps where users have granted permission. This new feature can also help the developers of password manager apps enrich the user experience. They can now leverage the new APIs to make this autofill option available to the users of other apps. At its Android developer blogpost, Google said "Autofill will roll out fully over the next few weeks as part of an update to Google Play Services."

What are the improvements Android O will bring?
Android O promises to improve battery life, and enable faster performance, with Android system reducing background app activity. Google promises to provide 2X boot speed with the new OS. New fonts and diverse emojis will also come as key elements of the improvement. This might please chat app lovers.
When it comes to developers, they will have "Adaptive icons". Android O will also come up with "wide-gamut colour" support for apps, which helps imaging apps. It works particularly well on devices that possess a new wide-gamut colour capable display.
The Bottom Line
Tech enthusiasts have already got excitement at peak to welcome Oreo. Since Nougat didn't make the expected difference, Android users have a huge expectation from Android Oreo. Meanwhile, some mobile apps development companies India are working on to bring out actionable strategies that help build efficient Oreo compatible apps. Let's wait and let's welcome Oreo.
Author Bio
Sadesh, an experienced content writer working in an iPhone and android apps development company in Mumbai. I like to write content based on technology, Startups and the latest technological innovations that people like to know and share with others.
These posts are a handout from our Guest Author who works with us occasionally and provide their opinions for our regular visitors on Web-Development & Designing, SEO, CSS, Coding etc. As their details can be marked with their concerning post even we would like to add that out Guest Authors are expert and master of their own sector. If you also desire to be our Guest Author Contact Us at
submit@webgranth.com