Google+ opens pages/profile for businesses
There is great news for all businesses and brands that Google+ has opened its page for them. Finally, Google+ has announced to allow big brands like Pepsi, and businesses and everything which comes in between these to actively participate in its Google plus social network, through its Pages. Now, the businesses will have very soon the opportunity to build a presence on the Internet giant, Google+.
Google+ has done classification in various categories called as Google+ Pages, businesses, brands, teams, places, plays and other non-people entities so that these can be able to create a profile on Google's social network. After having profile on Google+, page owners will be able to upload media and participate with users in video chats, called "Hangouts", etc. Also the general people kind or users will be able to add Google+ pages to their own circles,  Google+' s functionality for organizing network contacts and so on and so forth.
Initially businesses were not allowed on Google+ although they wanted to be a part of it from the beginning. No doubt, many businesses and brands have made use of regular Google+ accounts as a way to participate on the service despite their non-human status, but later on those accounts were terminated by Google+. But now, the scenario is changed; now Google+ welcomes the businesses through its new Google+ Pages program. Hence, now, the businesses can create Google+ pages for themselves, using the Create A Page tool. Once account has been created successfully, you'll be asked to create a page in one of five categories:
⇒ Local Business or Place
⇒ Product or Brand
⇒ Company, Institution or Organization
⇒ Arts, Entertainment or Sports, and
⇒ Others
Creating a Google+ Page
Now, let's have a look over how to create a Google+ page. When you will go to the Google+ site for creating your business profile, you will find the initial page creation form as shown below, which asks for basic information such as a brand name and a URL: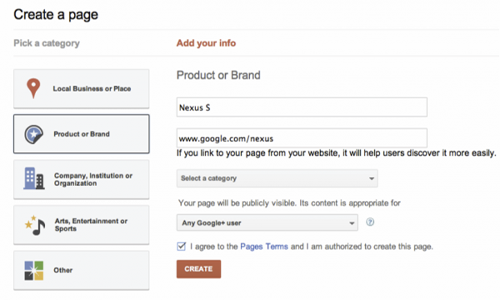 At this stage it should be noted that, whoever creates the page initially will also be the page administrator and neither anybody else will be able to admin that page after them, at first nor can that page be transferred to someone else.
It is another fact that may be in future, multiple administrator support is promised, but before it arrives, it is more important that if your company has a social media manager, that person should be the one to create the account.
Dissimilar to Facebook, here, there aren't "vanity" URLs yet available that use a business name rather than a long string of number. The same issue is also found in terms of personal accounts. Another noticing point in case of Google+ is that Unlike Facebook, if you don't like the page name, you can change that any time. Conversely, if you have verified status, doing this may cause you to lose verification, which requires starting the entire process once again.
Local Is Different
Once you come to know that in how many categories you can create a page and you have decided that you have to create a page for a local business, you will have to choose Local Google+ Pages which are unique and quite different from other categories. The local Google+ pages constitutes of several promising features that allow customers to easily connect with that business's physical location.
For instance we can take the example that, local pages include a map of the business's location and feature its address, phone number, and hours of operation which makes it easy for customers to find local businesses on Google Maps and local search. Apart from this, Google+ page also provides business owners with several additional ways to engage build relationships and interact directly with their customers.
Acting like a Page
Similar to Facebook, on Google+, you will have the capability to opt whether you desire to act as yourself or the business page. You can access your page through a personal account.
Similar to Facebook, you can do many of the same things that a personal account can do on Facebook. These are as follows:
⇒ Share photos
⇒ Share videos
⇒ Share links
⇒ Conduct Hangouts
Once you have business or personal pages, pages can follow people, but not until they've been first followed.
Multiple Pages OK
It should be remembered that pages can be made for a variety of different entities whereas profiles can only be made for people. There is a huge difference between having personal accounts and business accounts. If anybody has a business account, then they could have a page for the overall business as well as for a particular product as well as for an event.
Being Circled As a Business
Everybody knows that Google has Google +1 buttons all over the web, but it does not mean that clicking on any of those buttons on a web site can cause a business to be followed within Google+ but as a substitute to that business account should have to be added with regular accounts to a Google+ circle.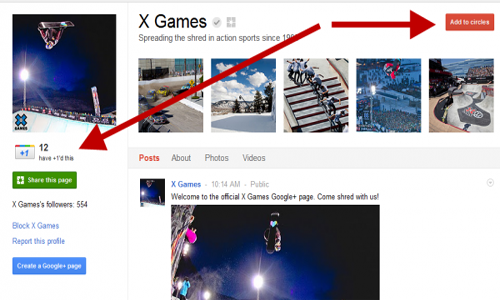 Badges & Verification
Google plus is launching (which is coming soon) a new icon namely badges in order to encourage brands to get followed and let business pages encourage being followed. Clicking on that icon will let your site get linked to a Google+ page. Also, some big or well-known brands will also have "Verified Name" options, which will be similar to how these work for people.
Direct Connect: Being Found In Search
Another important feature of Google Plus which it offers for its businesses is the ability to have their pages found through "Direct Connect" in Google Search by putting "+" symbol in front of its name. If people select the Google+ Page, they'll be taken directly to that Google+ Page, where they can then follow, if they want.
Linking Pages to Sites
It has already been mentioned above how a site could be linked to a Google+ page. Linking enables the chance of Direct Connect and requires following things as discussed below:
⇒ Rel="publisher" link for your site to your Google+ page
⇒ Link from your page back to home page or main page of the site
Besides these, Google also recommends the use of a new icon, i.e. badge, which it is offering, and which you can find on the badge maker page.
Conclusion
Going through the post you must have examined the importance of Google Plus in strengthening your business. Now, Google+ has opened its door for businesses or brands so that they can do marketing of their products on this social networking site among the huge number of followers following the site. It will certainly within a short span of time show its best performance. Also, we would like to know your opinions regarding this post how you feel it. Feel free to drop your comments in the comments area in order to share your ideas with us.
Admin from India is a founder of WebGranth, an entity of
Sparx IT Solutions
with over 8 years of experience on different verticals of web design & development. In his quest to spread the knowledge regarding web development, he has been contributing in WebGranth by submitting his valuable blogs.