Google Penguin 2.0 Update: How to Recover from Google Penguin Update 2.0
Google Penguin 2.0 Update May 2013: It's here! It's here! You can feel it in the performance graph of your webmaster tool. Penguin 2.0 update is in effect since last day. As stated by the Google earlier this month that it will be the next generation of Penguin Updates and will be based on new algorithms. Google official speaker Matt Cutts twitted about this update
"It's gonna have a pretty big impact on web spam. It's a brand new generation of algorithms. The previous iteration of Penguin would essentially only look at the home page of a site. The newer generation of Penguin goes much deeper and has a really big impact in certain small areas."
This Penguin 2.0 is supposed to affect 2.3 percent of English-U.S. queries. Moreover it is also likely to affect the non-English queries too.
Today Matt provide deep spotlight on this latest Google Search Result Update and wrote on a blog post that:
"We started rolling out the next generation of the Penguin webspam algorithm this afternoon (May 22, 2013), and the rollout is now complete. About 2.3% of English-US queries are affected to the degree that a regular user might notice." The change has also finished rolling out for other languages world-wide. The scope of Penguin varies by language, e.g. languages with more webspam will see more impact.
Earlier this week Matt provides an hint about this major update and wrote on the twitter that: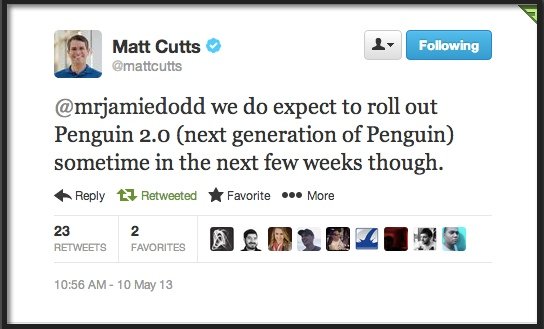 This is the fourth Penguin-related launch Google has done, but because this is an updated algorithm (not just a data refresh), we have been referring to this change as Penguin 2.0 internally. For more information on what SEOs should expect in the coming months, see the video that we recently released.
Matt launched a video to provide more information about this latest Penguin 2.0 Update algorithm:
How to recover from the Penguin 2.0 update?
Your keyword rank experienced a huge decline after this latest Google update? Hey don't panic! You are not the only victim. It is quite possible to regain your website rank by just keeping a few points in SEO practice.
This Penguin update is actually basically related to the Back link profile of a website. If you are expecting to get you position back in the SERP than you have to hit on that particular area only.
Before making a new SEO strategy try to erase the mistakes you committed in the last SEO session. Completely avoid the link spamming practices that includes
Bulk Directory Submission
Low-quality directory submissions
Improper Link Network
Links within spun articles/content
Try to delete the improper links of your website from other webpages. You can even ask the website owner to delete the link if you are not authorized to do so. To get a helping hand in this regard; you are recommended to go for Google Disavow Tool.
Conclusion
The things are expected to change apparently in the coming days. Do remember to subscribe us for the latest information and happening in the Google world.
Google Penguin 2.0 Update: How to Recover from Google Penguin Update 2.0
Admin from India is a founder of WebGranth, an entity of
Sparx IT Solutions
with over 8 years of experience on different verticals of web design & development. In his quest to spread the knowledge regarding web development, he has been contributing in WebGranth by submitting his valuable blogs.