Glimpse over Some of the Best Desktop File and Image Sharing Tools
Most of time, while surfing on the web, you must have felt the need of image, video or text file sharing. Actually, File and image sharing tools are used for the publishing or transfer of a user's digital data or photos online, and thus enabling the user to share them with others. To fulfill the need of file or photo sharing, there comes need of file and image sharing tools. File and image sharing tools are the means by which user becomes able to share text files, photos or videos with friends on web, i.e. on Facebook or Twitter profile or any other social networking accounts.
We are hereby in this post, presenting some of the most convenient desktop file and image sharing tools which will make everything faster and easier for you. We have undergone a deep study and then extracted these tools just for you. This post will provide you some of the excellent ways for sharing screenshots, images, videos and text on the Internet via desktop tools and browser extension or add-ons. Check out these tools and filter which one suits your need best.
File and Image Sharing Tools
Jing
Jing is one of the great File and Image Sharing tools for sharing screenshots which is simple to use and available for both windows as well Macintosh. Jing is the perfect way to enhance fast-paced online conversations; it allows you to take a picture or make a short video of what you see on your computer monitor and share it instantly via web, email, IM, Twitter or your blog. Once you clip any part of a webpage or even your desktop, then Jing gives you the option to share it via Screencast.com, Facebook or Twitter. It also allows you to add annotations like arrows, text, highlighting and shapes to your screenshots.
Skoot
Skoot is the easiest and most secure way to share files with another person or entire group over the Internet. It is really a superior business tool which is available as an enterprise platform or as a service and works with corporate firewalls and allows sharing files securely. It is less expensive than MFT and is more manageable than FTP. Not only that, it also supports multiple storage solutions and access across multiple devices.
With the help of File and Image Sharing tools , you can create workspaces and then drag and drop the files that you want to share into the files area of the workspace; you can invite others to your workspace via email. Apart from this, you may also create private workspaces if you do not want to share the files with the entire world, but only to your close friends. It is available for both Windows as well as Mac OS. You will get 512MB of free space when you will create your account here.
FluffyApp
FluffyApp is nothing other than the windows version of CloudApp which makes sharing of files over Internet almost effortless. This remarkable tool allows you to share images, videos and text anywhere on the Web within seconds; only you need to drag that particular item which you want to share to the notification icon. As soon as you doo this, a short URL for that particular item is saved to your clipboard, which you can share on Facebook, Twitter, IM, via email or anywhere else. Besides these, you may manage your files via the web interface. If you want to see which last few items you have shared on the web, you may view it by just right clicking the notification icon.
CloudApp
CloudApp is just the Mac version of FluffyApp and has functionality similar to the FluffyApp. This Mac version comes with several customization options and additional extensions in comparison to FluffyApp which works in other applications like your browser, iTunes, iPhotos and many more. It allows you to share images, links, music, videos and files over the Internet only just by choosing the file, and dragging it to the menu bar. When the item to be shared is dragged to the menu bar, a link is automatically created which is sharable with co-workers and friends. In addition to all these, you can also view, track and delete files right from your menu bar.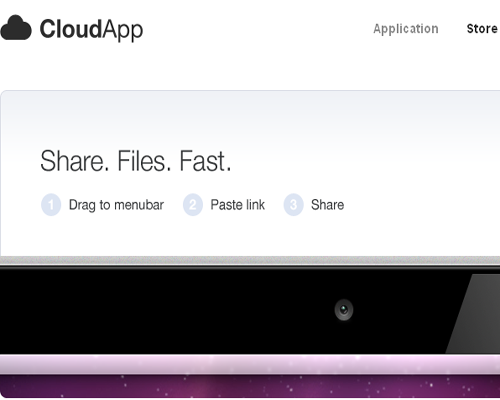 Skitch
Skitch is an easy and lightweight, yet incredibly robust tool in terms of quality of functionality and is like a cross between Jing and Snagit. It comes with tons of features which allow you to manipulate images and screenshots in a variety of ways such as resize, rotate, annotate, etc. This is one of the File and Image Sharing tools allows you to capture screenshots and then annotate, edit, and finally share your photos and screenshots on Flickr, MobileMe, Twitter, Facebook, blogs and much more, faster and smoother.
Droplr
This is an amazing desktop file and image sharing tool which is somewhat similar to CloudApp in functionality. Similar to CloudApp, you can drag and drop content to the menu bar icon, after which a short URL will be automatically copied to your clipboard which you can share on web such as Twitter, Facebook, and Flicker etc in a single click. You can also manage your shared content through the web interface. You will get the 1GB of free space storage when you open your account on it and not only that, you can also add an extra 1GB of space to your account if you agree to let them send out a tweet about the service from your account.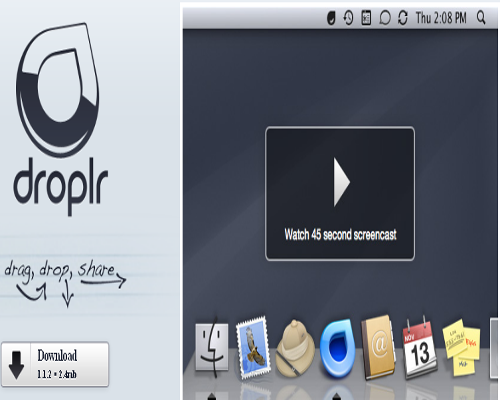 Ibrii Sidebar
Ibrii Sidebar is a Firefox add-on which when installed on your computer adds a button to the Firefox Navigation toolbar and allows users to snip every type of content found on the internet without bothering whether it is simple text, a photo, a video or even an embedded object, like streaming audio. One of the most distinctive feature of this tool which makes it unique is that it offers you the possibility to share distinct elements of web pages and not links to entire pages as do numerous other services present on the internet.
Ibrii Sidebar allows you to mix videos, text or photos from different pages into a single note and once you have everything in your sidebar which you would like to share later share with your friends on Facebook, Twitter, Posterous, Google Buzz, etc, you just need to click on "share" button your elements will be shared with all your friends on the links. You may do it either via email or via permalink. Besides these, it also gives the possibility to create a RSS feed for one's personal blog.
TwitrPix Express
This is an important desktop file and image sharing tool is which is specifically designed for sharing images on Twitter. When you will right click the menu you will find an option "share photo on Twitter using TwitrPix", clicking on which you can bring up the TwitrPix Express for Firefox dialog window. After then, you will have to enter your username and password for Twitter and finally can share the photos with your friends on Twitter. One can also add an optional status message and tags on Twitter account. In precise form, we can say that, it allows you to instantly share any photo from any web site on Twitter by right-clicking on the photo and clicking "Share photo on Twitter using TwitrPix".
Picsisgreat
PicsIsGreat is another great add-on which allows you for free image hosting and sharing. Once added on your Mozilla browser, it provides you two options on the right click context menu, the first one is "share this image" and second one is "upload and resize". The first option lets you to share the image with your friends; for this, first you have to upload the image to PicIsGreat which gives you a permalink as well as options to share on Delicious, Facebook, Tumblr, Twitter, Google and Vi.sualize.us. The other option lets you to resize the image; you are free to choose the desired width which you wish to change the image to, after you resize it, it will take you to the new page and give you sharing options where you can share your photo on various websites.
Dropico
This is one of the most sophisticated Firefox add-on which allows you to choose photos from the Web and share them on numerous sites like Facebook, Twitter, Flickr, Photobucket, Dropbox and much more. For this, you need to open your account on Dropico. Once account is setup, you are free to share pictures with Dropico on any website. We are sure this tool will change your Photo Sharing practice on the web and you will gain a new experience. You can directly drag & drop photos across social networks to any web-based editor such as Gmail, Yahoo Mail, WordPress and many more. Then this tool allows you to upload any photo on the web directly to your social accounts such as such as Facebook, Flickr, MySpace and many more just by right clicking.
This add-on also allows you to quickly upload any photo on the web directly to any of your social networks by just right clicking it and using the "Save to Dropico" option. In short, we can say that, the Dropico Dashboard enables you to work with Dropico directly from your browser, share photos, manage your photos, edit them online and much more than that.
Desktop file and Image sharing Tools
Please share your Comments & Experience with us.
As the most experienced developer of
CSSChopper - PSD to HTML Conversion Company
, David Meyer firmly believes in building the new ways that lead the people towards success. He focuses on an ideal approach and tries to deliver the perfect services close to the defined needs.