Glimpse over Remarkably Illustrated Character Design Tutorials
These days Character design has been appeared as another booming trend in the field of web designing because characters can add a recognizable face to web designing work. It has become such a wide and varied subject that the specifics of each character's process and gestation are unlikely to be the same for everyone. It is said that the most advantageous part of adding unique character on the website design is that it can draw attention of the visitors.
It can establish a unique position in the visitor's mind regarding your website and they will be tempted to visit your site again and again. Being a designer, you also must have awareness regarding the concerned topics and sometimes you wanted to implement it in your next project, but the major problems which encounters in front of you is that you start thinking how to go from a sketch to the finished product. We understand your problems and hence in this roundup, we have compiled a fantastic collection of character design tutorials which will show you how to create good-looking and astonishing character designs.
Understanding the need and looking over the importance of character design, we have decided to present several promising tutorial which can properly guide you in this concern. These tutorials will make you aware step by step on the design process start from sketching to the coloring processing. These tutorials are a mixture of Photoshop and Illustrator tutorials which will explain you so many cool tricks which might come in handy during your next project. So let's have a glimpse over these remarkably illustrated character design tutorials. We hope, these will prove helpful for you, either you are a beginners or professional designer.
Cute Panda Bear Face
This is really an awesome character tutorial which will show you how to create a cute panda bear face icon all from ellipses. The major thing about this tutorial is that it is easy to grasp and you can easily apply the techniques to other icons, illustrations, logos, or other projects.

Character Mascot
As we know well that mascots are becoming increasingly popular in web design. This tutorial is targeted to the same. It will explain you how to create a vector character mascot from a sketch in Adobe Illustrator CS4. You can easily apply the techniques explained in this tutorial to other illustrations, icons, and design elements; as well as legacy versions of Illustrator.

Drunken Monkey
This is a wonderful Adobe Photoshop tutorial especially dealing with character design. In this tutorial, you will have the opportunity to learn step-by-step how to design an attractive character namely "Drunken Monkey" in your next web project. It primarily focuses on creating a visually appealing mascot and a logo and provides insights in the designer's workflow and the design process itself. You will be able to review the entire design process, from the first sketches and drafts to the final touches with Adobe Photoshop.

Super Happy Octopus
We know well that in Illustrator, it's really easy to create fun characters with some simple shapes and the Pathfinder Panel. This tutorial will discuss you the same and show you the correct path how to achieve your target. You will learn how to create a Happy Octopus Character.

Panda
This tutorial will let you to know how to create cool and great looking vector panda character illustrations using just a few simple shapes, a mix of gradient colors and a few shadows in illustrator. It will make you learn step by step from the basic outlines through to the detailed final design.

Homer Simspon
This tutorial will teach you how to draw the Simpson's favorite character, Homer Simpson, from the ground level. The drawing project of this tutorial will involve drawing the outline of the character, applying strokes to these outlines, and then using various selection tools to color Homer's skin and clothing and so on. Here you will also able to learn adding shadows and highlights to make it look similar to the image below.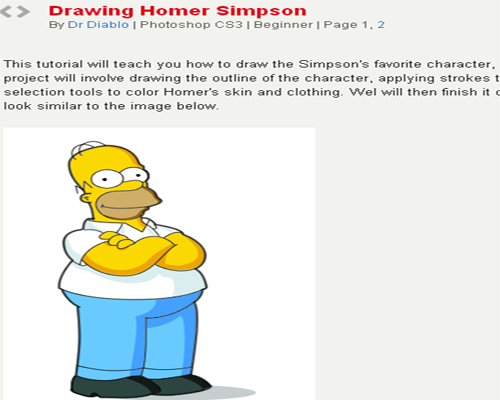 Web Site Mascot
This tutorial will provide an overview on how to develop a character design from the initial brief through to the final site mascot and then to go on to create several poses for different parts of the site.

Thug Bunny!
This tutorial will enable you to go through the method of using symmetry in your artwork. This tutorial features a plug-in for AI that speeds up your build time and cover the topic of "Opacity Masks."

Bunny
In this Illustrator tutorial, you will be able to get ideas on how to create a cute bunny character. This tutorial uses simple shapes and gradients that are easy to apply to other character illustrations. One of the remarkable things regarding this tutorial is you don't need to have an amazing artist to create it.

Monster
This tutorial will acknowledge you how to add the illusion of dimension to your vector illustrations by combining the effects of Adobe Illustrator's versatile linear and radial gradients. Apart from that, this tutorial will also demonstrate how subtle and believable accents can be applied to your illustration to increase lasting visual appeal. You will be able to learn the basic tools of Illustrator, including Transparency and Pathfinder functions, etc. It will explain complex tasks such as clipping masks, how one can build a dynamic vector illustration that breaks the stereotype of 'flatness' and much more.

Lebron James
Lebron James is a remarkable character tutorial which will make you learn how to create cartoon specializing in vector based retro cartoons and character designs for magazines, skateboard deck designs, and packaging designs etc. It is really a must check out tutorials for all character fans who want to be aware with super and unique styled steps.

Zombie
This tutorial will primarily focus on how to create a cartoon zombie in Illustrator. It will explain the entire techniques starting from creating a fresh corpse then 'yuck' it up using a number of techniques.

Cute Monster
This tutorial promises to acknowledge you how do you go from a sketch to the finished product. This tutorial talk through the essential steps, from before you even pick up a pen and paper to working your design up as a vector image, and show you some of our processes for adding details to the character.

Furry Vector Monster
This tutorial will explain the steps which guide you how to create a cute furry vector monster in illustrator. Here, you will learn working with the basic shapes to start, then use a variety of gradients to add depth and finishing by adding some detailed fur effects to really lift the design from the screen.

Curious Owl
Here, in this tutorial you will be able to learn how to create a curious owl in illustrator CS4. This tutorial has used non-spooky scene set at dusk, with a curious owl sitting on a branch and some scenery in the background. It will add bulk of information to your knowledge.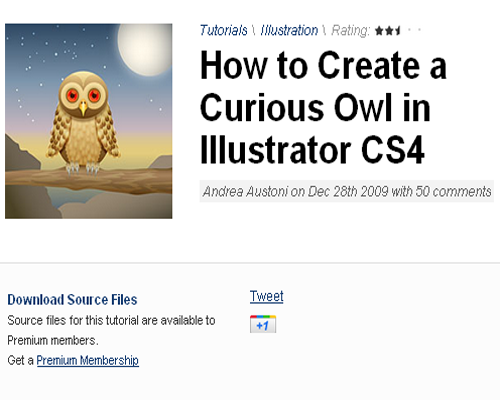 Cute Hamster Factory
This is really a bombastic tutorial which lets you to behold the dynamic cuteness this rodent oozes. Here you will learn to design a cute hamster factory.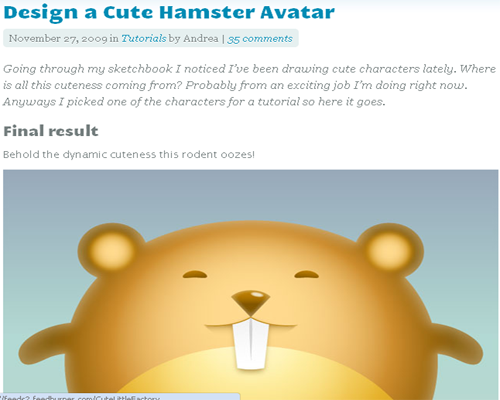 Character Driven Book Cover Art
This wonderful tutorial will show you a complete process from initial sketch to the final artwork, using an Illustrator to Photoshop integrated workflow. This tutorial will employ Illustrator to trace hand drawn sketch, lay down the shapes and define the basic colors.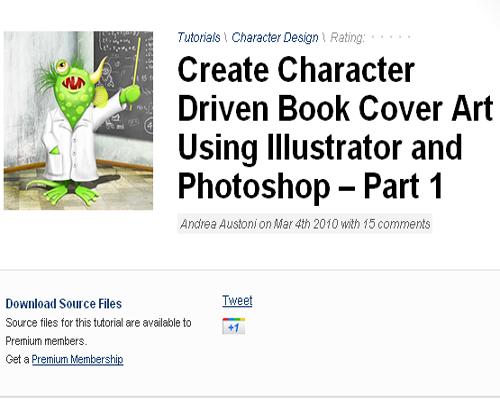 Cute Little Monster
The tutorial is especially intended for beginners where they will come to know how to create a cute little monster. This tutorial is going to show a gradient-heavy illustration of a little monster and you will get a 3-D feel. You will learn really nice and easy tips for creating a little monster.

Fat Cat
This tutorial aims to guide you everything starts from sketchbook to screen; it will acknowledge you how to create a "Fat Cat" doodled with biro translated into a neat vector caricature. Before going through this tutorial it is advisable to have intermediate knowledge of Adobe Illustrator.

Fantasy Character
This is really a fantastic tutorial that covers the process of creating a fantasy pinup illustration with Illustrator CS3. This tutorial uses Live Paint, so you will need CS2 or above to follow; you will have many things to learn in this tutorial.

Leander Crow works at
Webby Central
as a veteran web developer. He has a passion for technology, coding and design and has coded for award-winning names in the industry. He is also a freelance writer who has helped many web development firms build an audience by sharing informative write-ups.