Get Connected with Webgranth's Social Communities
We are feeling too much excitement to inform you at the earliest that now you can widen your network and can get the latest updates also by joining Webgranth community other than getting connected to social networking sites like Twitter, Facebook or LinkedIn or any others. Webgranth, which serves as a new knowledgebase for web developers and designers provides latest trends and techniques on design and web development with useful information, tutorials, ideas, related approaches tools and many more. It is one of the fastest and largest growing communities of web designers and developers delivering them useful, contemporary, innovative and comprehensive information.
Webgranth welcome you to join it via renowned social network such as Facebook, Twitter, Google Plus and LinkedIn. Webgranth aims to present noteworthy tips, useful guidelines, excellent tutorials, helpful tools, modern web applications, design and development resources related to fonts, Photoshop, CSS, jQuery, web design, graphics, typography, advertising, SEO, HTML, WordPress and much more than that. So once you join this vast community network, you will get connected with up to the minute updates happening in the design and development world.
Let us have a glance over the following for networking platform via which you can directly access the profile of Webgranth:
Twitter
Twitter is a free social networking and micro-blogging service that that enables its users to send and read text-based posts of up to 140 characters, which are informally known as "tweets" via SMS, instant messaging, email, to the Twitter website, or an application such as Twitterrific. Founded in March 2006 by San Francisco, today it has recognized a well known position in social media.
Webgranth has reserved its position on this ever growing networking platform and welcome you on this networking site to satisfy your social media instincts. Currently 6860 people are following Webgranth on Twitter and 92 come in the listed category who has subscribed us and availing the advantage of the latest updates on Webgranth of which we inform them. So, why you are waiting, come, join us and be the part of Webgranth, one of the fastest growing communities.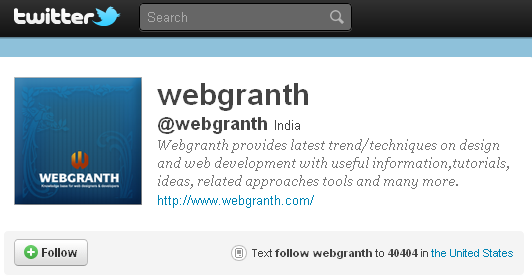 Facebook
Facebook is a social utility that helps people communicate more efficiently with their friends, family and coworkers. It offers a huge networking platform where any individuals or organization can create contacts in a trusted environment.
Webgranth owns a good position on Facebook, which is a top notch social networking site in today's date. Till now 1444 people including the group of senior developers, SEO's, designers, analysts and so on, who have liked Webgranth. So, if you will get connected with Webgranth via your Facebook profile, you will get the golden opportunity to get connected with these people and in this way widening your reach.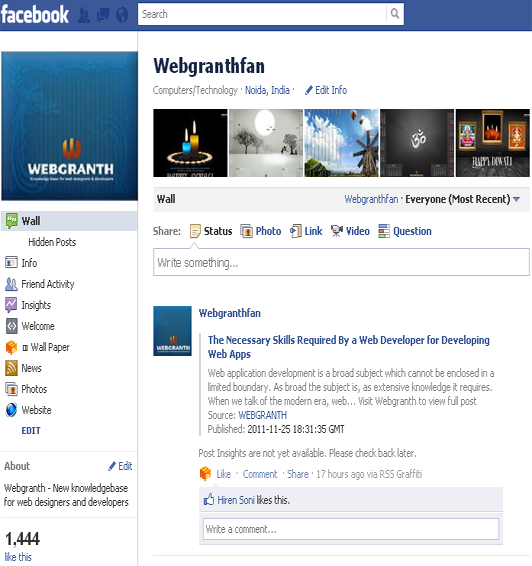 Google Plus
Google+, a large social network operated by Google Inc. aims to make sharing on the web more like sharing in real life. It primarily focuses on targeted sharing within subsets of your social group including friends, family, classmates and co-workers, which are basically termed as Circles. It allows you to easily view, manage and edit multimedia such as tagging photo, editing photos and so on and so forth.
Joining Webgranth via Google Plus will give you a very innovating social networking experience. Webgranth provides up to date information relating to design and development, tools and techniques, tutorials etc on Google Plus; so once you join it you can avail the advantage of all these services. So, let's move ahead and be the member of the Webgranth community.

LinkedIn
Besides the above mentioned social networking sites, we have also revealed our present on LinkedIn. LinkedIn, a renowned social networking site, takes your professional network online, giving you access to people, jobs and opportunities as never before. LinkedIn has established itself as world's largest and most powerful professional network having millions of professionals as its members.
Once you join us on LinkedIn, you may get full access to webgranth's profile and can see who knows you as well as Webgranth in common. So, what you are thinking for, get introduced to Webgranth. As a LinkedIn member, you'll join 135 million professionals who are sharing connections, ideas, and opportunities. Not only that, when you will join us, you will get the opportunity to expand your network with our already existing 107 connections.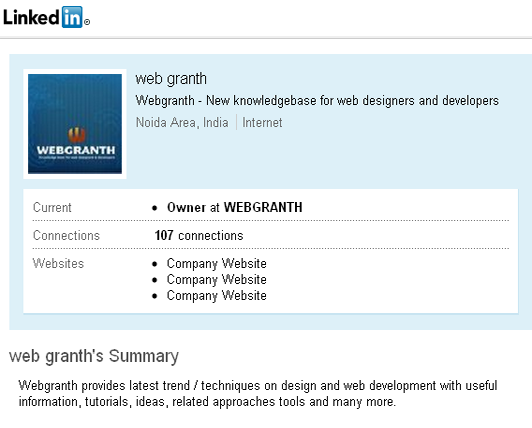 Admin from India is a founder of WebGranth, an entity of
Sparx IT Solutions
with over 8 years of experience on different verticals of web design & development. In his quest to spread the knowledge regarding web development, he has been contributing in WebGranth by submitting his valuable blogs.