Fundamentals of E-Commerce Web Design: Witty E-commerce Store Designing Tips
Online shopping is something that never goes down whether a recession comes or the forces of financial market stand upon the edge to collapse. Modern age market is expanding day-by-day with advanced technologies in form of e-commerce websites making lives of the customer easy and simplifying the shopping process. With our busy lives we always feel weary to go shopping for our day to day things like household objects, clothes, electronics, and other similar products.
Wasting time on shopping is one of the most disliked activities of most of the people; thankfully e-commerce websites are here to make shopping easier. An e-commerce website should magnetize and encourage visitors of the site to make possible purchase that would lead to enhanced sales and developing trade. For achieving heights in successful online market people aim to design great e-commerce sites.
An e-commerce website design is very important for overall output of the site. The design of the site should catch the attention of the customer in such a way that they can't resist themselves of buying the product. With e-commerce websites, one can shop while sitting anywhere for any product in the shopping word list. Prevailing preferences of people and following trends has marked a revolutionary competition among various e-commerce sites to increase their sale. For survival among the various trade forces of e-commerce it has become mandatory to design your website uniquely to attract maximum customers.
Helpful Tips for Designing E-Commerce Site
Users always feel comfortable to use websites those are highly user-friendly and offering some helpful stuff. The great designs always captivate visitor's eye and direct them to the product display page easily. To make your site capable of attracting maximum number of users one needs to follow certain common tips to create a better e-commerce store. Here we are providing some tips for you that may help you while designing your e-commerce site.
1. User-friendly Navigation: An easy navigation of an e-commerce site is an essential tool to attract maximum number of users. The process of purchasing system has to be proper enough to guide the customer to follow the exact way to use the site for shopping. In order to build up the interest of the customer on the site, it is important to evade the complications in displaying the product and product descriptions like its price, and other related information (quality, weight, color, size, etc.). Improper information can lead to loss of interest in customer hence negative sales.
2. Advanced search section: E-Commerce site should provide a search box section with advanced features so that customers find out the desired product easily. This advanced search should include search based on category, color, size, weight, price and other relative description.
3. Lesser clicks to reach product to shop: Customer usually gets irritated with so many clicks to press the buy button at last. A long procedure always makes user disinterested and he/she may leave the site before buying any product hence, the distance of display of the product till the shopping cart has to be not very long. The user should feel easy to make the payment of the product.
4. Display prices and discounts: Most of the site do not display the prices properly which prove to be negative impact over users and hinders them go on with the buying process. Price of every product should be properly visible. Generally, most of the designers prefer to show the prices of the product on the second page which is completely negative for the sales. Every person while shopping online follows a budget and look for the things that comes under his/her buying capacity. It is good to show the price of the product with the image itself. If you are running with any discount scheme just display it too along with the price as it attracts more and more user.
5. Support System for Customer: An online shopping site is actually incomplete without a proper system to support customer online. These days live chat on e-commerce site is helpful providing proper knowledge about the various products of the site. Online support is necessary to build a kind of confidence among the customers for your product as they get response for all of their queries in a proper and detailed manner.
Examples of Some of the Successful E-commerce Websites
Most of the profit earning industries follows above mentioned basic tips for running good business through e-commerce sites. In this post we are assembling together examples of some of the great e-commerce websites known for their effective trade in online industry. We hope you find this effort helpful enough to design and create your e-commerce site well. Let's follow the below showcase of few e-commerce sites:
Ten Little Monkeys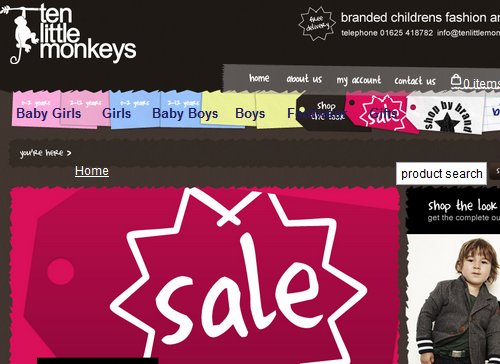 Vanilla Vanity
I-workwear
OiPolloi
Paul Smith
Bohemia
Grenson
DogCollars
Godiva
Converse
Steve&Co.
Harry Winston
CuCuu
Olive and Myrthe
Far Fetch
Atom Bicycles
Storyville
Via Snella
As the most experienced developer of
CSSChopper - PSD to HTML Conversion Company
, David Meyer firmly believes in building the new ways that lead the people towards success. He focuses on an ideal approach and tries to deliver the perfect services close to the defined needs.