"Adobe Photoshop brushes" is always the hottest search topic among the web designers. These brushes offer a different look to the artwork and hence make it more attractive. So to save the web designer's time for searching the brushes on the internet; I am providing the list of best 20 websites for free Photoshop brushes.
Adobe Photoshop is the most popular tool for photo editing among the web designers. Beside with providing an amazing and effective list of tools; Photoshop offers a very easy interface which can even be used by the novice. To make the designs more creative and attractive; designers use some additional tools like brushes, vectors, patterns and many more.
Photoshop Brushes are the hottest search among web designers as they provide an innovative theme and different look to a design. But finding a perfect brush for the design is as much easy as finding a needle in the sea. So to help my regular readers; in this post of mine I am going to provide you the list of Best 20 Websites for Free Photoshop Brushes.
Beside with the offering a huge collection of free PS brushes; these websites are loaded with lots of other Photoshop resources like Patterns, tutorials, vectors, icons, backgrounds and much more.
Shizoo
Shizoo is one of the most popular websites for Photoshop resources and tools. The designers can find a large collection of Photoshop brushes, Gimp Brushes, Pro brushes and much more useful stuff on this website. This website currently complies a collection of 200+ Photoshop brushes set and these all brushes are very easy to download and install.

Photoshop Mosaic
Photoshop Mosaic is a complete library of PS brushes. It has a large collection of beautiful brushes imported from different websites and blogs. Most of these brushes are absolutely free to download. Moreover if you are looking for some other Photoshop resources like Texture, icons, patterns etc.; Photoshop Mosaic is the best one stop shop for designers.

Fbrushes
With a mega collection of more than 10k Photoshop brushes; FBrushes surely earns the place in the list of the best websites for Photoshop brushes and resources. Thousand of designers visit this website for different resources including patterns and textures.

Chez Plumeau
Chez Plumeau is yet another impressive resource for web designers. The best part of this website is its sorted menu where the visitor can choose the brushes easily by following a particular category. These brushes are categorized in a large array of themes and subjects that includes Nature, Culture, Science, Life, Abstract & many more.

QBrushes
This is absolutely one of the best website that a designer must click upon for best online Photoshop brushes. This website is only designed for the library of brushes and is updated by thousand of designers every day with a lot more innovative and creative concept of PS.

BrushLovers
BrushLovers is an amazing website with a large no. Of latest Photoshop Brushes, Patterns and Styles. All these resources are properly tagged among different categories and provide easy for the designer to choose the most appropriate resource for the design. The resources provided on the website are free but the visitor has to register (free) first before downloading the stuff.

PhotoShopedia
Similar to its name; PhotoShopedia can be considered as a complete encyclopedia of Photoshop resources. This website surely deserves to be bookmarked by every designer as it complies a Huge Collection of Photoshop Brushes, Styles, Patterns, Gradients, Shapes and a lot more. Icing the cake; a lot of reviews about a resource make it easier for the designer to choose the best for their designs.

Photoshop RoadMap
Photoshop RoadMap is a very useful website for the designers where you can find the tutorials, Fonts, Text effects, plugins and almost everything that you need for a design. These all resources are submitted by the best designers around the globe and you too can join this parade by submitting your artwork on this website.

BrushKing
BrushKing is a renowned website that deals with every genre of brushes. The designer may download the free brushes from the category or can even go for the premium (paid) Photoshop brushes. The visitor can also check out the news section of this website for the latest news about web designing.

ColorBurned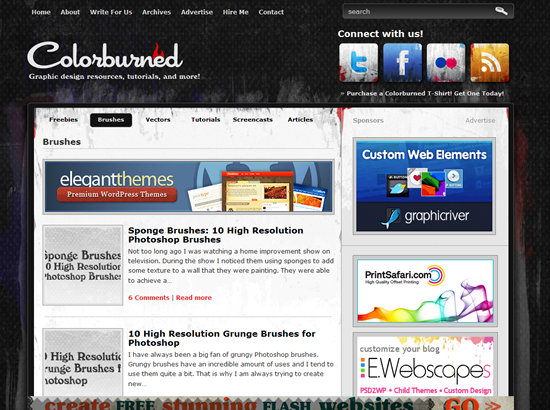 ColorBurned is actually a website that provides the knowledge base for Web designers. This website is not so popular among the crowd but surely loaded with impressive resources. So whether you are looking for the free attractive brushes or the latest tutorials on Web Designing; ColorBurned can surely be a confident name.

Brush Directory.com
BrushDirector.com is surely announced as one of the biggest collection of best Adobe Photoshop brushes, patterns and actions. If you are looking for some different types of brushes than I will definitely suggest you to check this website once.

Get Brushes.com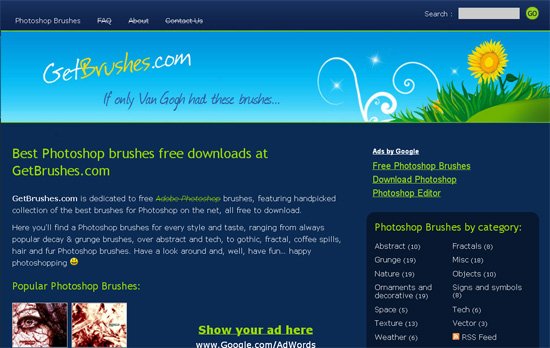 Get brushes is another one of the most recommended website by the web designers for free Adobe Photoshop brushes.

PS Brushes
With a collection of 500+ different and attractive Photoshop brushes; PS Brushes can be a worth website to check out.

WOW Brushes
Wow Brushes is another website which is completely concentrated on Adobe Photoshop brushes only. This website also provides the facility of the designer to submit their own brushes on the website. Icing the cake; designers can even find the links to other useful websites on web designing where they can earn the money for their artwork.

Brusheezy
Brusheezy is one of the rare websites which provides resources based on different versions of Photoshop at a common point. Beside with this amazing sorting algorithm; the visitor can even get the list of most popular or most downloaded brushes on this website.

MyPhotoshopbrushes
Myphotoshopbrushes is a website with an impressive array of Photoshop brushes and other resources for designers.

Noupe
Looking for the Free Photoshop Brushes? Noupe is surely the name that you must click upon.

Free Brushes
Free brushes are an astounding collection of more than 600 brushes for PS, GIMP and Paintshop Pro. These all brushes are absolutely free and compile the high quality.

Brushes Download
With a long list of brush's categories; Brush download is a brilliant website where the data is updated daily by the users. So every time you check out this website for free PS brushes; you will be served with something new.

Free4Photoshop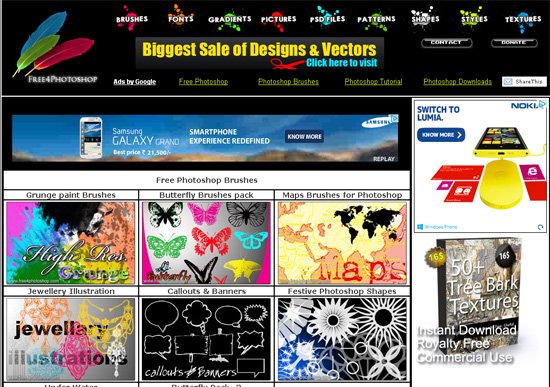 Free4Photoshop is a website dedicated to the Photoshop resources only. Here you can find absolutely everything that you need to craft your creativity and artwork.

I hope that this list of best 20 websites for free PS brushes will help you to find the best tool and resource for your design. Had I missed any other popular name for PS resources? You are welcome to share your favorite website for best Photoshop brushes. Stay tuned with Webgranth for more informative blogs about web designing and development
The area of interest of Jennifer Adam is to cater technologically advanced and powerful tool which works remarkably with multiple browsers and devices. Being a talented professional of
inkyROBO
, she is capable of implementing the innovative ideas and also loves to write inspiration blogs.