Free Online Forums: Top 10 Forums for Web Developers & Designers
By this topic of mine on 'Free Online Forums: Top 10 Forums for Web Developers & Designers' I had tried my best to put a spotlight on the needs and benefits of online forums. Icing the cake; I am also providing you the list of the top 10 forums for Web Developers and Designers. These all forum communities don't charge even a single penny for the registration.
Since from the Black & white era of technology; discussions are always one of the promising pillars for solving any kind of hassle. The advancement in the sector of technology has pushed these discussion platforms into the Online Forums. Forums are the online hot spots for the discussion about different genre of topics. These free online forums are making impressive shine among both freelancer & full time worker; a newbie and an experienced professional; an artist and a programmer. You can post your issues to get the best possible solutions from the array of professional and experienced users.
Life is already so busy! Why make it more by participating in free online forums?
This is one of the most frequent questions from the newbie. Beside with providing significant benefits at a very low or zero cost; Online Forums offers a lot of other additional traits
=> Job Hub – A no. of free online forums provide an open or 'Member only' Job board facility. These job boards offer both the job seekers and job providers to have a meet together.
=> Networking with the targets – Online forums are the biggest opportunity for anyone to make the networks among his respective fields. You can find a lot of popular names on these online forums and hence to get the desired opportunity is at MAXIMUM.
=> Learn something new every day – Along with helping you to sharpen your skills; some of the forums also provide you the opportunity to learn new skills at the professional level. These forums provide online classes and advice by themselves only to make it easy for you to make it learn easily.
=> Feedback from the professionals – Feedback is one of the most crucial matters for the newbie or for the new projects. These free online forum provides the facility to the users to post the link of their WebPages and projects for the feedback from a mass crowd of professionals.
How to select the ideal Forum from the Thousand of Results Available?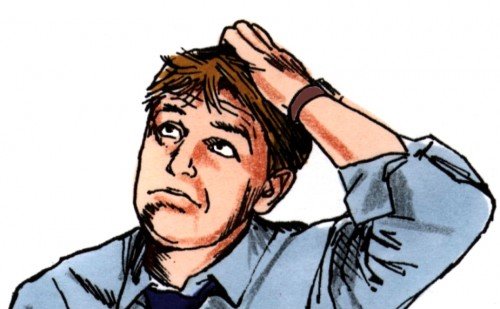 Selecting the ideal forum is of course a crucial as well as baffling task. Before selecting a Forum space you can these important factors for a much precise decision.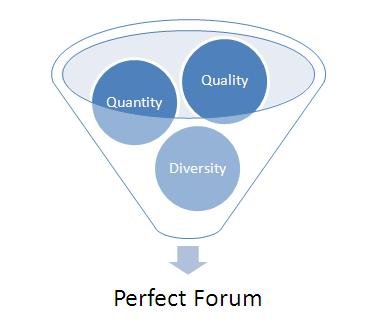 => Quantity – Quantity of the Forum refers to the total no. of overall users and total no. of active users. The responsiveness for the threads posted on forums primarily depends upon this factor. Nothing could be much worse than it if your query didn't get a response.
=> Quality – Quality of an online forum stands for the design of the forum page and the depth of response from the community. A poor design and an unprofessional responding community can make the things worse for every type of free online Forum.
=> Diversity – Diversity of the discussion topic is yet another important factor which must given a due consideration while choosing a Perfect Forum platform. More the no. of topics means more purified result for a query.
To save your precious time from the hassle of selection; I am providing a collection of top 10 forums for web designers and developers. These all forums for developers and designers had earned an effective name among the stack of other options. You can register them instantly without paying even a single penny.
Site Point
Site Point forum is one of the most popular names among the online forum communities of developers and designers. With impressive digits of 250,000 members; it is the most recommended place to network and get professional tips or solutions. Icing the cake; Site Point provides an open market place to buy or sell websites and designing tools.
Designers Talk Forums
Designer Talk Forum is another simple designed online Discussion platform for Web developers and designers. This free online forum facilitates you to watch the online members of the forum so that you can communicate with them on individual basis. With over 25,000 members in the forum; Designers Talk is recommended as the most trusted and responding name by the experienced professionals.
Dynamic Drive
Dynamic Drive forum is undoubtedly the favorite place for those web developers who are finding the error in the coding section. This online Forum is 'Super Active' with a lot of resolved issues every day. Beside with the coding dedicated section of the forum; Dynamic Drive is also incorporated with the themes of Java script and CSS.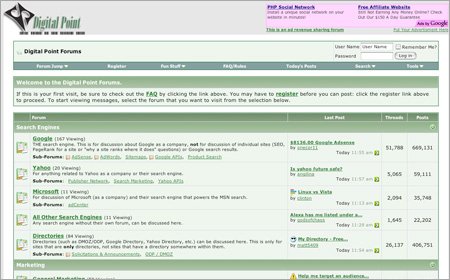 Digital Point Forum
Digital Point Forum is one of the most active free online forum for web designers and developers. Beside with an impressive no. of followers; Digital Point Forum is professionally managed by the dedicated team of experienced technical monks. It is although not one of the popular name but it is surely one of the effective places for the web developers and designers.
Kirupa.com
Kirupa forum is undoubtedly most popular name you would hear while searching for the best online forums for web designers and developers. With over 100,000 members; this website is earning the name swiftly. The 'Super Active' and '2 X Enthusiastic' users are the main course that leads to the astounding popularity of the forum.
Dev Shed
Dev Shed forum is another Big name in the free online forum communities for web designers and developers. With over 200,000 members worldwide; this forum is best known for the programming related FAQs. The response time of this forum is really impressive and you may get the response even from the next minute of posting.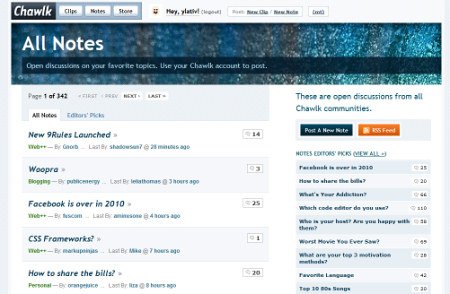 Chawlk
Chawlk forum  is an online forum where both technical as well as non-tech savvies gets united. This forum has an innovative trend of Editor's Pick where the popular topics are provided by the Admin's end. These topics may or may not be based on the theme of web development or web designing.
Cre8asite Forums
Cre8asite forum has very catchy user environments that have successfully attracted 15,000 users till now. This forum is active and covers some innovative topics like Law, Ethics, and Green issues which are not present even in the Big names.
HTML Forums
HTML forums covers all the topics related to tools, Promotion and commerce, server administration, website development and community networking. This free online forum for web developers and designers has a dazzle following of 30,000 members.
Coding Forums
As the name suggests; Coding Forums is a website forum which covers all the major topics and issues regarding coding or programming. Coding Forums has a total following of 50,000 members and around 5000 among them are active every day.

I hope that my topic on "Free Online Forums| Top 10 Forums for Web Developers & Designers" will help you to choose the best forum to solve your own queries or to use your skills to help others. So which of the Forum you are going to choose? I will also appreciate your valuable comments and reviews about my work.
Free Online Forums: Top 10 Forums for Web Developers & Designers