Free Monitoring Services and Tools to track Website Uptime
Poor uptimes or downtimes are major issue of concern in every website. Uptime of a web portal is directly associated with revenue as well as site reputation. Nobody is going to wait for your website to load properly, on contrary quickly leave the website and will not likely come back. Suppose your website has gone down for a couple of hours or say days and unfortunately you are not aware of this.
You cannot even imagine how many valuable visitors you could lost. Besides that, bad website performance can adversely affect website user confidence and loyalty as well. Remember that having a web portal which takes more time to load could frustrate your website visitors and become point of an inconvenience for them.
So, we need to monitor the performance of website in context of up-time of a web portal from time-to-time to fix things up when there's a downtime to avoid any kind of revenue lost. It is not possible to monitor website 24 hours a day, 7 days a week but you can keep a close and constant watch over your website performance with the help of various web monitoring tools to track downtime and uptime of website. Fortunately, there are number of web services and tools (free or paid) available out in the market by which you can check website performance particularly uptime and downtime from time to time.
Website monitoring tools are best solution designed and developed specifically to analyse website performance and keeps track regarding the status of the site uptime or downtime. These tools are used by hundreds of thousands of professionals to monitor and measure how well their websites responding to a web browser request. Website monitoring tools are most appropriate alternatives to website monitoring service constantly informing you about website availability, uptime and performance current status.
Here's a compilation of Powerful Web Monitoring Tools and Free Web Monitoring Services useful to track Website Uptime and Downtime. With these tools and services, you can check the status of website availability and website uptime/ downtime. We hope you find this collection of web monitoring services and tools useful for your websites.
Powerful Website Monitoring Tools and Services
UptimeParty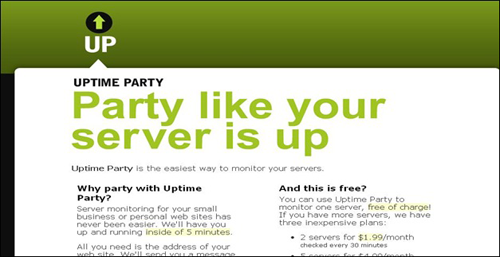 SOURCE: http://uptimeparty.com/
Internet Seer

SOURCE: http://www.internetseer.com/
OpenTracker

SOURCE: http://www.opentracker.net/index.jsp
100Pulse

SOURCE: http://100pulse.com/
InternetVista

SOURCE: http://www.internetvista.com/
HostTracker

SOURCE: http://host-tracker.com/
Montastic

SOURCE: http://www.montastic.com/
BasicState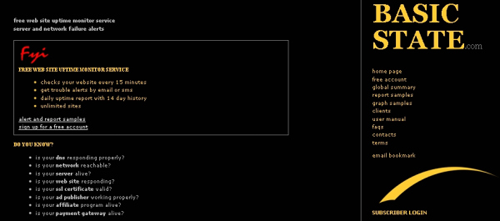 SOURCE: http://basicstate.com/
Are My Sites Up?

SOURCE: http://www.aremysitesup.com/
Site Uptime

SOURCE: http://www.siteuptime.com/
Visual Site Monitor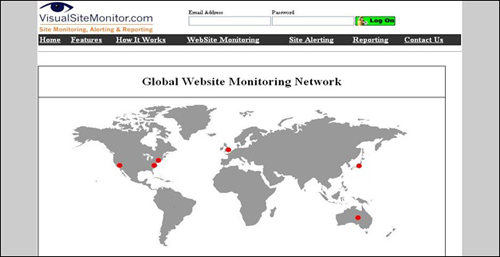 SOURCE: http://www.visualsitemonitor.com/
Uptrends

SOURCE: http://www.uptrends.com/
Site24x7


SOURCE: http://site24x7.com/index.html
UptimeRobot

SOURCE: http://www.uptimerobot.com/
Mon.itor.us


SOURCE: http://mon.itor.us/
Pingdom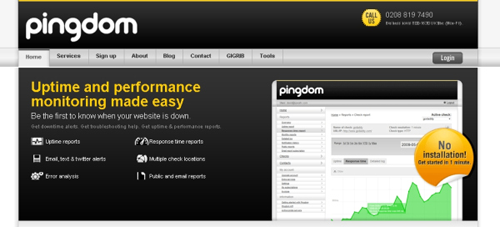 SOURCE: http://www.pingdom.com/
Christiana McGee loves development and possesses specialization in converting Sketch to HTML. Associated with
CSSChopper - Sketch to HTML Company
, she constantly strives to serve the best, fastest and innovative solutions in a stre