Free Keyword Research Tools You Must Know About
Free Keyword Research Tools: This is highly recommended to select the right kind of keywords by which people used to search for prior to writing an engaging content or blog as well as optimizing your website. Yes, Keyword Research is one amongst the most critical element to drive more traffic towards your blog or website. Hence, has been concord as the primary aspect of SEO and Blogging.
As, it is about some rock like for new blogs to rank in Google search especially in case of those bloggers who just opened their eyes in career of blogging. However, first you are required to analyze about what kind of content people used to look for. Therefore, in order to make your blog or website that is capable to reach the people, it is highly obligatory to make your content rich of those keywords which people used to search. As, it is very easy and simple to perform keyword research and hence I am here to help you through this post about Free Keyword Research Tool You Must Know About. So, just give up the worry and hassles and take a tour through this post.
So, you are supposed to designate and bring in practice from this list of congregated Free Keyword Research Tools You Must Know About and find out the most renowned topics or search keywords for your blogs which people search world wide.
Google Ad Words: Keyword Tool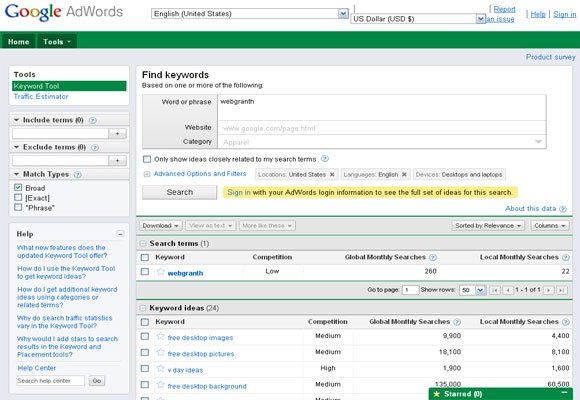 Google Ad Words Keyword Tool is most renowned and completely free Keyword Research Tool introduced from Google. It used to offer a complete scenario about the keyword word stating the number of users used to search those keyword and thus deliver a blatant idea of popular keywords for your blog. It offers keyword ideas based on distinct searches including actual Google search, specific or matched keyword. Moreover it is highly useful for advertising buyers too in account of durability of keywords.

Google Insights for Search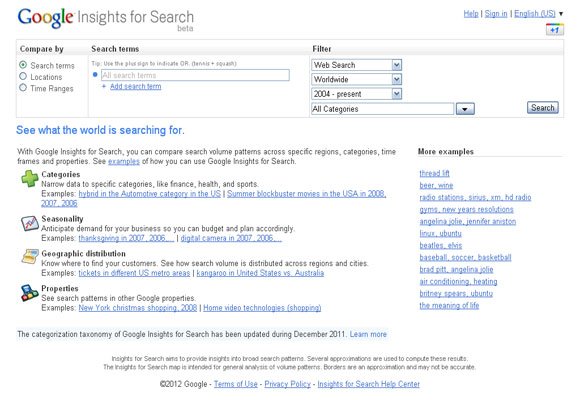 This Google Insights for Search is another most popular and renowned keyword research tools that is available for free. The most noticeable thing is that it lets you to know about the statistics of a specific keyword including years, time period, country, state and even city that is quite useful to remark that keyword in context of its popularity. For example, in account of this tool you can identify which keyword is popular in which country, place, time, city etc.

Google Trends

Google Trend is another very classy Keyword search tool which enables you to establish a comparison among various search terms in account of employing commas.

KGen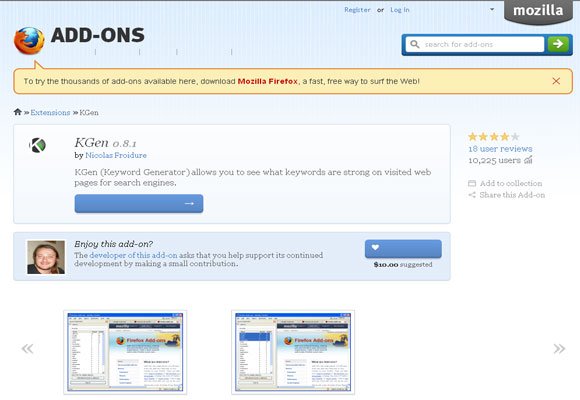 KGen is a robust keyword research tool geared towards every Firefox users. This is quite worthy and significant as it used to let you know regarding the strategies of keyword led by your competitors and help you write your blog or content accordingly. Also, you can designate the strength of any keyword of the pages you visit.

Niche Bot Classic

Niche Bot Classic is a classy type of tool which facilitates its users to perform keyword research service absolutely free. It is very user friendly which used to deliver result in very handy manner. Simple input your keyword and hit enter to get result. Before accessing this tool you are required to register an account on this website.

SEMRush

SEMRush is a very elegant keyword search tool comes with several distinct features like capable to discover competitors' sites with common Google Keywords, deliver Google and AdWords keywords for any website and many more.

SEO Book Keyword Tool

This Keyword Tool is undoubtedly very captivating tool come in existence through SEO Book. To avail its features of Keyword research you are required to sign up for a new account that is absolutely free. Moreover, it allows you to access various SEO tools too.

WordPot Free Keyword Tool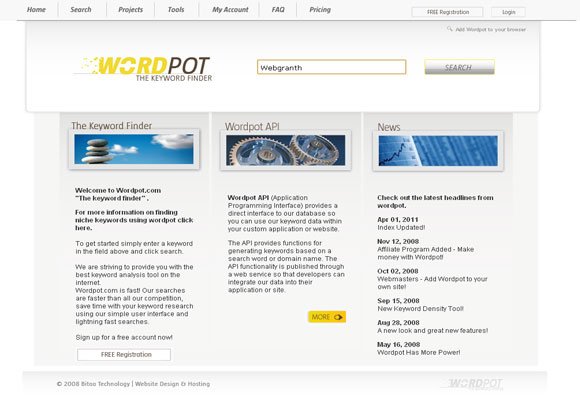 WordPot Free Keyword Tool is literally very awesome keyword research tool and proved to be highly useful for many webmasters to search topic or keyword regarding their blog or website. It is very convenient to bring in practice. Simply put your desired keyword in the specific box and observe the end result.

Free Keywords Word Tracker

This Free Keyword tool has been introduced from Word Tracker which is very simple, easy and affable to research with your keyword. What you are supposed to do is just sign up on Word Tracker following a couple of steps and in consequence enjoy to analyze your keywords research.

However, hopefully this Free Keyword Research Tool You Must Know About will definitely make you allured and help you to create an unique content for your blog and website as well as drive high traffic too.
Free Keyword Research Tool You Must Know About
Rinniee Ginsburg is a email template developer and writer at
EmailChopper
. Her technical competency has helped the professionals explore the new techniques in practicing the innovative email development. She has written various articles that accentuate the importance of PSD to Email conversion, smart procedure for responsive email template development & many more. All her writeups have become a source for many professionals and business players to grab the valuable information.