This is a collection of best icon set with free icons sets download incorporated with distinct social icon set, social media icon set, distinct website icons set under which you can download free icon set of blogger icons set, flick icon set, reddit icon sets, Technorati icons set, digg icons set, myspace icon set, rss icons including CMS icons set of Drupal, Joomla, Magento and WordPress icon set.
Whenever an image reflect from your eyes, what comes in your mind first. Verily, that is the all information you already earned. Thus, the picture came into currency to represent a brand or anything without a single character of word. This proved to be true that a picture worth thousand of words. For instance whenever you see "f" character with blue color background or a "small flying bird" it says about facebook and twitter respectively, isn't it. Thus we can add here that icons are capable to deliver a message, a brand information excellently and are very easy to memorize. Thus, we feel need of an attractive and stunning icons that strike your visitors eye at first sight.
However, it provides a perfect platform to graphic artists and web-designers also in the direction of showing up their art design and creative pieces of work. Moreover, we have incorporated a sizable team of great designers and expert who strive hard, invest several hours, tons of patience, creative mind with professional and designing experience in order to create an unique and immersing set of icons. Also, they transform these icon set to bestow crystal clear messages as well navigate a website properly.
In recent, social media bookmarking has been emerged as an excellent method for websites to drive website's social media traffic in order to make it more popular and appear it at top search engine page ranking. Hence, in order to arrest visitor's attention designers used to employ several social networking sites icons. In terms of traffic and exposure of a website the power of Facebook, Twitter, RSS feed etc. are almost unpredictable.
However, below we are going to present some immersing collection of free icon sets that will verily help you lot in terms of investing tons of valuable time and efforts in search of stunning icon sets. Just go ahead and explore this post to download free icon set. These set of icons has incorporated blogger icons set, flick icon set, reddit icon sets, technorati icons set, digg icons set, myspace icon set, rss icons including CMS icons set of Drupal, Joomla, Magento and WordPress icon set.
Social Icon Set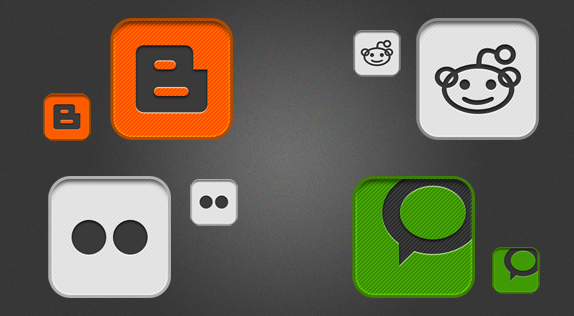 These free download icon sets are simple but convey a more appealing and pleasant look. It has incorporated Blogger icons, Flickr icons, Reddit icons, Technorati icons. Undoubtedly, employing this free icon set will spice up your design as well embellish your webpage.

Free Icon Set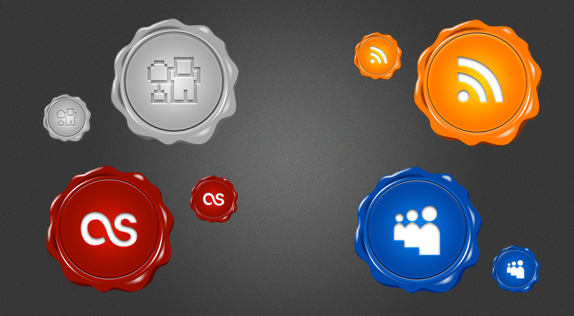 These free icon set are verily nice and pretty to incorporate in your webpage or website which arrest the attention of web visitors brilliantly. This icon set is showcasing the free download Digg icons set, RSS icons set, Last icons set and myspace icon set.

CMS Free Icon Set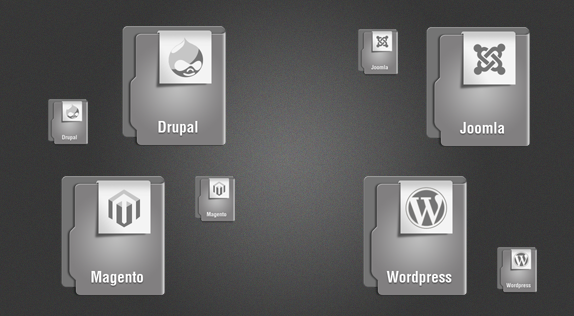 The above showcase of icon set download free comprises the Drupal icons set, Joomla icons sets, Magento icon set and WordPress icon set which are developed by our elegant team of designing. These icons set will definitely make you and your visitors allured conveying a captivating and pleasant look.

As you might have gone through this post Free Icon Sets: An Elegant Collection of Icons Set Download Free, it would be highly worthy and useful for you towards employing to your site. These icon sets comprises distinct icons for various API as discussed above of different sizes for free individual or commercial use. Hopefully, you found this amazing collection of Free icon resources and icon set to implement in your portfolios, blogs, corporate designs and miscellaneous.
Admin from India is a founder of WebGranth, an entity of
Sparx IT Solutions
with over 8 years of experience on different verticals of web design & development. In his quest to spread the knowledge regarding web development, he has been contributing in WebGranth by submitting his valuable blogs.