As Christmas season is getting nearer, it's time to think about your gift ideas while counting down.
Sending Christmas card is always a popular way to express holiday wishes to family and friends.
Purchase or Personalize
There are so many stores online and offline that selling ready-made Christmas cards. You only need to pay several dollars to get one. But, do you know that a personalized Christmas card is more special than that? Instead, ask yourself, "what kind of holiday card I will cherish and treasure for a long time?" There is no doubt that you will be surprised and touched when you receive one that was homemade and unique with personal Christmas card greeting.
Make Personalized Christmas Cards with Online Card Maker
In this age of digital cameras and the Internet, it's easier than ever to make homemade Christmas cards even though you are not a good crafter. Thanks to many online holiday card services, making unique Christmas card is a snap.
FotoJet is a free service you may like to have a try at home. Its gorgeous free Christmas templates will help you take a little bit of stress out of the holidays and save your time & money.
You will quickly learn how to make such unique Christmas cards with relatively little effort following these basic steps:
Step 1: Load fotojet.com and choose Christmas card template to make.
Step 2: Add digital photos you want to use in the card.
Step 3: Drag Photos to the template and edit them.
Step 4. Edit the template text with your own Christmas card greetings.
Step 5: Save card and print it.
One More Thing…If you don't choose form templates and want to be more original, you can also work with a blank canvas. There are also various adjustable collage layouts you can play around. The arrangements of each layout can be easily changed, allowing you to drag as many images as you want in any order onto a layout.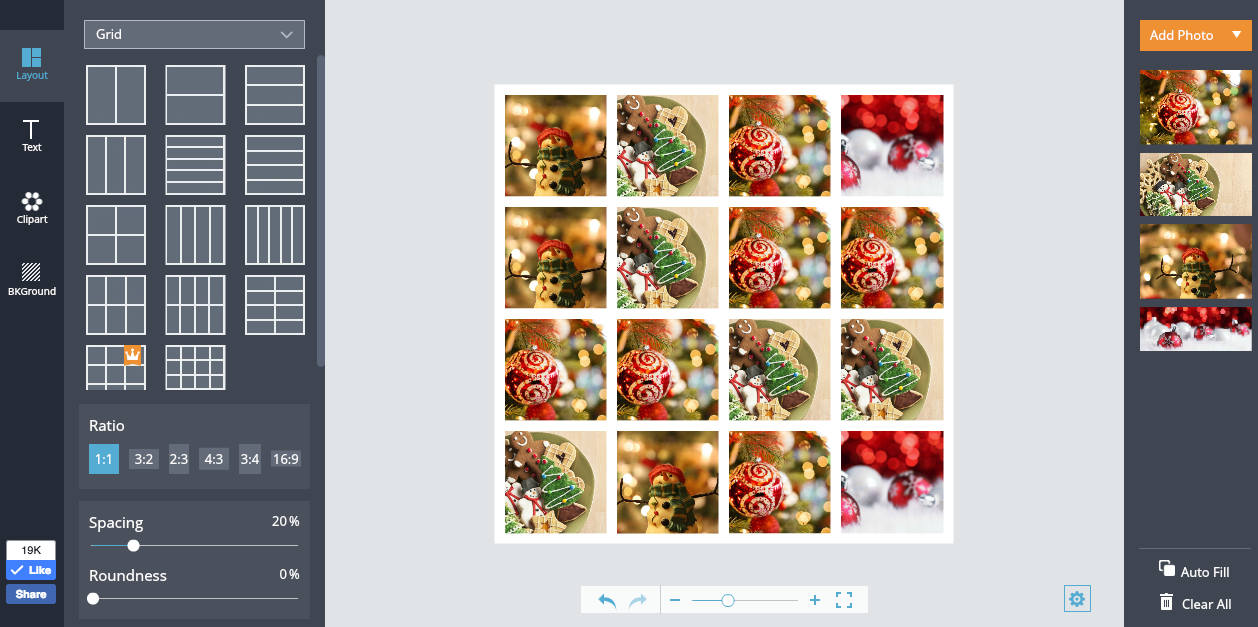 Fotor's Christmas photo card has everything you need. With personal messages, greeting and expressions of Christmas holiday, Fotor ensures that you will never be lacking in original, funny and heartwarming Christmas cards.
By starting with a template, editing some texts, you will get a quick card in seconds. But if you want to make it more unique, you can add your own photos to use and play with the stickers.
PicMonkey is your one-stop holiday card workshop. Whether you're a snowflake aficionado, a family photo collage-ster, or just plan cuckoo for candy canes, express yourself with PicMonkey.
How to use PicMonkey's Christmas templates:
1. From the PicMonkey homepage, hover over Design and click Templates, to see all of PicMonkey's templates.
2. Find the Christmas template you're looking for by typing keywords into the search bar.
3. Once you find a template you like, click it to preview, and then click Customize to open it in the Editor.
4. Customize your template by adding your own images, changing the text, or adjusting overlays.
Nothing says merry Christmas quite like a unique card made by yourself. Hope these tools would do you a favor on designing Christmas card gifts. Enjoy your wonderful day!
These posts are a handout from our Guest Author who works with us occasionally and provide their opinions for our regular visitors on Web-Development & Designing, SEO, CSS, Coding etc. As their details can be marked with their concerning post even we would like to add that out Guest Authors are expert and master of their own sector. If you also desire to be our Guest Author Contact Us at
submit@webgranth.com