Featuring Best Collection of New Useful CSS Tools and Techniques
In the web development industry, the hard work of web developer is never going to cease to make his clients happy with quality work. To reduce their work stress up to some extent, most of the developers have created truly remarkable CSS techniques and tricks used while web development project work to save precious development hours. Many developers take CSS as a powerful tool which help them out in developing a website more efficiently. And so, CSS techniques and tricks are best way for developers to speed up and simplify development.
For those, who don't know much about CSS and what it is all about? Than CSS stands for Cascading Style Sheets is wonderful language widely used by programmers to present web pages. In technical terms, CSS is the most common and powerful style sheet language required to describe and style document written in a markup language such as HTML and XHTML. CSS has been revised and the latest CSS revision (CSS3) packed with number of new features which particularly take design's quality standards to the next level. Interestingly, CSS3 specs are partially or fully supported by almost all the modern web browsers Safari, Mozilla, Opera currently.
CSS isn't always easy for web developers to deal with especially beginners. Learning CSS can be a reasonably easy thing but for web developer especially seasoned professional, CSS stretched and seem bit complicated but perfect at same time. The field of CSS development is constantly revised with new developments and improvements. That why most of the developers are seeking for fresh CSS tutorials, techniques and resources to old problems.
Here, we have collected, analyzed and then presented a fresh resource of powerful CSS techniques and tools for your convenience. In this post, you will find some essential tips, best practices, techniques and tricks you may be familiar with when working with CSS3. We are always open to suggestions. Don't hesitate in commenting on this post to share your views and experience. Your comments let us know what exactly you want from our post. But, try to avoid link dropping.
Technique #1 : CSS3 Progress Bars
Have a look to these really awesome progress bars which care created by Chris Coyier simply by making use of CSS3 fancies. These progress bars look more simplified in those web browsers that not supporting CSS3.

SOURCE: http://css-tricks.com/css3-progress-bars/
Technique #2 : Generating Organic Randomness using CSS
This is a Cicada principle technique. Consider this example based on 'cicada principle'. Here, three square mainly semi-​​transparent PNGs of 29px, 37px, and 53px respectively are set like multiple backgrounds on HTML element of a page. As you can see in screenshot below, the colored square titles are overlapping to each other and forming a new pattern.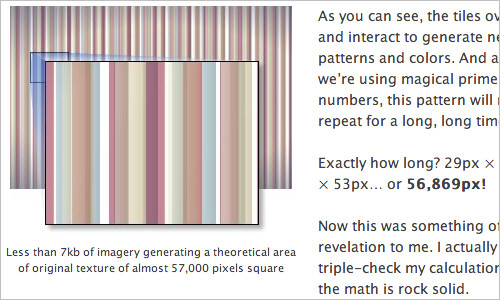 SOURCE: http://designfestival.com/the-cicada-principle-and-why-it-matters-to-web-designers/
Technique #3 : Natural Object-Rotation with CSS3 3D
This is a tutorial by Dirk Weber where you can learn step on how to create a 3D packshot by applying HTML, CSS and some CSS 3D-transforms and adding JavaScript to rotate the object in 3D space.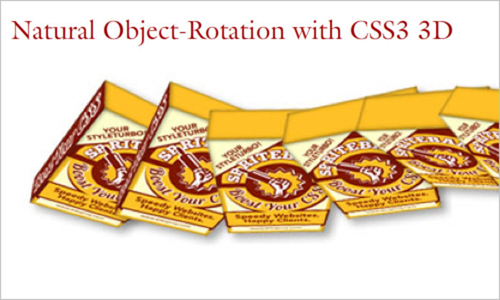 SOURCE: http://www.eleqtriq.com/2010/11/natural-object-rotation-with-css3-3d/
Technique #4 : Checkerboard, striped & other background patterns with CSS3 gradients
Till now, everybody is quite familiar with CSS3 gradients along with standard Mozilla syntax and verbose Webkit and other things like how to add multiple color stops, make gradients angled or create radial gradients. But, large fraction of people might not be aware of that CSS3 gradients can be used to create patterns such as checkered patterns, stripes and lots more. Check out Lea's CSS3 Patterns Gallery

SOURCE: http://leaverou.me/2010/12/checkered-stripes-other-background-patterns-with-css3-gradients/
Technique #5 : CSS3 Keyboard
CSS3 Keyboard is a wonderful thing created by genius minds like Dustin Cartwright and Dustin Hoffman. You need to simply click in square shaped box to start typing on computer's keyboard. Check out its live demo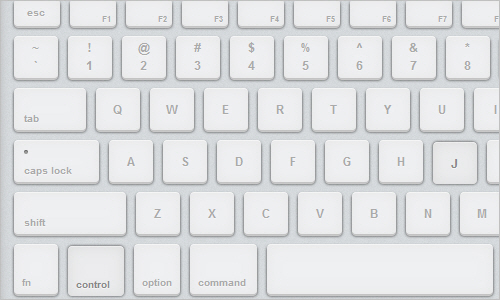 SOURCE: http://dl.dropbox.com/u/921159/Keyboard/page.html#
Technique #6 : CSS3 3D Hologram
As you can see in the below screenshot, Hakim El Hattab created 3D box inspired by holographic effects achieved with HTML/CSS.

SOURCE: http://hakim.se/experiments/css3-hologram
Technique #7 : How to create a Sphere with 3D CSS
You can create 3D transforms by just using CSS3. Paul Hayes brings to share his 3D CSS sphere version working efficiently in the modern Safari and iOS. Here, you can also learn the coding part to create a wonderful 3D CSS sphere.

SOURCE:http://www.paulrhayes.com/2011-02/creating-a-sphere-with-3d-css/
Technique #8 : Rotational Sliders
Here, Eric Meyer shared his six animated transforms which can be used for sliding (up to particular extent) with origins of non-centered transform. Take a look:

SOURCE: http://meyerweb.com/eric/css/tests/css3-trans-an/transform-sliders.html
Leander Crow works at
Webby Central
as a veteran web developer. He has a passion for technology, coding and design and has coded for award-winning names in the industry. He is also a freelance writer who has helped many web development firms build an audience by sharing informative write-ups.