Facebook Wallpaper | Collection of Best Facebook Wallpaper 2012
"Blue was used to be the symbol of our beautiful earth but now it colors our communication mode too". This time Webgranth has designed a beautiful array of Facebook wallpapers for every Facebook fan. This amazing collection of 2012 Facebook Wallpaper is absolutely free to download and is designed for different resolutions.
"Gone are the days when Blue means the sky; gone are the days when 'F' means fish. This is the world of latest communication fashion; this is the world of Facebook."
Facebook is a social networking website that has completely changed the mode of our communication on the internet. The craze of this portal can be calculated by the massive no. Of 955 million active users. Facebook was launched in February 2004 by Mark Zuckenberg and his roommates. At the beginning steps, it was limited only to the Harvard students but now it is a part of every computer's internet history. Facebook is the favorite hub for everyone. Whether we want to chat with our close ones, get tangled with our friends in online games, share our ideas and pictures with the world and for almost everything our fingers tap the keyboard for these eight alphabets (FACEBOOK).
Even while working, we don't skip to open our profile on the side by a tab. Some people shout this topic as critics about Facebook but they too can't disagree with the popularity of this networking hub. So for our Facebook lover; we at the Webgranth have designed the astounding collection of Best Facebook Wallpaper 2012. We had effectively burn up our hard potential to provide you the most beautiful Facebook wallpapers and we hope that you too would make the thumb up for that. These HD Facebook wallpapers are designed for every screen size and can be downloaded free of cost. So what you are waiting for? Download these wallpapers and show your love for your Facebook friends; tell them that you want to be connected with them however you can.
Designed by logodesignsstudio.com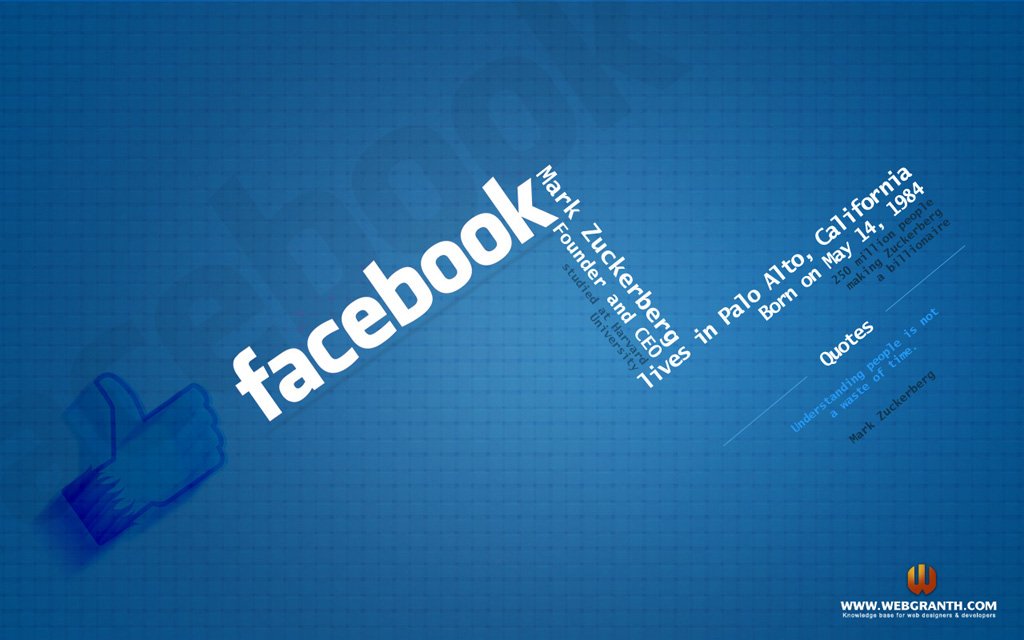 Facebook wallpaper 2012
Make your desktop background express your love for Facebook with this latest Facebook wallpaper 2012. This wallpaper portraits the timeline of Mark Zuckerberg (founder of Facebook) in a very unique and attractive approach.

Designed by logodesignsstudio.com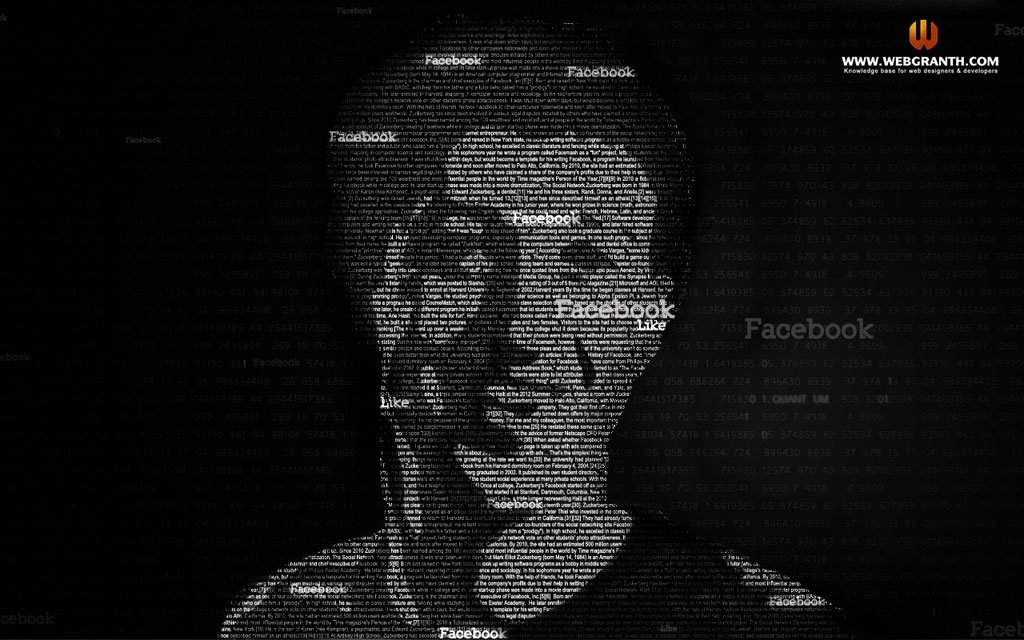 Facebook Background
'It's simply the border of creativity'. This amazing Facebook background is particularly designed for the dark theme lovers. This portrait of Mark is filled with the color of Facebook to express his dedication and hard work for this remarkable internet communication mode.

Designed by logodesignsstudio.com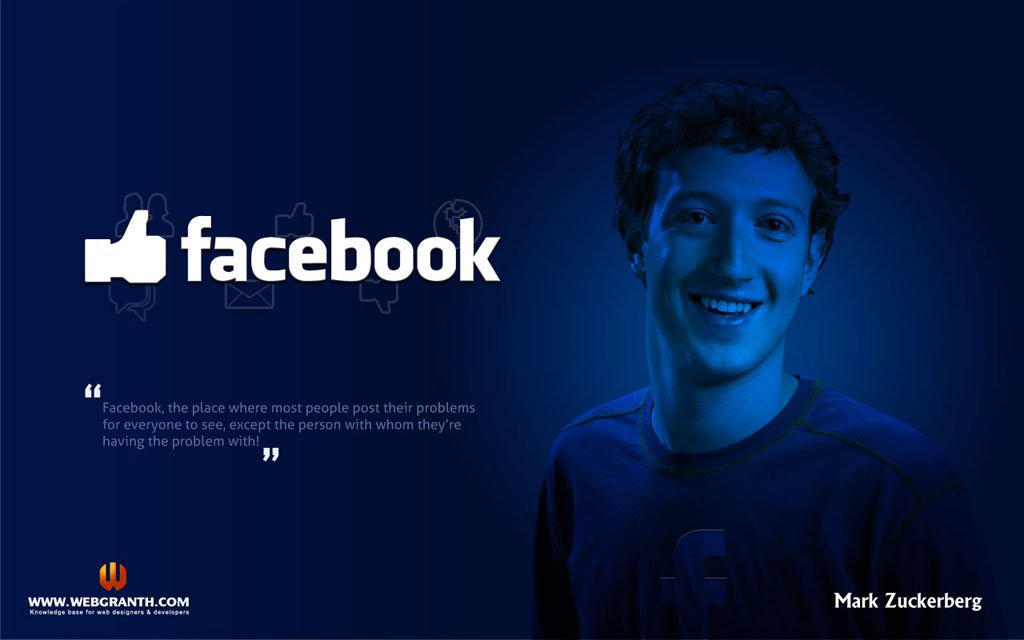 Beautiful Facebook Pictures
This is our one of the most beautiful picture for every Facebook fan. We hope that you too will be agreed to this popular Facebook quote integrated in this stylish desktop wallpaper.

Designed by logodesignsstudio.com

Free Facebook Wallpaper

Designed by logodesignsstudio.com

Facebook Background Image
Inspired by the logo design of Facebook; this Facebook background image is one of the most stylish desktop wallpaper in this array.

Designed by logodesignsstudio.com

Download Facebook Wallpaper
This blue planet is going through the uncrowned power of blue Facebook. This attractive screen background is exactly demonstrating our words. You can download this Facebook wallpaper to garnish the beauty of your desktop, mobile phone, iPad or any other display device.

Designed by logodesignsstudio.com

Best Facebook Wallpaper
This is the Best Facebook wallpaper you could find; the classic and sturdy look of this wallpaper can attract every eye towards it. For our all dear visitors we had offered them to download this wallpaper without paying even a single penny.

Designed by logodesignsstudio.com

HD Facebook Wallpaper
This HD Facebook wallpaper is a perfect desktop background for every screen, Download this wallpaper from Webgranth and polish the beauty of your screens.

Designed by logodesignsstudio.com

New Facebook Wallpaper
Refresh your desktop background with this modish wallpaper. This new Facebook wallpaper is simple yet attractive example of design.

Designed by logodesignsstudio.com

Facebook Wallpaper Layout
Get the sparkle beauty of this classy Facebook wallpaper on your computer screen. This desktop background is simple yet one of the most attractive pieces of design you could find.

I hope you that you would have thumb up for this post. We would love to hear your comments and reviews about this work. Keep encouraging and tracking Webgranth for more interesting posts.
Facebook Wallpaper | Collection of Best Facebook Wallpaper 2012
Admin from India is a founder of WebGranth, an entity of
Sparx IT Solutions
with over 8 years of experience on different verticals of web design & development. In his quest to spread the knowledge regarding web development, he has been contributing in WebGranth by submitting his valuable blogs.