Extensive Collection of CSS Alternatives Techniques to JavaScript
CSS is one such technique that can take web development onto newer and greater heights, while modernizing the web and allowing web designers and developers to transform their creativity into a reality. The use of CSS alone can add all those functionality to the websites which are often achieved through the use of JavaScript. In the last few decades, the use of JavaScript with jQuery is frequently seen in various websites as it provides great interactivity to the site.
Actually, most of the web developers think that JavaScript is the only means by which they can achieve everything, every kind of functionality in their websites. But, this is not the only way; there are many alternatives to this among which CSS alternatives techniques the best. This post wholly revolves around the techniques and tutorials covering those CSS alternatives techniques which can be used as an alternative to the JavaScript. These techniques will let the web developers to realize the real power of CSS.
In this post, we are detailing various CSS alternatives techniques that cover the full spectrum of web site interactivity. We have brought with us various examples which will make you recognize the power of pure CSS and also make you to learn how you can provide interactivity to your site with the help of CSS without making any use of JavaScript of jQuery. Check out these techniques as described below gain experience what you think about them.
CSS Alternatives Techniques
CSS Image Map
This one is a nice tutorial in which you will be able to know how to build a pure CSS image map. After you build a CSS image map, it will also acknowledge you in its further steps, how to add hover states to your image map using a CSS background image sprite, as well as a "tooltip" like popup. For the beginner, this tutorial is somewhat tough to understand, but no need to worry, the steps explained in this tutorial will make you to grasp easily.
Pure CSS Timeline
This is an amazing tutorial where you will learn how to build a simple, clean and accessible pure CSS timeline with some very straight forward and basic markup. This is the place where you will have many things to learn.
Create a jQuery Content Slider Using Pure CSS
Generally, content sliders are created using JavaScript and jQuery. But this tutorial will make you learn how to create a CSS slider using layers in CSS and CSS3 transitions and without the aid of any JavaScript, and then finally giving the slider the necessary animation. The prime mission of this tutorial is to make you realize the true power of CSS.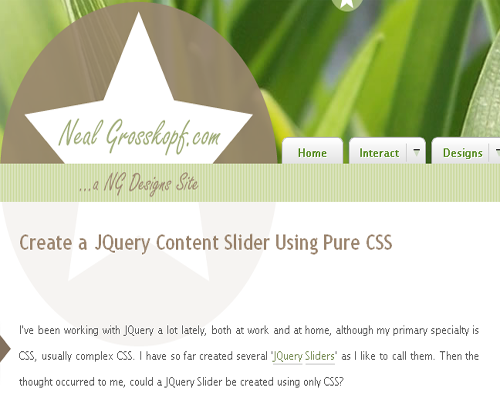 Pure CSS Fish Eye Menu
This one is an advanced CSS technique on styling a list of images with caption in order to make a fish eye menu. It is a pure CSS technique which will make you transform your icon menu into an interactive zooming icon navigation menu with a fish eye effect.
Pure CSS Animated Progress Bar
This is a simple trick which will demonstrate you how you can create animated progress bar using pure CSS. This will explain you in detail what are elements needed for building animated progress bar, what are the concept lying behind it etc.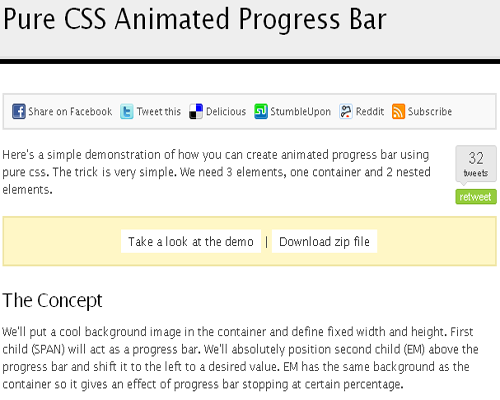 Custom Radio and Checkbox Inputs using CSS
This tutorial will present an excellent way to create custom radio and checkbox input, using CSS without making any use of JavaScript, that are accessible and keyboard controlled. It is a pure CSS trick which has been found quite effective.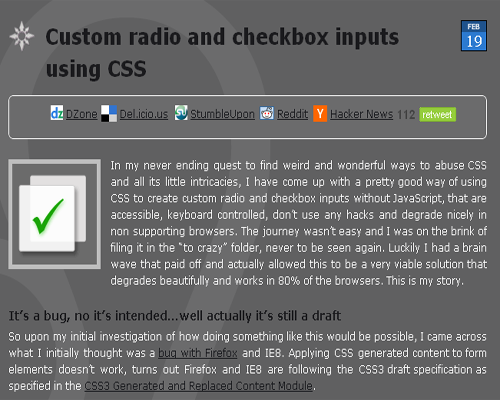 Pure CSS Image Resizer
This is really a nice CSS trick which will show you larger image on mouse over and give an effect of real resized image. It will explain how large images are initially hidden but will be shown on mouse roll over. You will be amazed to see how all these action took place with the help of CSS only.
How to Create a Fancy Image Gallery with CSS3
It is another stylish and good example of using pure CSS which will explain you how to create a fancy image gallery with CSS3 without even a single penny use of JavaScript.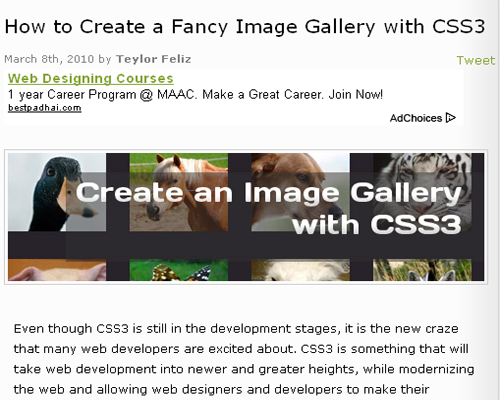 Sliding Image Gallery – CSS3 Transition Tutorial
Nowadays, animated transitions in web page elements, i.e. image gallery are fluently possible with the help of CSS3 and without using a little bit of JavaScript. The same thing, i.e. property transition behavior of CSS3 is covered in this tutorial. This tutorial will explain the slide effect on Image Gallery and also show you what can be achieved even with CSS3 transition in a few steps without making any use of JavaScript.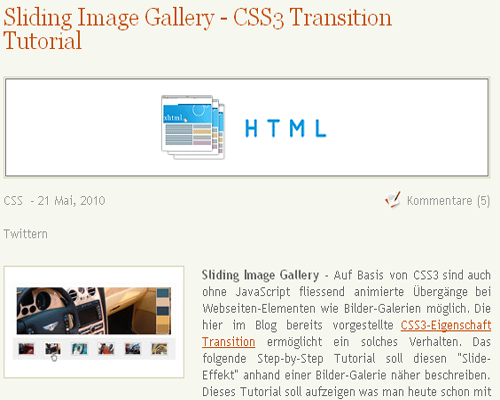 Elegant Drop Menu with CSS only
In this tutorial you will learn the simplest way to build an elegant drop menu using CSS only. You will able to see, how with a little some CSS make-up and in a few steps you can create a stunning drop menu with drop effect of horizontal and vertical navigation.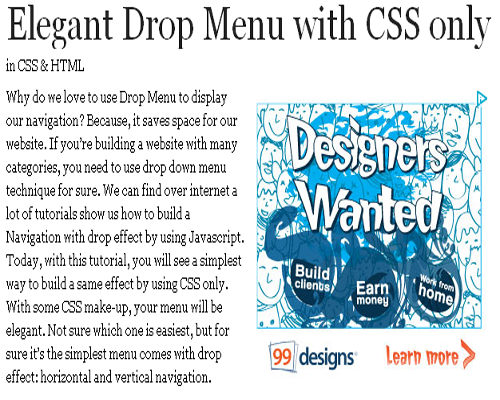 Animated Navigation Menu with CSS3
This is a fantastic tutorial which will acknowledge you regarding another great trick of CSS which can be considered as an alternative to JavaScript. It will make you learn to create animated navigation menu with CSS3 which will work in Safari and Chrome Only.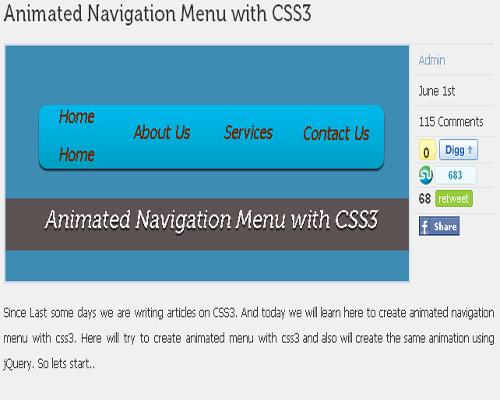 CSS Gradient text effect
This one is a simple CSS trick which will show you how to create gradient text effect with a PNG image without making any use of JavaScript or Flash. This trick has been tested on most of the browsers including Firefox, Safari, Opera, and even Internet Explorer 6 found well working with them.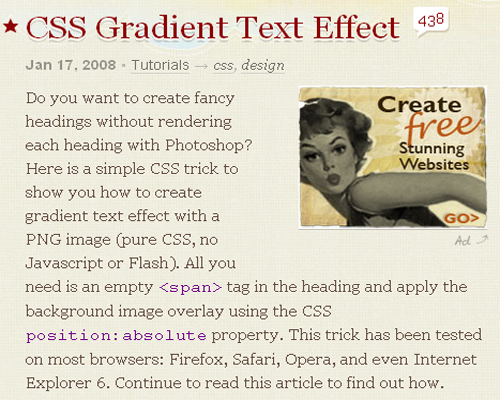 Bubble Effect with CSS
Most of the time you have came across the jQuery plug-in Dock which enables web developers to create a menu like AppleDock. In this post you will learn the same thing but not using jQuery but with CSS. You will learn here how to create a menu with bubble effect by using CSS only. This tutorial includes two methods, i.e. basic method namely CSS sprites and the advanced method, i.e. image swapping.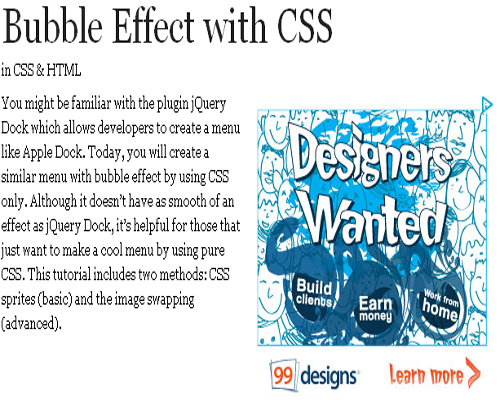 Create Sexy bookmark like effect using pure CSS
This is another wonderful tutorial which will demonstrate you to produce sexy bookmark like effect with the help of CSS and not the JavaScript. You must have heard of sexy bookmark plug-in of WordPress. Why not? Nobody can forget the way it pop up the icons on hover. Although, it is accomplished with the help of JavaScript, but here you will learn to achieve it through the use of CSS using method known as CSS sprites.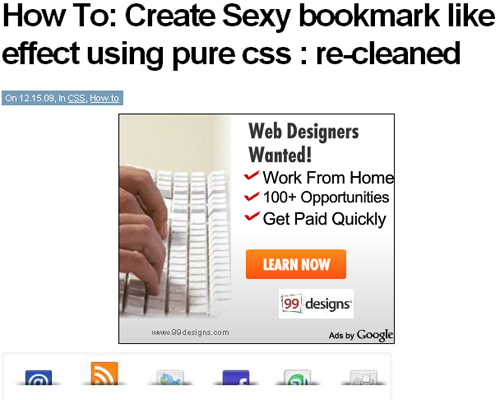 Creating a Bubble Coda Style with CSS3
This is really a unique tutorial which will let you know how to create a tooltip using the famous coda style, which allows for an animated pop-up window that makes for a great effect. This is really an interesting tutorial which hopefully you will enjoy.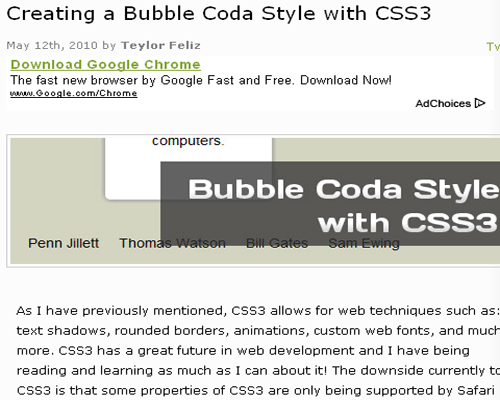 CSS Alternatives Techniques
Please share your Comments & Experience With us.
Williams Heilmann has been associated with
PSDtoWordPressExpert
for many years. He has extensive experience as a web developer and works with this company to offer the best WordPress solutions to suit the specific needs of the clients. Also, he has got a flair for writing which he consumes in writing the informational blogs for submission on different websites.