The simple rule of online services is to target the needs of the user and provide him/her by availing them the desired value. We all are aware of this fact but availing the highest value to the users becomes a bit tricky due to expenses of the requirements to meet the infrastructure of IT sector. The infrastructures can be build on the 24/7 for the whole year but even many big IT companies face incurable incidents.
Most of the small companies and blog owners take help from small budget hosting providers online to solve their issues. While using these services we often ignore the point of web availability. Most of the cheap hosting service providers work over the verge of risk and fail to recognize various important matters like web availability for a website.
If one is not using good hosting services for business ends and your site gets down in short-intervals, then it may drastically decreases the chances of receiving success through effective web presence. Thankfully, we are available with various helpful ways to find out easy solutions for improving the web presence. We are having numerous tools for monitoring the user's experience. In this post, we are going to avail a list of tools to help professionals to monitor the service quality of the website and Site's Availability. We have managed to point out and discuss every product for making it easy to pick the best solution of all.
Source out Basic Features
It is important to look over all the important aspects while monitoring a solution. It is helpful to get notified at the time problem occurs. One is needed to be sure to catch the issues to get the information for observing the proper analysis of the root cause. It is important to note that not all these features may be provided by the free offers but one need to understand the root cause for solving stability issues.
Look Into Interval and Features
For a blog-oriented website, the most vital parameter is to monitor service that one need is the interval between the monitoring checks and other probes. Almost all commercial platforms avail a facility to ping your website at least in every 5-10 minutes which is normally great to monitor short incidents. On the other hand free services notifies in every 30 to 60 minutes. One can set the probes on site as well as on the backend as well for monitoring the hosting plans. By doing so you may be able to configure the problems arising in your way.
Search Locations
You and your users both can experience few and several problems while operating; it is quite common to face problems due to the network and user server. In order to help your customers, it is important to focus upon the root cause of the problem occurring between network and the server. Make an analysis of all the incidents occurred and look out for their probing servers. What we exactly need to configure here is the location of the various encountered issues.
Assemble information of the incidents
At the time you face an issue you should collect all the related information about the incidents. This step is not going to fix your issues but one will be able to take the decisions perfectly. To track the information one can follow the usual trace route from various locations and save them.
Stay Alert
It is good to have an online monitoring service check tool but it is only worth if you receive instant notification. The problem may be a small one that you can easily solve on your own but you may not be able to solve the problem that makes you contact the hosting services. As per your requirement, you can sort to get an e-mail notification, SMS, and instant text service from RSS.
Proficient Tools to Examine your Site's Availability
Below we will be availing proficient tools to examine and analyze the Site's availability
Site24x7
Site24x7 is a superb platform that offers four kinds of accounts from free to enterprise level. It checks the site in every 60 minutes and sends the notification through e-mail, SMS, RSS alert. One receives uptime and performance reports.

Binary Canary
BINARYCANARY is another service that offers four plans like free, standard, power and hyper. The check interval of this tool is 15 minutes; it creates 5 probes per monitor, and the entire stats on your website.


Are My Sites Up?
This is another very simple easy to utilize service tool based on website monitoring. This tool supports notification through e-mail and SMS and examines one site in every 60 minutes. It sends unlimited e-mail and SMS alerts.

SiteUptime
SiteUptime is another great tool for website monitoring service that provides regular checks to your site on regular intervals. It sends notification via e-mails and SMS. This tool monitors 1 site in 30 to 60 minutes.

mon.itor.us
This interesting tool provides loads of features to watch over your website uptime. It checks one site in 30 minutes, create multi-probes, and sends weekly reports.

host-tracker.com
Host-tracker is a great tool that offers five plans according to the user's requirement. It plans over the test interval and probe notification through SMS. The monitor time is 30 minutes.

Pingability
Pingability is another flexible resolution to analyze the website's availability. This tool is free and its interval is 60 minutes and 750 per month.

Livewatch
Livewatch offers a 4 monitoring plans for the website's availability. It sends unlimited e-mail notification and free SMS notification for free.

Uptrends
Uptrends is a big and known tool in this league. This great tool offers various desirable plans. One is not required to install this. This tool monitors your website, network, server, and other similar transactions too at a regular interval of 5 to ten minutes. Notifications are sent through text, e-mail, and RSS instant messages. This tool provides round the clock customer support.

Serviceuptime
Serviceuptime is another monitoring company with 3 premium and one free plan. They have more than 10 Worldwide Monitoring locations and monitor a large range of protocols.

Montastic
Montastic is another free of cost and easy to operate for monitoring your websites availability. It checks the one site in 10 minutes and provides notification mails for failure e-mails.

Observu
This is a very simple tool for minotiring site's availability it takes the e-mail for sending notifications.

FreeSiteStatus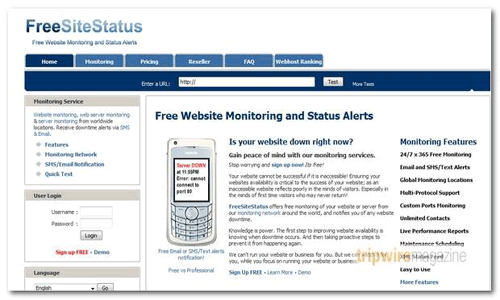 FreeSiteStatus is a helpful tool that that helps to monitor your site free. The pricing is based on the monitoring interval. The interval is of 60 minutes and it sends the notifications through mails and SMS.

InternetSeer
InternetSeer offers a free service of 60 minutes interval for monitoring the site's performance. It avails response time reports, real time error notifications and even weekly report as well.

Rinniee Ginsburg is a email template developer and writer at
EmailChopper
. Her technical competency has helped the professionals explore the new techniques in practicing the innovative email development. She has written various articles that accentuate the importance of PSD to Email conversion, smart procedure for responsive email template development & many more. All her writeups have become a source for many professionals and business players to grab the valuable information.