Essential Web And Mobile Framework For Developers
In general terms, a framework is a real or conceptual structure which is intended to serve as a support or guide for the building of something that expands the structure into something useful. Web development is one of the major tasks which require web and mobile framework and libraries to speed up the task of development in a more effective manner. Web development does not bother for how the things are getting done but it actually bothers for the things to get done; no matter either by using web and mobile framework of libraries or creating it manually step by step.
A smart and professional web developer uses a standard web and mobile framework or library to achieve their goal rather than reinventing any new methodology and in this way saves their time as well efforts being consumed in development process. In this post, we are stressing on such types of frameworks which are especially designed for mobile and web application developers and which makes their work quite easy. These web and mobile framework will help speed up and make the web development more effective rather than making lengthy and time consuming. We are sure that you will be astonished with the performance of these web and mobile framework when you will apply them in your project. Lets check out these:-
web and mobile framework
Behat
Behat is a Behavior Driven Development framework for PHP which works only with your application's input/output. It was inspired by Ruby's Cucumber project tries to be like Cucumber with input (Feature files) and output (console formatters). It is really useful  for web and mobile framework developers.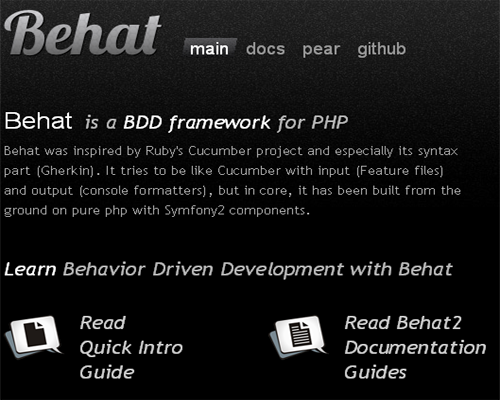 Initializr – HTML5 Templates Generator
Initializr is an HTML5 templates generator which assists web developers to get started with their HTML5 project. It is based on the HTML5 Boilerplate template and fulfills the requirements of web and mobile framework developers by generating a clean customizable template as per their project requirements. It facilitates the web developers with just what they need to start their project.
PUF: PHP Utility Framework
PUF is a PHP utility framework which is written in PHP 5 and contains an assortment of popular and useful PHP functions which is commonly used by developers. It's a comprehensive collection of useful and popular PHP utility functions which is created with a motive to save time of web and mobile framework developers that regularly use those functions while building any web applications.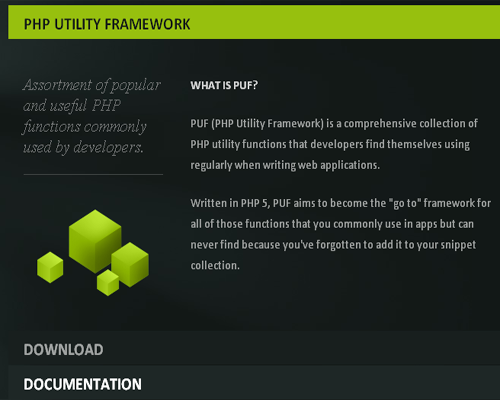 SproutCore – HTML5 Application Framework
SproutCore is an open-source HTML5 application framework which lets the web developers to build web or mobile applications blazingly fast. SproutCore applications are full-fledged programs written in JavaScript which enables the web or mobile application developers to simply create desktop-level applications for modern web browsers. It comprises of all the tools for the next generation, such as it is inbuilt with the power of HTML5 and possesses a clean MVC architecture. It is accessible everywhere and has incredible speed.
LimeJS – Game Framework
LimeJS is an HTML5 game framework that combines lots of different HTML5 technologies and allows the web developers to build fast, native-experience games for all modern touch screens and desktop browsers. It is not only used to build games for mobile and touch-screen devices, but can also be used within modern browsers as applications. Games which are built with the help of LimeJS framework are fast and provide the users a feel of a native-experience rather than being "browser games". It is really very user friendly for web and mobile framework developers and anyone who is familiar with native iOS or Flash frameworks will feel very comfortable working with LimeJS.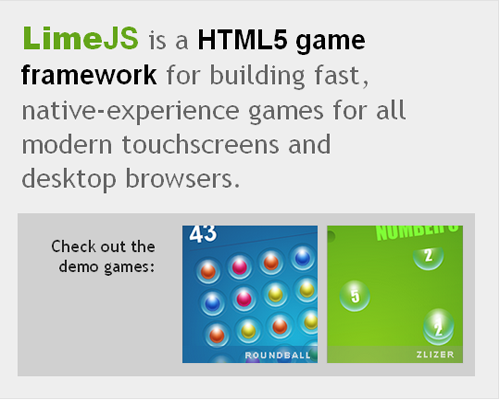 Mobl – Open-Source HTML5-Based Language
Mobl is an open-source HTML5-based language which is available free and is designed to speed up the development of mobile web applications. It offers web developers a concise language to build native-feeling web apps in a jiff, great (Eclipse) IDE support and a rapid save and test cycle. The web developers using this language will now have no more lengthy compilations because the mobl IDE compiles their modules whenever they save, and makes them ready to be tested in the mobile browser. Apart from these, it also enables web developers to build their mobile web applications faster than ever before, deploy on iOS, Android and other phones supporting HTML5 technologies.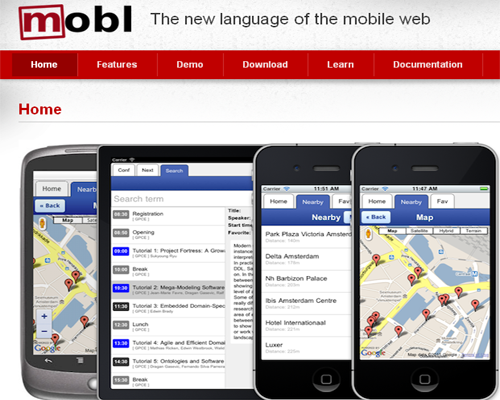 Amplify
Amplify is a set of components which are especially designed to solve common web application problems with a simplistic API. It provides a clean and elegant request abstraction for all types of data and simplifies all forms of data handling by providing a unified API for various data sources. It uses LocalStorage and sessionStorage standards to effectively handle persistent client-side storage and it is very useful for web and mobile framework developers.
960 Grid on jQuery-Mobile
960 Grid on jQuery-Mobile is a port of 960 Grid to jQuery mobile which combines the flexibility of 960.gs along with the ease of jQuery mobile. It is designed with the purpose of making jQuery mobile layout more flexible. Jquery-mobile-960 has 2 versions of 960 grids each version supporting 12 and 16 columns. The two versions are: first one is fixed width of 960px, the other one is fluid. It is easier to use on mobile and touch-screen devices.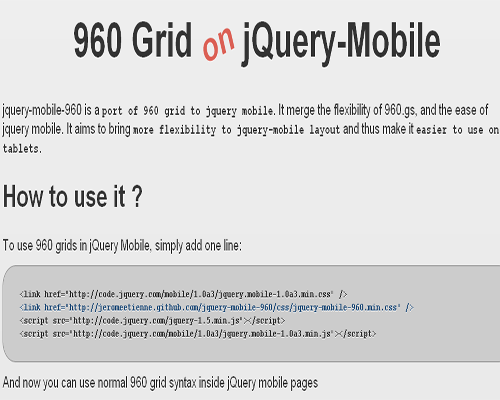 Gury – HTML5 Canvas Utility Library
Gury is a JavaScript library with the help of which web developers can create a canvas tag, resize and style it, add renderable objects, animate those objects, and place it anywhere on the page in a single chained expression. It is designed with a prime concern to assist web developers in the creation of HTML5 and Canvas applications by providing an easy-to-use chain based interface.
MooModel – JavaScript Framework
MooModel is a JavaScript framework which makes use of the powerful object oriented features provided by mootools. It comes with an elegant syntax that simplifies the use of objects and classes in JavaScript. In addition to these, it also provides observable attributes, ActiveModel like validations and a REST persistence adapter and allows web and mobile framework  developers to use same JavaScript code both on their browser as well as server.
Galleria – JavaScript Image Gallery Framework
Galleria is a JavaScript image gallery framework which is built upon jQuery. It is designed with a mission to simplify the process of creating professional image galleries for websites and web or mobile applications or devices. This web and mobile framework includes a large number of generic options such as transition effects, cropping methods and interaction details and many other which can be used to customize gallery. Apart of these, it also has some theme-specific options.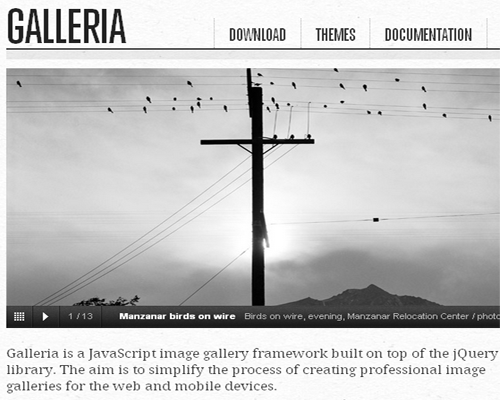 Zepto.js (beta) – Minimalist JavaScript Framework for Mobile
Zepto.js is a minimalist JavaScript framework micro-library and a nice API that handles most basic drudge work and lets the web developers to concentrate on getting stuff done. It is constituted with a jQuery-compatible chaining syntax and is basically designed for mobile WebKit browsers.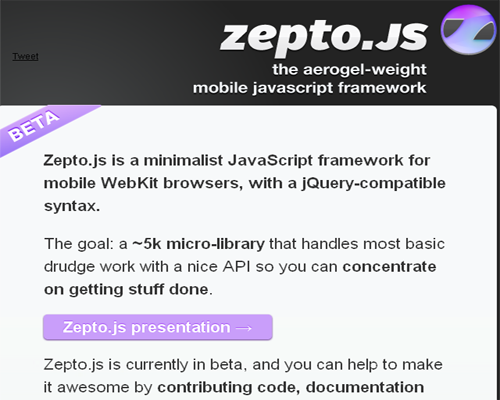 Not Just a Grid – Flexible and Modular CSS Framework
Not Just a Grid is a flexible and modular CSS framework which includes separate style sheets covering multi-column layouts, typography, forms, tables and user experience enhancement. It is basically designed to assist web and mobile framework  developers in the rapid prototyping and development of websites. It has been designed for the future use and includes a range of common images that are used for both visual styling and user interface enhancement. Constituted with larger screen sizes and the use of CSS3 for progressive enhancement, it provides user a richer experience.
JQuery Form Framework – jFormer
JFormer is a form framework which enables web developers to quickly generate beautiful, standards compliant forms. It is written on top of jQuery and assists web and mobile framework  developers in creating web forms that can validate client-side, validate server-side and process without changing pages. It is well comprised with the latest techniques in web design.
Treesaver.js – Framework for Creating Magazine-Style Layouts
Treesaver is a JavaScript framework which is used for creating magazine-style like layouts. The web developers use this framework to create layouts which can dynamically adapt to a wide variety of browsers and devices. With this web and mobile framework designers can use standards-compliant HTML and CSS for both content and design without having any requirement of JavaScript programming.
Hope you have got list of
web and mobile framework application
please share your experience & applications with us.
Rinniee Ginsburg is a email template developer and writer at
EmailChopper
. Her technical competency has helped the professionals explore the new techniques in practicing the innovative email development. She has written various articles that accentuate the importance of PSD to Email conversion, smart procedure for responsive email template development & many more. All her writeups have become a source for many professionals and business players to grab the valuable information.