Essential Resources to download developer Cheat Sheet
As a web developer, it is really very hard to remember each and every thing of those basics of programming and scripting languages, mark-up languages, query languages, frameworks and other things required while coding an image design to accessible web portal. Here handy cheat sheets come into real play.
Whether you've forgotten the function name or any property – useful cheat sheets are the handy resource where you can refer to get information immediately.
Typically, a cheat sheet or crib sheet is a useful one pager (or a few pages) important and concise set of notes used for quick reference. Cheat sheet stands out as an essential and quick reference guides which are available for PDF formats over the internet for almost every programming and scripting languages, mark-up languages, query languages, frameworks. Most of the web developers take cheat sheet real timesavers.
In this post, we are going to present 10 essential resources from where every web developer can download any kind of cheat sheet for a quick reference. Here, we have put together best collection of websites as an essential resource of any kind of cheat sheets for webs developers. Each of these cheat sheets can be directly download in one page. We hope you find these websites of handy cheat sheet quite useful for your next web development projects. Take a look:
1. Quicklycode
Quickly code is a complete resource from where you can get cheat sheets, quick reference guide and other programming resources. From here, you can even download many other things like infographics, posters, wallpapers, apps and widgets.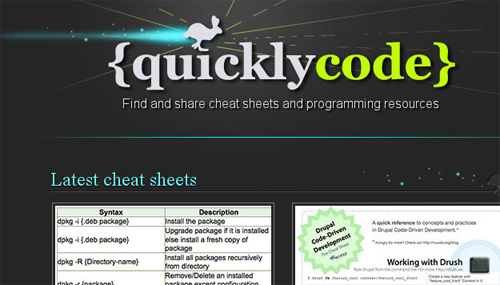 SOURCE: http://www.quicklycode.com/
2. W3c Cheatsheet
W3C Cheat Sheet is an easy-to-access freely available open source online tool frequently used by web developer. Here, you can get all the useful information related to cheat sheets for HTML, CSS, SVG and XPath.
SOURCE: http://www.w3.org/2009/cheatsheet/
3. Devcheatsheet
DevCheatSheet.com is a free online centralized directory of all types of cheat sheets and quick reference cards which every web developer might requires. The best part is that here all the cheat sheets are reviewed manually.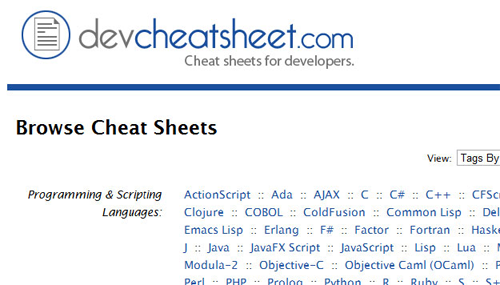 SOURCE: http://devcheatsheet.com/
4. Cheat-sheets
It is an ideal website to browse for web developer looking for cheat sheet, round-ups, quick reference cards, quick reference guides and quick reference sheets. Here, you get all the information in a single page.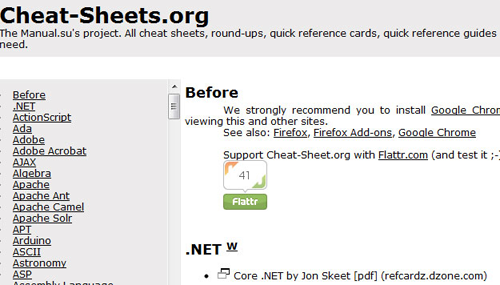 SOURCE: http://www.cheat-sheets.org/
5. Addbytes Cheatsheets
Addedbytes.com is a complete online portal for web developers which offers free and printable quick references and cheat sheets for different languages and web technologies.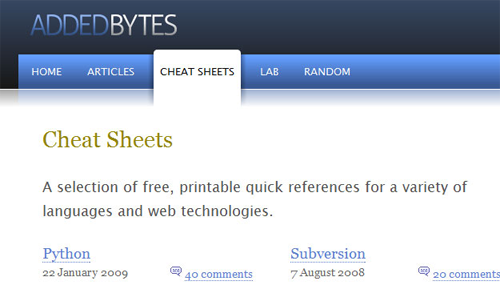 SOURCE: http://www.addedbytes.com/cheat-sheets/
6. Web Developer Lists
It is an easy-to-use browsing website where you can get all relevant information for programming and developing cheat sheets. Here, you get 119 cheat sheets ranging from Actionscripts to HTML/ XHTML, XML, JavaScript, Photoshop, PHP and lots more.
SOURCE: http://webdeveloper.econsultant.com/cheat-sheets/
7. Whatis
Whatis is complete cheat sheet and quick reference guide which includes short list of all types of cheat sheets. You can also say that it is an encyclopedia for quick references.
SOURCE: http://whatis.techtarget.com/definition/0,,sid9_gci826135,00.html
8. Spyrestudios Mega Collection of Cheat sheets
Here, you can browse through the best collection of useful cheat sheets and quick reference guides for CSS, HTML, Javascript, PHP, MySQL, Color/ Fonts/ SEO, CMS Softwares, Browsers & OS and other miscellaneous.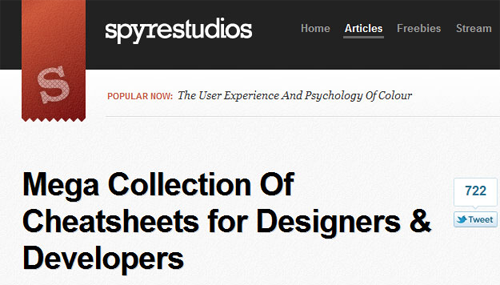 SOURCE: http://spyrestudios.com/mega-collection-of-cheatsheets-for-designer-developers/
9. Dashkards
Here at Dashkards, you can easily browse through cheat sheets for your favorite Mac OS X Dashboard.
SOURCE: http://dashkards.com/
Williams Heilmann has been associated with
PSDtoWordPressExpert
for many years. He has extensive experience as a web developer and works with this company to offer the best WordPress solutions to suit the specific needs of the clients. Also, he has got a flair for writing which he consumes in writing the informational blogs for submission on different websites.