Effective Open Source Resources Helping You Customize Your Own Cloud Computing
With the growing concerns of people in cloud computing as a new way of consuming IT resources is driving new revenue opportunities for managed services providers which are looking forward to help enterprises make the transition to the cloud. Basically, Cloud computing is a marketing term for technologies that provide computation, software, data access, and storage services that do not require end-user knowledge of the physical location and configuration of the system that delivers the services. In short and precise words, cloud computing refers to anything that involves the delivery of hosted services over the Internet.
In the current scenario of global economic downturn, the market of open source cloud computing platform is hot and on the hike. The prime reason of its height in the market trend is that cloud computing typically involves provisioning of dynamically scalable and often virtualised resources which are available free; it is especially surging high in the business industry as the source code of the cloud is freely available.
Nowadays, there are several open source resources available on web that offers fully managed cloud services including shared root access, application monitoring, server patching, managed security, managed templates and snapshots, intrusion detection (IDS), and database clustering. These resources have proved quite beneficial for many companies or enterprises in storing and maintaining databases as well as in easily organizing information in different departments with less hassle and cost. We are hereby in this post sharing several Open Source Resources for Cloud Computing which can help you in customizing your own computing clouds to work alongside more powerful commercial solutions. Jump through the list and opt which one suits to your need at its best.
Enomaly
Enomaly is the complete revenue generating cloud service provider platform providing the world's most widely-used Infrastructure-as-a-Service (IaaS) cloud computing platform software. It is the most scalable, trusted, secure, integrated, turnkey cloud platform which offers a revenue generating cloud computing service for competitive service differentiation in the cloud hosting market.
Reservoir
Reservoir is a well known open source resource for cloud computing services without any barriros which enables enables the delivery of better services for businesses and eGovernment with energy-efficiency and elasticity by increasing or lowering compute based on demand. It enables massive scale deployment and management of complex IT services across different administrative domains, IT platforms and geographies.

Open Nebula
OpenNebula is an open-source cloud computing toolkit for data center visualization and on-premise IaaS cloud computing that provides the ability to manage a pool of virtual resources offering the most feature-rich, flexible solution for the comprehensive management of virtualized data centers to enable private, public and hybrid (cloudbursting) clouds.

Cloudera
Cloudera is a powerful open source software package designed for sophisticated analysis and transformation of both structured and unstructured complex data. It bundles the innovative work of a global open-source community which includes critical bug fixes and important new features from the public development repository and applies all this to a stable version of the source code. In short and precise term we can say that Cloudera integrates the most popular projects into a single package, which is run through a suite of rigorous tests to ensure reliability during production.

Eucalyptus
Eucalyptus is the world's most widely deployed open-source cloud computing platform for on-premise (private) Infrastructure as a Service (IaaS) clouds. It was designed to go on top of an existing network and uses existing infrastructure to create scalable and secure AWS-compatible cloud resources for compute, network and storage.

Joyent
Joyent is a global cloud computing software and service provider which ohhers cloud computing solutions worldwide; it offers an integrated technology suite designed for service providers, enterprises, and developers. Unlike all other major cloud vendors, Joyent is able to deliver unprecedented economies of scale and competitive advantages to service providers, enterprises and developers in the form of higher hardware utilization and margins, and in compute performance and scalability.

Nimbus
Nimbus is an open source cloud computing toolkit Platform which provides an integrated set of tools that deliver the power and versatility of infrastructure clouds to scientific users. Nimbus Platform allows you to combine and turn your cluster, i.e. Nimbus, OpenStack, Amazon, and other clouds into an Infrastructure-as-a-Service (IaaS) cloud combine Nimbus, OpenStack, Amazon, and other clouds.

Nebula Cloud Computing Platform
Nebula is an open-source cloud computing platform which is developed to support research and scientific computing requirements at NASA Ames. It provides an alternative to the costly construction of additional data centers whenever NASA scientist or engineers require additional data processing by providing a simplified avenue for NASA scientists and researchers to share large, complex data sets with external partners and the public.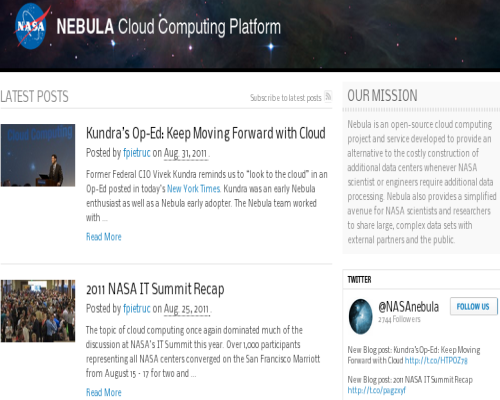 Red Hat
Red Hat is the world's leading commercial distributor of operating system with integrated virtualization and deployment solutions that delivers the ultimate solutions for private clouds, hybrid clouds, and public clouds. It offers effective solutions for building and managing your own cloud plus the revolutionary OpenShift Platform-as-a-Service (PaaS).
Cloud
Cloud.com is an open source cloud computing platform for building and managing private and public cloud infrastructure. It is massively scalable, customer proven, and brutally efficient solution in Cloud Computing Infrastructure and Management Software and helps its customers build and manage private and public clouds.
Williams Heilmann has been associated with
PSDtoWordPressExpert
for many years. He has extensive experience as a web developer and works with this company to offer the best WordPress solutions to suit the specific needs of the clients. Also, he has got a flair for writing which he consumes in writing the informational blogs for submission on different websites.