Bing has come up with an all-new section named Editor's Picks. This section is actually a collection of web pages assembled in various topics that gives a look of a web-based directory. One can even consider this section of Bing as the limited version of Yahoo directory and Open Directory Project. By using Editor's Picks, you can successfully browse the groups and view sites that Bing editors find useful to in the category.
This comes after the farewell of Google Directory revealing the superb way searching the web for various things is best and fast way to look what you wish to find.
Below you can refer to the snapshot provided for the Bing Editor's Picks that reveals about the great features of this amazing directory: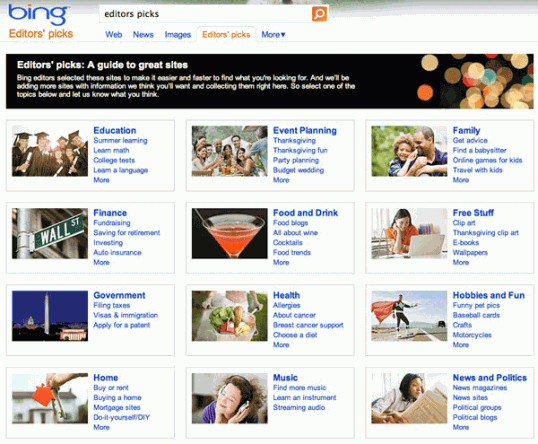 The basic motive behind designing of Editors' Picks was to improve the Bing results by carrying selected sites by the editorial to improve the search experience. The aim is to provide the exact and fast results to the people to do their tasks perfectly. In order to get attached with Editor's Picks people can send their emails to PicksChat@microsoft.com.
Editors' picks is a great directory that is not going to affect the ranking of the other regular search results. This amazing feature is coined to avail various angles for search results which is entirely based on selections of the objects done by editors. It saves you from making complex calculations to go with the ranking of endless search results.
Bing covers a large arena with its 140 Editors' Picks on various topics like sports, music, travel, health, and entertainment. We are planning to release new picks on regular basis. Therefore, they are not about scale and means further more.
Williams Heilmann has been associated with
PSDtoWordPressExpert
for many years. He has extensive experience as a web developer and works with this company to offer the best WordPress solutions to suit the specific needs of the clients. Also, he has got a flair for writing which he consumes in writing the informational blogs for submission on different websites.