Being a business owner, if you are looking forward to building a website, then the first thing you will require is a content management system (CMS), which suits the best to your needs.
Drupal, WordPress and Joomla are considered some of the best content management systems to design a feature-rich website. Built on MySQL and PHP, all these CMSs are open source, but vary in features, capability and flexibility.
It totally depends on your technical expertise, goals and budget, which one will be suitable for your needs. WordPress is simply an ideal choice for a simple blog or brochure website. Drupal is a good option, if you require a highly customized and complex website, which requires scalability. Joomla is the best for something, which has an easy learning curve.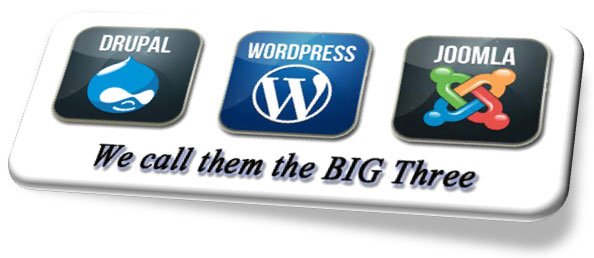 Here, we are going to offer a detailed comparison between the three figuring out their compatibility with your business. All of them have been developed by a community of different developers and improved regularly to support the latest Internet technologies. Though they are same in terms of action, but differ regarding the requirements of the end user. The prime difference is based on the scalability and usability.
Drupal: Know it better
When we compare Drupal with WordPress and Joomla, this content management system comes with an open source website building tool. This tool is exclusive as it allows to put on an array of website content and functionalities. After its first release in 2001, it has emerged as one of the granddaddies of content management systems. It is an extremely user-friendly and powerful system that makes it a prime choice for data intensive websites.
Advantages of Drupal
Incomparable Web Security
Unlike Joomla and WordPress, Drupal is bestowed with various security measures to protect module implementation, display of content and form submission. It has certain easy to fix properties that are useful for different functionalities, users, contents and modules. And, we all know that any module, which has security issues, cannot be published.
Unrivaled Flexibility
Drupal offers incredible flexibility for the people, who want to have a simple blog containing static front page. This CMS has around 17,000 free modules and is able to support millions of visitors and thousand of pages. Undoubtedly, it has become the prime choice of many developers.
Web & SEO Friendly Attributes
The best SEO capability is available in this content management system that makes it the first choice of webmasters. It is integrated with numerous modules that support tracking of the statistics and SEO activities. It creates customizable Meta-tags as well as generates title based URL nodes for a website. This strength is not there in Joomla & WordPress.
Social Networks Inclination
It provides diverse social networking and management modules including comments, user networks, plug-ins and forums.
Disadvantages of Drupal
It is more complicated as compared to Joomla and WordPress as one must have good knowledge of coding capabilities.
This has lesser free themes, plug-ins and modules.
Major Service Providers
WordPress-A Better Knowledge
Powered by strong publishing attributes, WordPress is used by more than 68 million users and it is devoid of hard technicalities.
Merits of WordPress
Incorporated with the highest number of plug-ins and themes.
The most unique feature of this CMS is that it accommodates more than one user.
It is simple to set up as well as start. There is a user-friendly interface that allows to start blogging by adding desired themes and plug-ins.
It provides strong search engine optimization with plug-ins and manually as well. Great results are ensured as it helps the content gain better search results.
Demerits of WordPress
It does not suit the unusual and complex business needs
More advanced e-commerce cannot be built by using WordPress.
It is not considered as secure as Drupal is.
Major Service Providers
Joomla A Brief Overview
Developed by Manbo, this is an open-source content management system. With over 30 million downloads, this CMS is ideal for both organization and individual requirements.
Strengths of Joomla
Blessed with advanced technology, Joomla is highly user-friendly and it lets you save a considerable time by adding more content. On contrary to WordPress, a user can add a lot of content in it.
Joomla has so many SEO friendly features that not only let your site look professional, but also help you attract more visitors.
This is bestowed with multiple extensions including templates, languages, plug-ins, components and modules.
It brings flexibility to work according to your preferences as it has numerous themes and templates that allow you to make modifications easily.
Weaknesses of Joomla
For certain scripts, it needs specific plug-ins.
There is limited scope of customization.
Due to its big learning curve, it is difficult to learn.
It cannot be handled easily by simple or small websites.
A user finds it hard to allocate various pages to different CSS at the time of using this content management system.
Major Service Providers
Conclusion
It is true that all three content management systems have their own strengths and weaknesses. The business owners can pick any of them according to their business needs.
Rinniee Ginsburg is a email template developer and writer at
EmailChopper
. Her technical competency has helped the professionals explore the new techniques in practicing the innovative email development. She has written various articles that accentuate the importance of PSD to Email conversion, smart procedure for responsive email template development & many more. All her writeups have become a source for many professionals and business players to grab the valuable information.