Download Free WordPress Themes for Art Bloggers 2014
WordPress is the most popular accessible and digestible CMS in account of its flexible features such as convenient and easy to use and its extensibility. Hence, it always fascinate the web designers globally. The main achievement of WordPress is that it offers all features as open source as well as don't create any issue concerning web hosting.
So, several organizations and companies used to adopt WordPress in order to advertise, promote as well as describe features and descriptions about their products and services through their blogs. Thus in recent, a professional, clean and corporate look of the blog is touching the sky.
However, here I have designated Download Free WordPress themes 2014 for Art Bloggers which comprises professional and artistic themes required for great web design. So, go through it and opt to go with, which suits you and your users best.
DeepFocus
This pretty free WordPress theme emerges from Elegant Themes. It is enriched with five color scheme which bestow a pleasant and classy look. According the size of images the centralized timthumb resizes automatically. You can tweak and customize DeepFocus according to your convenience. This sidebar enables you to place advertising banners very easily.
Photocrati F-Stop
This beautiful theme resides on Elegant Themes. Its five color scheme Green, Standard, Wooden, Noise and Stone convey an alluring look. According to the size of images the centralized timthumb resizes automatically. You are able to customize DeepFocus as per your convenience. This sidebar enables you to place advertising banners very easily.

Photocrati Prime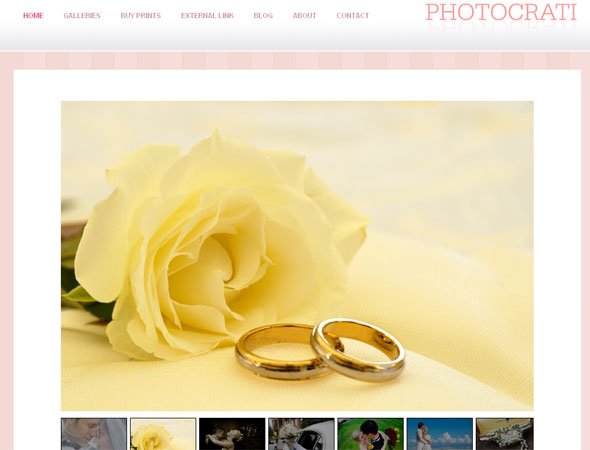 This sweet and nice theme will surely allured your clients. Its simple and captivating look will spice up your design as well as loved by those people who wandered for innovations in simple and natural things.
Photoblog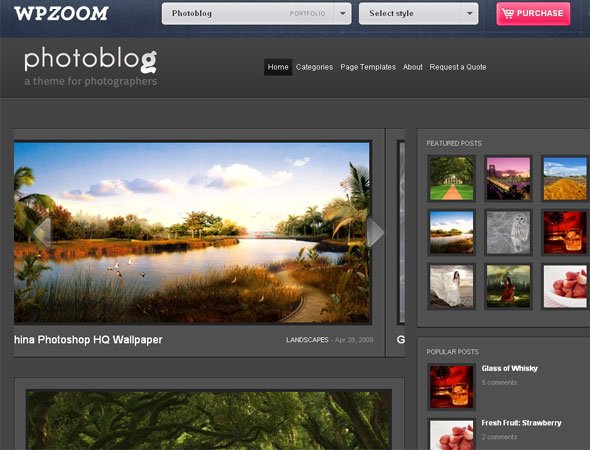 This Photoblog is literally very pretty photo blogging theme introduced from wpzoom.com. This theme is useful to publish pictures as it comprises a slideshow on the top as well as lets you to write blogs concerning you and your work.
Photo Nexus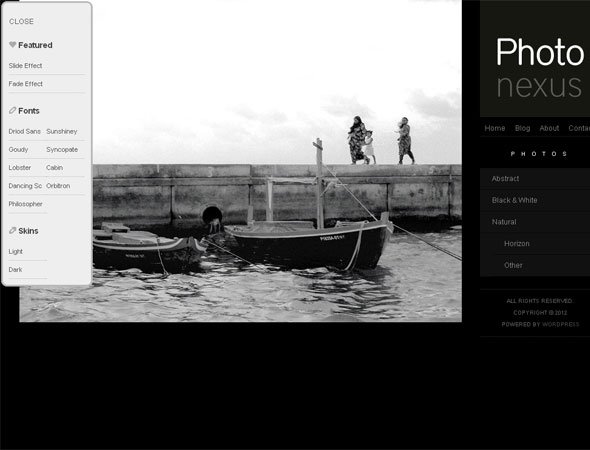 This classy WordPress theme is for photographers and art bloggers presented by Theme Forest. It displays self-managed Gallery of artworks, pictures and designs in a very convenient manner. In addition Photo Nexus is featured with Auto Slideshow, Google Fonts, sorting of image galleries and Direct linking of pictures.
Koi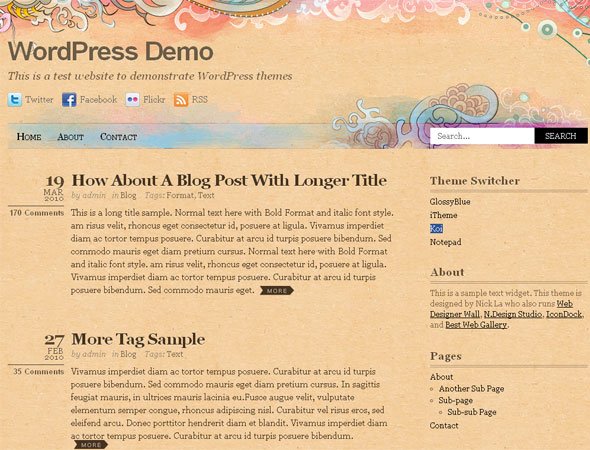 This elegant free WordPress theme Koi introduced for bloggers from ndesign-studio.com and undoubtedly will be spice up your WordPress design.
Flex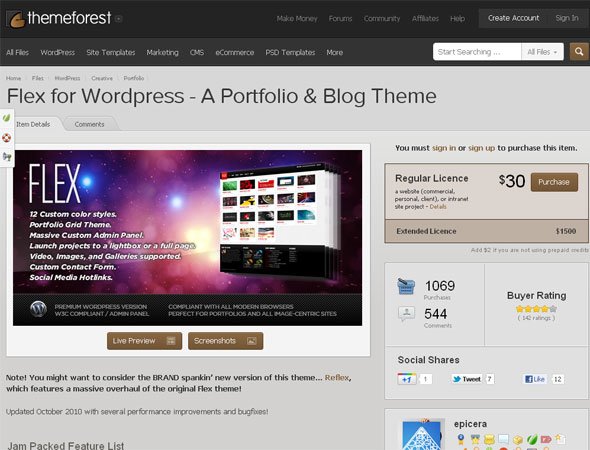 This Flex theme is useful for artistic work and developed by Theme Forest. It offer to display thumbnail images distributed into row and column on the home page of the website. The number of thumbnails are volatile corresponding to the dimension of browser screen.
Viewport
The Viewport is an elegant and classy theme introduced over web at absolutely free. It comes with several worthy features which includes inline loading of posts, scrolling timeline, youtube and images, pages, twitter updates and many more.
Katana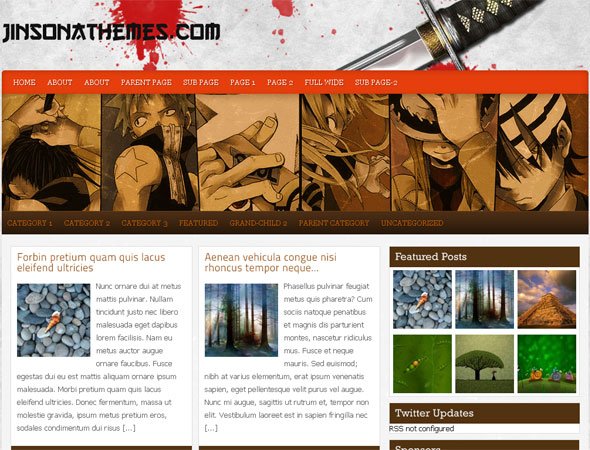 Katana is a very stunning WordPress theme introduced from jinsona themes. It might be alluring for those people who wants to enrich their blog with some innovative and artistic design.
AutoFocus Pro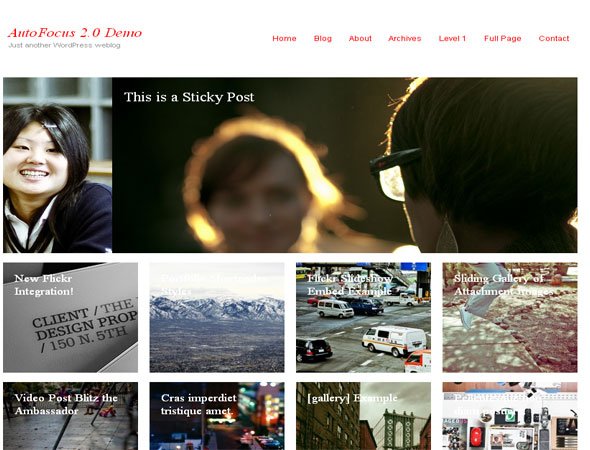 AutoFocus Pro is an elegant design and comes in the combination of both clean typography and basic grid. The main center of attraction of this theme is integrated dynamic Flickr which allows you to obtain your Flickr images just in account of a single click. Moreover, it is available as a free version in the name of AutoFocus Plus.
Retro Cool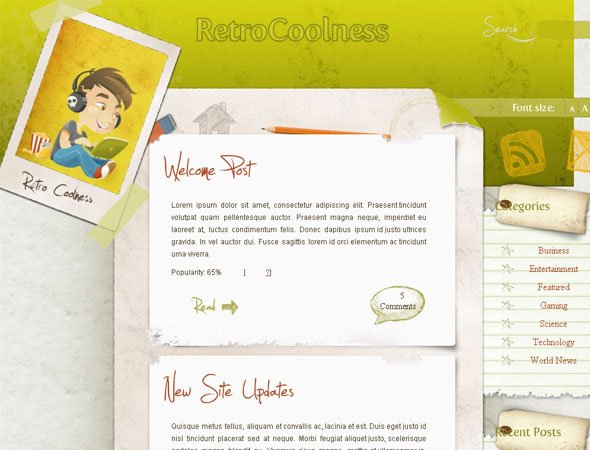 This Retro Cool theme is literally nice and sweet theme as well as enriched the design of the blog. Hence bloggers can arrest the attention as well as inclined their users to go through it.
Free WordPress Themes for Art Bloggers 2014
The area of interest of Jennifer Adam is to cater technologically advanced and powerful tool which works remarkably with multiple browsers and devices. Being a talented professional of
inkyROBO
, she is capable of implementing the innovative ideas and also loves to write inspiration blogs.