CSSChopper Announces Super Cool Discount Offers For New & Existing Customers
This summer season, book project at lower price because CSSChopper has announced the special discount COUPON CODES on most of the projects this summer. They are very considerate to offer benefits to its esteemed clients. Therefore, this summer season, they have declared the bucket of exhilarating discount offers on various project. Why are you waiting! Choose the desirable coupon and enjoy the discount.
Enjoy the cool price on desirable project this summer. CSSChopper has released an extensive list of COUPON CODES on various projects that bring a package of benefits with lucrative discounts. Let's find out what special the whole scheme keeps for you.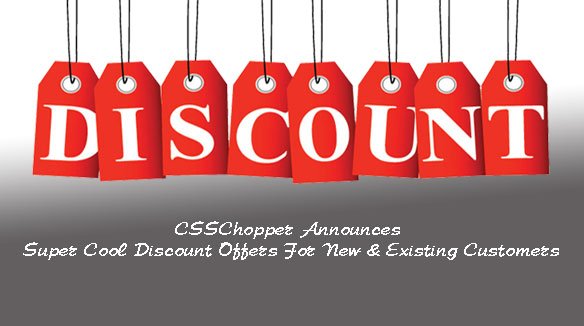 Use the below-mentioned COUPON CODES to avail the respective discounts:
9ECOMMERCE
Bestows 9% discount on E-commerce projects
Commence on 29-4-14 and end on 30-5-14
Applicable for new and existing users
For availing this, you can use online & custom orders
8CMS
Offers 8% discount on CMS projects
Valid from 29-4-14 to 31-5-14
Both existing & new users can utilize this coupon
Available through Online & Custom order
7PSD
Enjoy 7% discount on all PSD Conversion Projects
Effective From 29-4-14 to 31-5-14
Offer valid for both new & existing users
Go to online order or custom order process for availing it
OFFER1500
Provides 15% discount on EVERY ORDER
Offer Valid For Project Budget 1500 USD or greater
Start on 29-4-14 & expire on 25-5-14
Both existing & new users can utilize this
Get through both online & custom orders to avail it
OFFER1000
Enjoy 10% discount on EVERY ORDER
Applicable for 1000 USD project budget
Valid from 29-4-14 to 22-5-14
Suitable for Existing & New users
Available through online and custom orders
OFFER500
Avail 5% discount on EVERY ORDER by Spending minimum $500 USD or more
Offer Validity Live from 29-4-14 to 20-5-14
New & existing users can avail via online as well as custom orders
NEW10OFF
Allows 10 % discount for NEW USERS
Effective from 29-4-14 to 15-5-14
Pursue this Offer through online & custom orders
Conclusion
Avail your desirable COUPON CODE before it get expired. Thus, book your project as early as possible and enjoy great discount on the requested projects. For more information, you can reach at sales department directly.
Grab Summer Special Discount Offer By CSSChopper
Admin from India is a founder of WebGranth, an entity of
Sparx IT Solutions
with over 8 years of experience on different verticals of web design & development. In his quest to spread the knowledge regarding web development, he has been contributing in WebGranth by submitting his valuable blogs.