CSS Data Table Techniques and Resource: An Imperative Knowledgebase for Web Developers
Tables representing data are exceedingly important and one of the best means to represent lot of information in a tiny space and in an easy to read manner. Tabular data can describe facts and figure with more clarity in comparison to text. Although tables are the most difficult objects to be styled on web if done manually, but the advent of the cryptic mark-up has made it quite easy to create tables and tag it on the web; only it needs a broad concept of the concerned subject.
When tables are created manually, or if it is created without the help of any proper techniques and methodology, a lot of precious time is wasted which can be contributed to some other process of development. This is where web developers feel the need of some handy CSS data table techniques and resources which can be easily implemented to create an advanced, usable, and, well, darn good-looking CSS data table techniques.
CSS data table techniques post is presented here to co-ordinate those developers as this post covers various CSS data table techniques. Here, web developers can find a selection of techniques, tutorials and resources for styling HTML data tables with only CSS. We hope these techniques will unquestionably prove highly beneficial for the web developers and will be appreciated by them. So, get ready to go through these mind-blowing Css data table techniques. Also, do not forget to present your views regarding this post in the comments area.
CSS Data Table Techniques
Pimp Your Tables with CSS3
CSS data table techniques will serve as a tutorial and reference guide for web developers which will acknowledge them how to make tables look really sexy using CSS3. CSS data table techniques tutorial will take the web developers through the markup, and offers sample code that they can copy/paste into their style sheet. It enables them to know how to use some neat CSS3 properties to beautify their tables. CSS data table techniques tutorial has made use of web kit and gradients for creating a great look without images and addresses specific table cells and rows in order to create a unique style without adding classes to the markup. It makes the web developers learn how to insert content into elements with a specific class.

Feature Table Design with CSS3
CSS data table techniques tutorial will be highly appraised by all those who love shadows, rounded corners, gradients and all of the marvelous CSS3 features. CSS data table techniques tutorial has excellently made use of CSS3 features to create full feature table.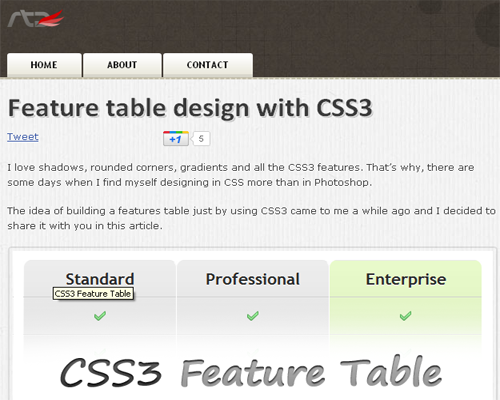 Pure CSS Scrollable Table with Fixed Header
It is one of the  excellent CSS data table techniques which will demonstrate you how use of CSS allows scrolling within a single HTML table by showcasing a scroll-able single HTML table with a fixed header. It will explain you to create a vertically-long table that has a scrollable and that too does not take up much vertical space. In this kind of table, header of the table stays at a place; still one can view what each column is about.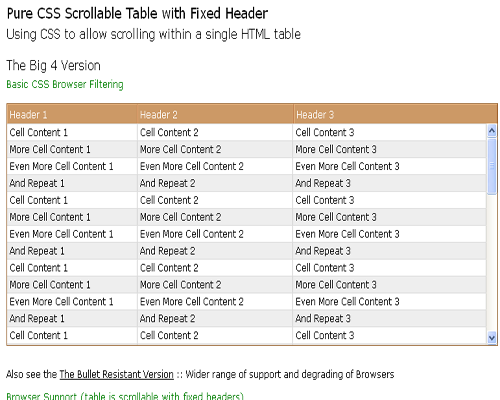 Table Styling with CSS (Video Tutorial)
It is a 40-minute video tutorial which covers basic table styling with CSS and makes you learn the markup with the help of which you can create a nice-looking table, some jQuery bonus stuff to make the table even more functional, and other handy info tidbits. Take a look of CSS data table techniques tutorial and grasp several CSS tricks as well as jQuery bonus stuff.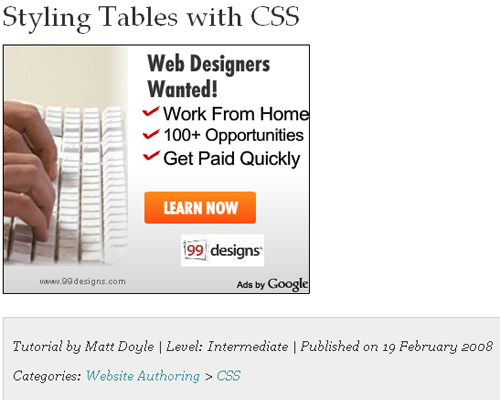 Adding Style with CSS to get a Beautiful Table
It is a simple-yet-extensive tutorial which covers how you can use CSS to improve the appearance of your table. CSS data table techniques tutorial will acknowledge you step by step with the help of sample code and covers almost entire semantic markup, CSS code to include along with some optional jQuery methods to bring added functionality. In precise words, we can say that this tutorial will make you learn how to add style with CSS data table techniques to get a beautiful table.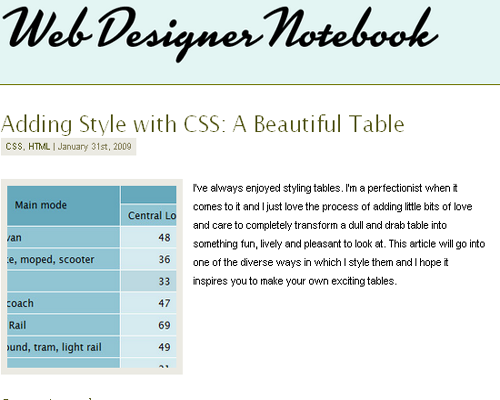 Zebra-striping Rows and Columns
It is a simple tutorial which explains the CSS data table techniques and tricks on how to zebra-stripe your table using CSS. Being a web developer, you must be aware of the fact that Zebra-striping is known for increasing usability in reading tables. It makes you to learn the methods for separating and differentiating rows from each other with the help of color stripes like zebra stripes. Apart from all these, CSS data table techniques tutorial also give you code to insert into your style sheet.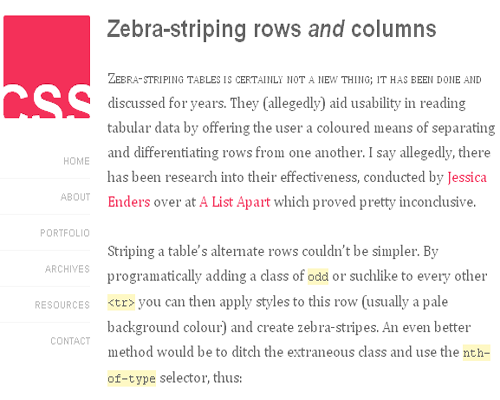 A Pure Liquid CSS "Tableless" Table
This is a remarkable tutorial on how to create a liquid "table less" table using CSS data table techniques which provides you sample code as well as a demo of how the "table less" table looks like.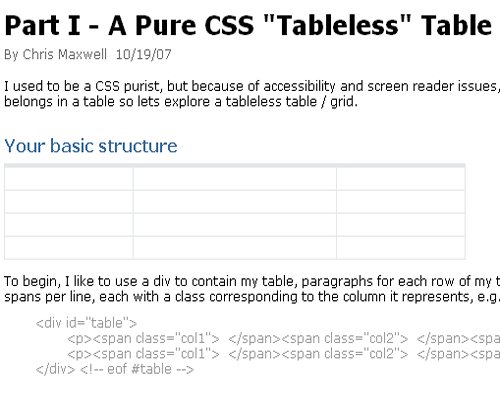 Styling Tables with CSS
This one is really an extensive tutorial that shows how to use CSS to beautify an HTML table and make you to learn how to use CSS to transform dull HTML tables into beautiful works of art. It covers several tricks and CSS data table techniques for styling tables with CSS including how to customize the borders, spacing, padding, background and colors of tables and table cells, how to create alternate-colored table rows, i.e. zebra, and how to create hover effects. It also displays a before/after table example and offers a sample code in each step.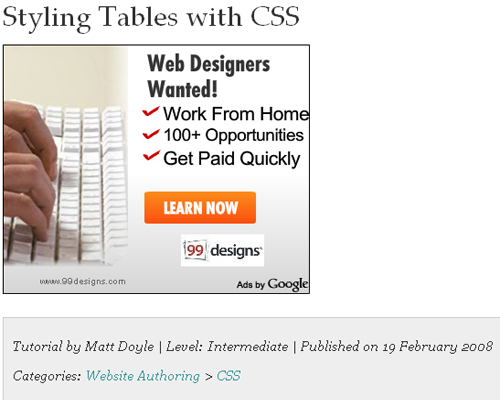 CSS Table Gallery (with Stylesheet Downloads)
This is really a remarkable tutorial which offers web developers to download more than 60 basic table styles. Apart from that, it also includes a live preview of each table styles which allows you to see how it looks like. If you like any particular table style, then you can download the CSS file by just clicking the download link for your own use with the help of CSS data table techniques.

CSS Styling Tutorial to Get a Specific Table Type
This tutorial is an old one but still an excellent resource for web developers. It will demonstrate you five different techniques for styling your data table using CSS to get a specific table type. It displays several types of tables and offers you a preview of image and sample code for each table type.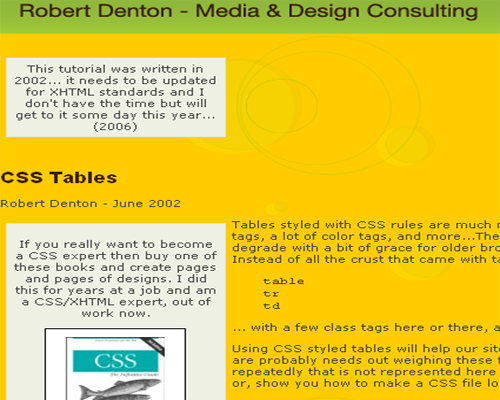 I hope you find your best technique with in these awesome
CSS Data Table Techniques
Please share your Comments & Experience with us.
Christiana McGee loves development and possesses specialization in converting Sketch to HTML. Associated with
CSSChopper - Sketch to HTML Company
, she constantly strives to serve the best, fastest and innovative solutions in a stre