Comprehensive List of Web-Based File Sharing Sites
Internet users and webmasters are inclined to share the information in the form of text, images, computer software, copyrighted eBooks, MP3, videos files, etc. Generally it is seen that most of the people attach these information with e-mail simply in the form of file. But, the major problem which comes in this process is that it takes too much time to attach files, and if the file contains graphics or images or audio-video, then it becomes irritating due to time consuming process. Sometimes most of the files failed to attach due to some internal problems which cause too much frustration and hampers the work to be done.
Also there is a limitation with the e-mail attachment that the file size ranging 10 MB to 25 MB are only supported by the e-mail and if attempted to attach files more than that, the process is aborted. This problem has been overcome with the launch of web based file sharing sites. Now, you must be excited to know about the two terms, file sharing and file sharing websites.
Actually file sharing sites are the special websites which has been designed to share or send files that are large enough to be attached on emails. And file sharing is the practice of distributing or providing access to digitally stored information, such as computer programs, multimedia (audio, images, and video), documents, or electronic books. These two terms are quite complementary to each other. File sharing sites are used to transfer large amount of data very easily and quickly. The file shared through these sites has both advantages as well as disadvantages. The main advantage is the ability to directly send files to other users, without having to store the data on third party servers. On the same time, its major disadvantage is that, unlike e-mail attachment, in this process, both users, i.e. sender and recipient, need to be online for the transfer of files, and also if the number of recipient increases, the process is repeated to send it to all recipients. But there are so many advantages that it dominate over its pitfalls and hence appreciated by most of the webmasters and internet users.
Here in this post, we are enlisting efficient web based file sharing sites which will enable you to share your files with your colleagues or friends sitting far miles away from you. This post will be beneficial for everybody but especially for the web designers or developers who need to showcase their design samples or work to their clients. So, explore the entire post, go through the websites given below and pick out those which you think as the best. Enjoy transferring files, and also don't forget to share your thought with us what you feel about the collection.
Esnips
Esnips is a social content-sharing site, where one can publish and share any media type having practically unlimited flexibility in choosing what they want to share, and with whom, in 5GB of free space. It is the place where one can share anything they want, about any topic: their thoughts, their photos, music, videos, flash files or any other kind of media files.

Send This File
It allows you to easily upload and transfer multiple files of any size and ensure you to protect your information with end-to-end file transfer protection using 128-bit SSL & AES encryption.

Cloud App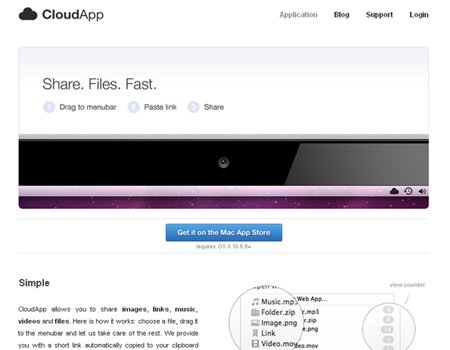 Cloud App is a remarkable website which allows you to share images, links, music, videos and files. In addition to these, you can view, track and delete files right from your menu bar.

A Drive
It serves as a centralized storage for all types of file and has revolutionized the online storage and backup. It features free 50 GB online storage, and uploads and store files facility which enables you to share and access files anywhere, edit documents online and much more.

Files Anywhere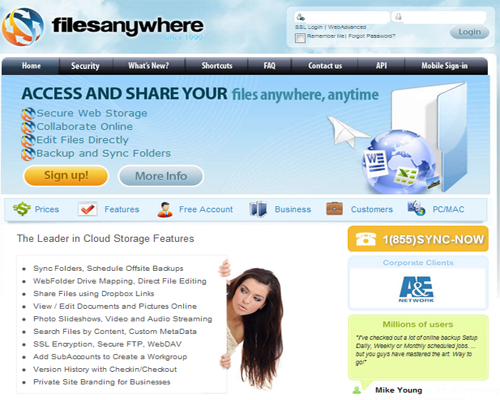 FilesAnywhere is one of the world's leading providers of remote file storage, and one of the oldest surviving original online storage providers.

Jetbytes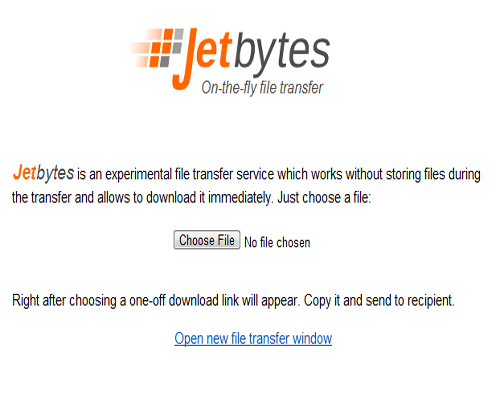 Jetbytes is an experimental file transfer service which works without storing files during the transfer and allow downloading it immediately. It offers a plain interface that is easy to use. It is quite simple to share, and access files anywhere with this site. It facilitates you with direct file sharing and file transfer speeds depend largely on the uploading capabilities of the sending computer, and the download speed of the receiving one.

Xfiles
Xfiles enables you to exchange big files directly without uploading to a server. The user first selects a file, and gets a URL and then shares it with the downloading user.

Sendoid
Sendoid provides peer to peer file transfer service. It is one of the easiest medium to share, access and upload any file on web.

Drop Send
Drop Send is an online file shring website which allows you to upload access and share large files.

Dushare
Dushare makes file sharing easier and faster. With Dushare, it is now possible to add a password to the file, to protect it from users who spy on the network traffic.

Ziddu
Ziddu is another file sharing site which supports easy file management with multiple folder facility. It provides flexibility to create video and audio libraries to share on web.

Hot File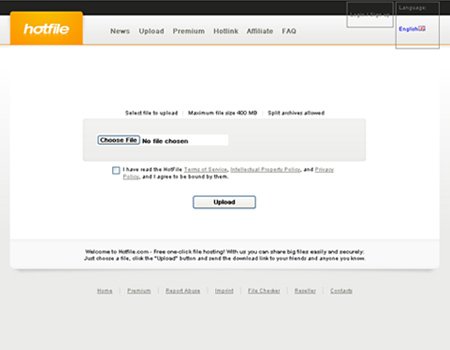 Hot File is an eminent file sharing websites which allows you to share big files easily and securely on web. It supports maximum file size of 400 MB.

4 Shared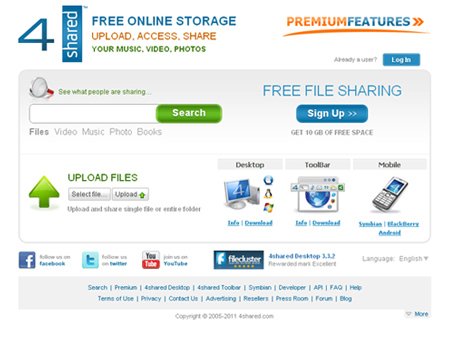 It is a free online storage where you can upload, access, and share music, video, photos etc; it allows you to upload and share single file or entire folder.

Ge.tt
Ge.tt is the best way to publish and share your files and allows anyone to look at all shared files, regardless of file type, in a browser. The noticing thing about it is that it doesn't require the user to install anything or even create an account and lets them add files to the share after they've shared the link.

Keep and Share
This website makes the online sharing of files easy and secure and also maintains privacy of the contents. With this you may keep and share all your information in a single cloud website that provides online calendars, word processing, file storage, photo sharing and to do lists, all packed in an easy group sharing system.

Let's Crate
This is another important file sharing website which makes the sharing of files, whether documents, images or video, easy on web.

Box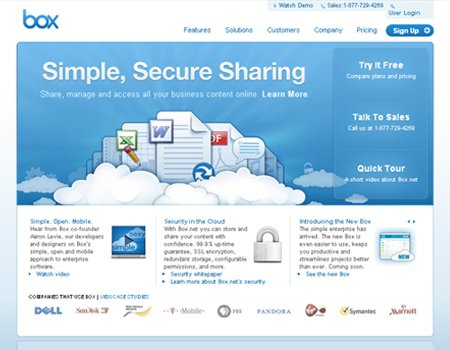 It offers simple and secure sharing system where one can share, manage and access all their business content online. It lets you to store documents, media and all of your content online, so you can access, manage and share them from anywhere. On this site one can create an online workspace where they can share project files, manage files with version history, add comments, assign tasks, or create new content. It offers 99.9% up-time guarantee, SSL encryption, redundant storage, configurable permissions, and much more.

Media Fire
Media Fire is a powerful file sharing site for business and is simple to use for everyone. It is the easiest way to host and share any files including documents, presentations, videos, and images. Besides file hosting, it has several features such which are needed to easily upload, download, manage, and share your documents, presentations, videos, images, and more.

Badongo
Badongo is another free file hosting website where you can easily store and access all your files from anywhere, play your videos, music, and photo slideshows anywhere, and share files via email, IM, Facebook, Myspace, Blogger, etc.

Send Space
It is another file hosting website where you can easily store and access all your files from anywhere all around the world.

Senduit
Senduit is an important file sharing site where one can upload their files and share their private link.

Rapid Share
On this site one may store large files online and access them worldwide without any worry for wherever they are and whenever they want to access. They may share their data with their friends, colleagues or family quickly and comfortably with just one click. It offers easy back-ups and the transfer of large files to a supersized hard drive that is accessible from anywhere in the world.

File Den
File Den is a known file sharing site for offering secure storage, worldwide file access, and easy file sharing criteria. One may access the shared files anytime worldwide and can directly link to their files.

File Factory
It is really an amazing file sharing website which allows you to share your file easily and facilitates you 500 GB of free storage space.

File Dropper
It is the simplest and fastest file hosting website which allows you to upload files up to 5 GB as well as share your personal link with your colleagues or friends.

Pipe Bytes
With this you can instantly send music, movies, presentations or any other files to anybody. It's private unlike BitTorrent or other P2P technologies and the file is not shared on Internet, it is sent directly to your recipient.

Files over Miles
Files over Miles as the name reveals provide the service of file sharing with friends or colleagues sitting far miles from us. It can be a solid alternative for sharing small (larger than the maximum email attachment size) to medium sized files directly with a single user services.

Williams Heilmann has been associated with
PSDtoWordPressExpert
for many years. He has extensive experience as a web developer and works with this company to offer the best WordPress solutions to suit the specific needs of the clients. Also, he has got a flair for writing which he consumes in writing the informational blogs for submission on different websites.