CodeLobster PHP Edition- A Feature-Rich Free PHP, HTML, CSS, JavaScript Editor (IDE)
A feature-rich and advanced editor is an indispensable tool while creating a site. There are various premium as well as free editors easily available in the market, leaving the developers spoilt for the choices. In such context, it becomes imperative to know an editor well before using it.
Here, we are going to discuss a free editor Codelobster PHP Edition which is no less than a paid editor in terms of features and functionality.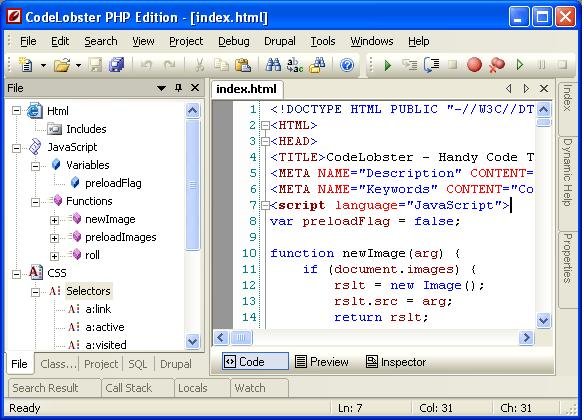 Let's confabulate the major functions and pros of this editor.
It highlights all codes according to their types; even it supports the mixed codes. Hence, while using this editor, the HTML area is highlighted as HTML, JavaScript as JavaScript, and PHP as PHP in a single file. It also offers the chance to make a choice from color schemes, encompassing popular IDEs.
It is attributed with powerful autocompletion for JavaScript, CSS, PHP, and HTML. Moreover, this feature is applicable to advanced versions such as HTML5 and CSS3. PHP recognizes the structure of the project completely, and all the methods are appropriately placed.
To establish a correlation among the selected components of a page in a proper way with a code, it offers HTML/CSS inspector that makes it a cakewalk to detect the HTML elements and their styles hidden anywhere in the page.
It offers context help for all the languages that it supports. A user just needs to press F1 key to open the page where the detailed information regarding attribute, current tag or function is mentioned.
It is packed with PHP Debugger that is helpful for the developers while website development as it permits them to debug the applications. It needs to be configured before implementation.
Loaded with SQL manager which allows doing all the needful things, such as adding, deleting, or editing a structure & records in tables, data exporting, SQL queries execution, etc., with a database. The features of autocompletion and highlighting also support SQL files.
With the support of FTP, it enables a user to execute the work straight with a remote server and to make the changes within the files.
This editor can be used without any preliminary installation with the portable option.
Some other useful functions:
Pair Highlighting
Options for Block Selection
Collapsing
Tooltips
Easy Navigation on Descriptions of Files & Functions
Browser Preview
Project & File Structure View
Also, it offers special plugins for smoothening the development work:
CMS: Drupal, Joomla
PHP frameworks: CakePHP, Symfony, CodeIgniter, Laravel, Yii
JavaScript libraries: Node.js, jQuery, AngularJS
Smarty and Twig template engines
| | |
| --- | --- |
| Developer | Codelobster Software |
| WebSite | http://www.codelobster.com/ |
| Language | English, Russian, German, Spanish, French, Portuguese |
| Supported OS | Windows XP, Windows Vista, Windows 7, Windows 8, Windows 10 |
These posts are a handout from our Guest Author who works with us occasionally and provide their opinions for our regular visitors on Web-Development & Designing, SEO, CSS, Coding etc. As their details can be marked with their concerning post even we would like to add that out Guest Authors are expert and master of their own sector. If you also desire to be our Guest Author Contact Us at
submit@webgranth.com