This post is showing a way to choose the best Content Management System for your websites. In this article we had demonstrated the technical algorithms in a simple and interactive manner. So if you are going to develop a new website, these blog will really save your time and money.
Website! Isn't the most popular word in the dictionary of internet? The introduction of World Wide Web in 1990 created a milestone in the era of information technology. At the early age of websites, website developing was centered to a few bunch of specific core developer whose job was not less complicated than a heart surgeon. These website doctors were not equipped with any tools or technology so they were forced to write thousand of sophisticated codes for a single website.
At the end of 90's, the world of internet technology was liquefied by the announcement of first Content Management system (CMS). This content management system was aimed to save the web developers from the hassle of writing numerous codes and to make the development more flexible. CMS is a website platform that centralizes the editing, publishing and modification of data on a single back end interface. This tool was updated many a times for a perfect result and it is still being enhanced to meet the latest user requirements.
This tool offers you the best customization features even if you don't have any degree in computer technology. CMS are basically divided into two types
Proprietary CMS
Open source CMS
These both categories are a way different from each other and both have its own characteristics. Proprietary CMS is a system in which the back end code is available only to the particular developer, so even for a minor change you would have to take the appointment to your web developer. But this characteristic really shines up the stars of security and privacy of your data. ANY- ANY -ANY! On the other hand open source CMS is an open gift that can be used by any-one to make any change by using any device. Open source CMS is of course more budget friendly than proprietary CMS and is often preferred by the developers who can sacrifice the privacy for budgeted project.
In this article we will concentrate on the most widely used Open source CMS. When we talk about Content Management Systems, we can see a long list of options available today. But which would be the best among them? What are the things one should look while selecting a perfect CMS? To answer these questions we here at Webgranth, disclose major parameters on which you can judge an ideal CMS weapon (tool) for your web project.
Parameter: Guns are made to Shoot
Would you like to buy a weapon which is brilliant in look, loaded with the hi-tech features and very affordable in both size and price but can't shoot? A CMS too must be chosen by pre calculating the main focus of your webpage. For instance you are searching for a content management system for your music website, and you find a CMS that perfectly up to the mark for all your requirements but do not supports video playback. Can it be chosen for your website? The main function of your website should be the key feature of your selected CMS. Try to watch for the CMS that is specially designed for your work part. So never agree to rely on a gun which is expensive and popular rather search the one that perfectly fits in your hand.
Parameter: Shooting Range
Shooting range of a weapon is the prime thing to look upon, similarly when we search for a CMS tool we must target about the horizon of flexibility and support. An ideal CMS must be incorporated with a responding user community so that you can find a better solution for your query. For instance, if you are finding a problem while installing the CMS, so what are you going to do? ; dialing the tech support no.? Are you sure that you will find timely troubleshooting? May be not but these user communities provides a quicker and better solution to your problem as comparing to the tech. support. The documentation of your CMS also helps in customizing the CMS in a much more flexible manner. Always choose a CMS which is flexible enough to support additional plug-in and features to the code, beyond the base software compatibility.
Parameter: Easy to Handle
A perfect weapon is described by its comfort ability of operation. You would never choose a CMS platform which is too complicated to use. I really don't find the reason for choosing a CMS that is jam-packed with features but has a complex interface. You must choose a CMS by keeping in mind that the other user don't have any core computer knowledge so that he can easily modified and use the backend processes. A perfect CMS is defined as the one that can easily used with minimum support by any kid who can just paint, play games or can make a simple use of MS office on a computer.
Parameter: Lock Function
Locking feature of a weapon is really a vital factor to watch, it avoids any misshapen which may occur due to false trigger. Just as the same, CMS must also have a locking feature so that you can assign only a particular authority to a particular user. When the number of back end user increases, it is really very important to control over 'who can do what'. This feature allows you to decide the horizon of permission and privilege for a user and hence enhances the consistency and accuracy of work.
Parameter: Compatibility for more Add-ons
Technology is updating every day, every hour and even every second. The latest additional features polish the efficiency and performance of your weapon. But what if the weapon is not compatible with these add-ons? To give a best purified result to your every visitor, your CMS must update you with the latest additional features. The features like slider plugins, webpage skins, rotation plugins, landing page templates and lot more not only garnishes the outlook but also simplifies the time consuming complex tasks. So always look for the compatibility criteria of your CMS before choosing it for your website project.
The above stated parameters are the most important key points to look while searching for a perfect content management system for your website. I would prefer you to first make a list of your requirements and then try the demo versions of different CMSs. You would always be handful of options in this category so don't restrict yourself to the few bunches of popular names.
Here is the list of some popular and effective content management system available in the category of open source CMS. We had precisely chosen these options from list of thousand available so that you can make a fast decision but we are again reminding you to first look for all the parameters before getting the one.
Joomla
If you are looking for a CMS for your community based portal, corporate websites or intranets than Joomla is the best choice for you. Joomla offers you extra modules/components for a much rich and interactive visitor interface. Joomla is an open source-CMS and free of cost for everyone, you can use this CMS easily even if you are not a tech. savvy.
WordPress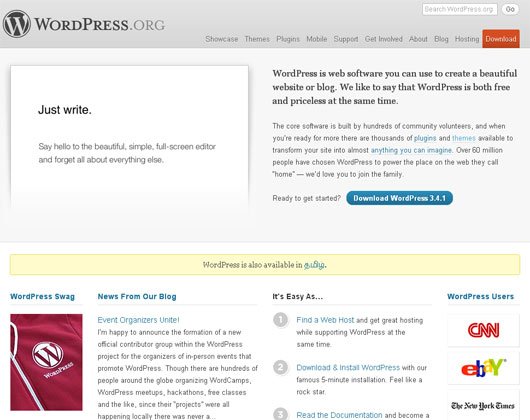 It is an open source-CMS that guarantees you the peak standard of W3C. It is free to use and can be easily customized according to your requirements. WordPress was first introduced as a blogging platform only but it gets updated by the worldwide expert's community and now WordPress is among the top choice for even the sophisticated content-driven websites.
Drupal
Run any website ranging from a simple blog page to a mega enterprise webpage with the facility of 17499 modules and 19663 web developers. Drupal is an open source CMS that is distributed free of cost under the terms of GNU-General Public License. This CMS is used by a lot of mega sites and facilitates you with one of the fanciest customization of contents on your website.
Radiant
Radiant is a simple yet powerful open source content management system that could be the best choice for small and medium companies. It is distributed under the license of MIT that offers you to use this software free of cost for your non-profit and commercial projects.
SilverStripe
SilverStripe is one of the most flexible CMS that facilitates you with amazing editing tools like WYSIWYG and drag-drop feature. It is a SEO friendly open source system that offers you to design your website in both CSS and HTML. It allows you to quickly create even the complex websites by avoiding the hassle of graphical user interface.
We hope that this article will help you to find your perfect CMS weapon. Keep tracking us for more web developing information and additional entertaining content.
As the most experienced developer of
CSSChopper - PSD to HTML Conversion Company
, David Meyer firmly believes in building the new ways that lead the people towards success. He focuses on an ideal approach and tries to deliver the perfect services close to the defined needs.